Contributors: Roundtable discussion, feedback, and fact checking by Steve Taft, Lou Costabile and Jarret Kahn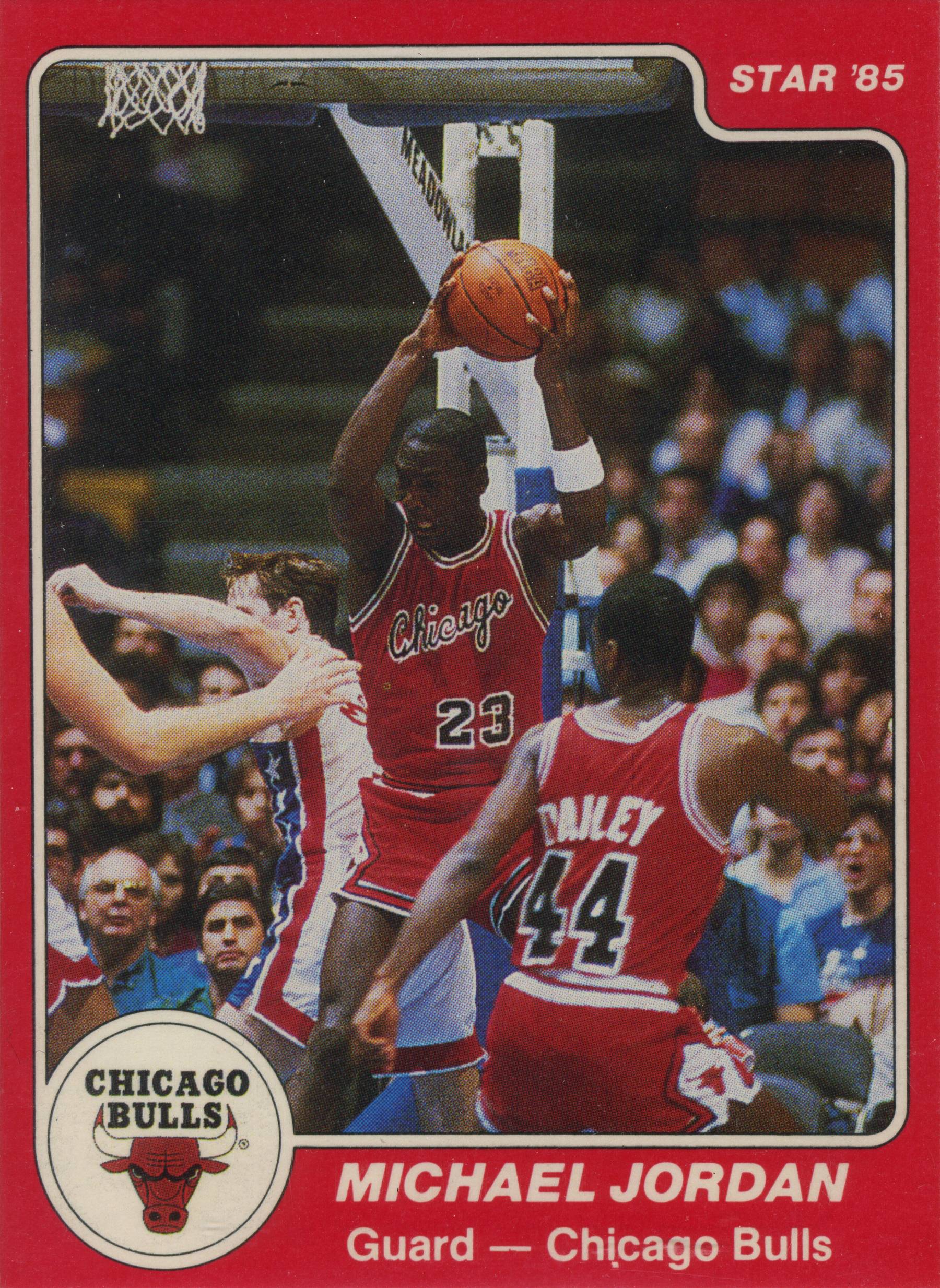 This article is the result of a roundtable discussion I had with three knowledgeable collectors looking at the status of the 1984-85 Star Michael Jordan #101 card. The question on the table was: "Is the 84-85 Star #101 card Michael Jordan's true rookie card and why/why not? Why is it that the card is designated an XRC by most collectors?"
It is worth noting also that, though our discussion focussed on the Michael Jordan #101 card in the 84-85 Star set, there are several other notable cards produced by Star Co. to which the same principles apply. For example (by no means exhaustive):
James Worthy #25 83-84 set
Isiah Thomas #94 83-84 set
Dominique Wilkins #263 83-84 set
Charles Barkley #202 84-85 set
John Stockton #235 84-85 set
(H)Akeem Olajuwon #237 84-85 set
Patrick Ewing #166 85-86 set
Having input into the conversation was renowned Star Co. cards expert Steve Taft along with experienced collectors Lou Costabile and Jarret Kahn. Check out the bottom of the article for links to the websites and online stores for these guys.
Steve Taft has been a dealer of Star Co. cards since the first All Star Game release in 1983. He consulted for the NBA in the million dollar court case between the NBA and Star Co. following the illegal printing of back dated cards in late 1996 to 1997. (This is commonly called the "Shop at Home Scandal" and you can read more about it at my interview with Steve Taft of August 2010.) Steve was also responsible for training Beckett graders in 2008 to enable BGS to begin grading Star cards - Beckett press release.
Lou Costabile and Jarret Kahn are well established and highly knowledgeable collectors of Michael Jordan Star Co. cards. Both have experience buying and selling the highest graded and most valuable Michael Jordan Star Co. collectables. Lou has also written a couple of articles for this website:
Now that you've met everyone let's get into the discussion. The Michael Jordan memorabilia collecting community at large generally accepts the Beckett determined status of the 84-85 Star #101 card as being an XRC (Extended Rookie Card) and not Jordan's RC (Rookie Card). This is a point of contention for many reasons as you'll see in this article.
To begin our discussion we first need to define these two terms clearly.
What is a Rookie Card (RC)?
Between us we agreed that a rookie card is a card which is:
The professional player's first appearance on a card.
For example in 1985 Topps released a Mark McGwire baseball card #401 in a Team USA uniform which is considered his rookie card even though his first card in an Oakland A's uniform was 1987.
Manufactured by a company with a license to print cards for the major league they are representing.
Part of a regular release set unless the only card released was part of a special set.
For example if the player has a base card, All Star card, and League Leader card in the one set then the base card will be considered the rookie card.
What is an Extended Rookie Card (XRC)?
The Extended Rookie Card nomenclature was actually invented by Beckett as a way to differentiate between the first card of a player in a standard set (RC) versus the first card of a player in special sets such as Topps Traded, Fleer Update or Donruss Rookies (XRC).
Beckett's reason for this was to place emphasis on the standard set to ensure true rookie cards came from these standard sets and not from special sets which sometimes featured new players before they had officially become professional players.
This statement begs another question: "what exactly is the difference between a 'standard' and 'special' set"?
I couldn't find anything from Beckett stating how they differentiate between the sets however, if we take the Topps Traded and Fleer Update sets as an example, we can assume the intention of the XRC designation was to ensure cards from complementary release sets distributed in complete set form are not classified as true rookie cards.
In addition, many collectors state that any card from a set not available through retail outlets and easily obtained by the general public cannot qualify as a rookie card. Steve Taft confirmed that this was the major point for Beckett in assigning the XRC status to RC cards of Star Co. sets:
I recall that a card from a set generally not obtainable thru retail outlets was a reason to call it an XRC and not a RC. Beckett believed a RC should be a card from a set available thru the long traditional sales outlets for cards such as corner liquor stores, pharmacies, mini-marts. This is why Star Co. RCs were assigned to the XRC category.
Why was the 1984-85 Star #101 Michael Jordan card classified as an XRC?
Beckett assigned the XRC status to the 84-85 Michael Jordan Star #101 card along with all first player cards of the Star Co. sets. Over time other price guides and eventually the market at large took on this term along with its Beckett derived application onto various individual cards.
From our definition of Beckett's XRC term above we can assume that the reasoning behind the Star Co. sets designation is that collectors believe that the sets were:
Special release sets
Distributed in set form
Not distributed through retail channels
However, is this definition of Star Co. sets correct? Our roundtable sounded a resounding NO!
In fact Steve Taft believed this so wholeheartedly that he spoke with Jim Beckett after the decision was made lobbying the points for Star Co. cards to be designated RC's:
While I'm a bit foggy on the conservation, as, it has been a long time, my recollection is that Jim knew and understood this decision was a gray area for the XRC / RC designation with Star Co. I think he recognized this was not the best result, but, they made the decision and did not want to make another rule change.
1984-85 Star #101: Michael Jordan Rookie Card
It will be obvious to you by now that the members of our roundtable discussion believe the 1984-85 Star #101 card is Michael Jordan's true rookie card. Accordingly we also believe there are a range of other players whose true rookie cards are from Star Co. sets (including Thomas, Wilkins, Worthy, Barkley, Stockton, Olajuwon, Ewing as noted above).
Given the examination of what defines a rookie card and an extended rookie card above, let's look at each requirement to defend our assertion of the status of the 84-85 Star #101.
#1 – A rookie card is the professional player's first appearance on a card
Michael Jordan was drafted with the third pick by the Chicago Bulls in June 1984 in the 38th draft of the NBA. The 1984-85 season commenced on October 26, 1984 at which time Michael Jordan played his first game for the Chicago Bulls and as a professional basketball player.
In December 1984 the 1984-85 Star set was released. Further releases were made until March of 1985.
There is no denying that the 1984-85 Star Co. sets contained cards featuring Michael Jordan's first appearance as a professional basketball player. To be exact these cards are:
The base card #101
1984 Gold Medalist #195 (Jordan is shown as a member of the 1984 USA Olympic Team)
1985 Rookie Of The Year #288
Court Kings #26 (oversized 5×7 card and part of a special release additional set)
#2 – A rookie card must be manufactured by a company with a license to print cards for the major league they are representing
Star Co. held a license to print NBA basketball cards from 1983 until 1986 – for three years it was the only authorized card manufacturer. The cards produced during this period were printed 100% legally.
Unfortunately Star Co. seriously tainted their image by illegally printing back dated cards in late 1996 to 1997 (see my interview with Steve Taft about the Star Co. illegal printing); however this affects no cards from the 1984-85 Star sets.
There is a common rumor that cards from the 80's were reprinted in the 90's with the original printing plates from the 80's and that there is no way to tell the difference.This is simply not true. The illegal printing involved new cards (though re-using some photography) with new border colors and were printed in late 1996 to 1997 and back dated to appear as though they were printed in the early 80's.
Star Co. printed the 1984-85 Star sets with complete and legal licensing from the NBA.
#3 A rookie card must be part of a regular release set unless the only card released was part of a special set
As we saw in #1 there were actually three Michael Jordan Cards printed as part of the 1984-85 Star set along with one card from an additional special set.
There was a base card: the #101 card and thus this card should be viewed as the rookie card.
#4 A rookie card must NOT be part of an additional special release set
This part refers to special extra sets which have been released in the past to complement the main set of the season. For example Topps Traded and Fleer Update baseball sets were released as well as the standard sets from Topps and Fleer.
The Star Co. released set of 1984-85 Star is simply not one of these special sets. It is the main set for the season; in fact the only main set as there were no other manufacturers of basketball cards at the time.
Some say that the Star Co sets were special sets due to the way they were distributed which we will look at below. Regardless of this, I believe the true intention of this rule to define an XRC was more to do with additional sets as opposed to unusually distributed sets.
#5 A rookie card must NOT be from a set distributed in set form
This point piggy-backs off point #4 and argues that rookie cards should be randomly pulled from packs and not bought as part of a complete set.
It is true that Star Co. distributed their cards in team bags: when you bought a Star Co. bag you knew exactly what was inside. However this was not the complete Star set. The complete 84-85 Star set comprised of 288 cards with only 12 of these cards inside the Chicago Bulls team bag.
As above, we do not feel the intention of this rule completely fits the Star Co. sets and Jarret Kahn makes a good point:
It is not for us to say how Star Co. should or should not have issued their cards, but certainly issuing cards in team bags is closer to the definition of issuing cards in packs than sets.

Regardless, how the cards were issued to the public is meaningless because only the Star Co. had a license with the NBA to produce cards at the time.
Steve Taft states:
The fact that the only NBA Licensed issue of the 1984-85 season was released in team bags was a decision by Star Co. on how to issue their set. You can argue this allowed collectors to get exactly what they wanted instead of having to buy random packs. Given the limited production of the Star sets, I'd suggest that Star Co. was perhaps the most collector friendly when it came to how they were issued and originally distributed.
#6 A rookie card must be available to the general public
Steve Taft confirmed for us that this point was a major reason Beckett chose to designate the Star Co. sets as sets containing XRCs as opposed to RCs.
Star Co. was a small company producing limited numbers of each set in the early to mid 1980's. The Wikipedia article on Star Company Basketball Cards 1983-1986 shows that estimated print runs of the early sets range from as low as 1,400 to 15,000 copies.
Star Co. was the only company producing basketball cards from 1983 to 1985 due to the simple fact that there was not great deal of collector interest in basketball cards at the time. Topps ceased producing basketball cards at the end of the 81-82 season and it would be a further five seasons before Fleer would enter the basketball card arena with the 86-87 set.
Due to the limited public interest it seems common sense that Star Co. would limit the number of sets they produced. Due to the limited number of sets produced it seems common sense that Star Co. would limit the distribution to hobby dealers.
The supply and demand economics model states that, to return a sustainable profit, Star Co. would need to meet demand with an accurate level of supply; oversupply of sets would cost money and reduce the viability of the company.
Should a manufacturer's cards be 'downgraded' due to the size of the market? Topps and Fleer were not interested in basketball cards and Star Co. helped continue a flailing hobby. My point here is that it was not the fault of Star Co. that interest was low in basketball cards at the time.
However, even if it was a pure business decision for Star Co. to limit the production and distribution of their sets, I maintain that this alone should not result in a 'downgrading' of the Star sets. These days, there are plenty of highly limited cards from sets which were not available at your corner store and retain the full RC status according to the hobby at large. For example:
03-04 Exquisite Collection LeBron James #78 RC (limited to 99)
03-04 Skybox LE LeBron James #118 RC Die-cut Hobby (limited to 99)
Steve Taft states:
When cards are NBA Licensed and distributed directly into the hobby via hobby distributors and dealers, I find it difficult to support the theory that this was not an appropriate distribution method worthy of maintaining RC status.
Round up
The 1984-85 Star Michael Jordan #101 card fits the description of a rookie card perfectly, it doesn't fit the description of an XRC perfectly.
Steve Taft makes a good conclusive point:
Something I think is very important is for collectors to understand is that all 'XRC' is, is nomenclature for Beckett's Price Guide. It does not say you have to agree to it and use it. Personally, I don't acknowledge XRC for a Star Co. RC, so, my Internet and advertising of these cards describes them as RCs, unless the listing is pre-set by the hosting source. When it comes to the other Jordan cards from 84-85 Star Co. issues, I refer to those as 'First Year' MJ issues (as I would with Barkley, Stockton, etc., from the various subsets that were issued).
Although we disagree with the decision by Beckett to assign Star Co. sets the XRC status for RCs we highly value the contribution Beckett has made to the industry. In addition, the fact that Beckett is one of only a few companies grading Star Co. cards is to be congratulated.
Additionally, we are by no means attempting to downgrade the status of the 1986-87 Fleer Michael Jordan #57 card – this will always be considered Jordan's rookie card due to its place in the market for so long. However, strictly speaking, Michael Jordan was in his third season of the NBA when this card was released; his first card as a professional player was the 1984-85 Star #101.
This card is rare, condition sensitive, historic, has an eventful past, and truly shows Jordan in his first season of the NBA – what more could you ask for from a rookie card?
Do you agree? We're keen to hear your thoughts on this topic in the comments section below or see your vote in the poll on the Michael Jordan Cards Facebook page.
Must see web links: