Christmas morning 2008. Continuing a decade-long tradition, a Shareef Abdur-Rahim and Muggsy Bogues collector opens a box of 08-09 Fleer basketball gifted by his parents. It was a nice rip but nothing huge - a 90's era Jordan silver script auto was a nice pull and diligently stored away in the Jordan section of his collection.
15 years later, this collector - Difficult-Task-7309 on Reddit - began sorting his 50,000 card collection. "A 92/93 card [that] looks just like all the other cards from that era … just kinda blended in" - it was the Jordan silver script auto. Upon noticing the 1/1 Difficult-Task-7309 "thought it could be something crazy" so posted a photo to Reddit and "reality started to sink in that it's something really special".
The 'silver script Jordan' turned out to not only be a legitimate signed Jordan autograph but a one-of-a-kind buy back auto 92-93 Jordan Team Leader. Complete with Upper Deck authentication sticker and certificate, this card is 100% legitimate. In fact, the exact card is shown in the link above where I used the Upper Deck brag photo from Upper Deck's marketing of the product in 2009.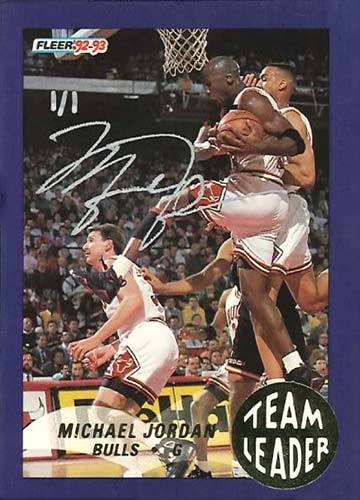 What are buy back autos
I'm a fan of buy back autos as my favourite era is late 80's to early 90s - also know as the junk wax era. This is when I collected as a child so holds a special place for me. Unfortunately, the era earned the junk wax epithet due to the huge volume of production and limited true rarities produced. Very few autographed or memorabilia cards were produced during this era.
The next best thing to an autograph card from your favourite era is one later signed in person. Even better is one officially released by a trading card company with accompanying certification and backing.
Upper Deck bought back from the open market a range of cards, sent them to players to sign and included them in various releases. Some cards were included in the pack and others as part of a mail away redemption. In this case, the 92-93 Team Leader was included in the pack along with its certificate of authenticity from Upper Deck.
In 2009 I put together a gallery of some of the Michael Jordan buy back auto cards released thus far - it includes the Team Leader pulled by Difficult-Task-7309.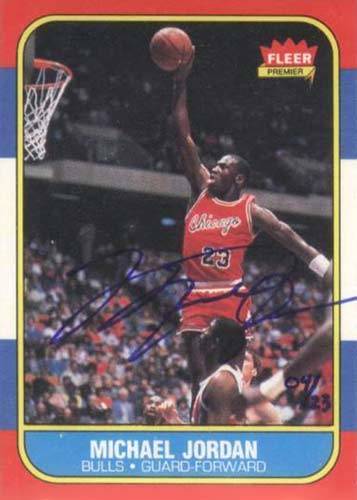 Buy back 86-87 Fleer Jordan RC
The 1986-87 Fleer #57 Jordan rookie card has been included as a buy back autograph card as part of Upper Deck's 20th anniversary release of the 86-87 Fleer. In the 2006-07 Fleer release, Upper Deck included redemptions for 23 Jordan RC buy back autograph cards.
I've worked with a number of collectors looking to compile a gallery of the 06-07 Jordan buy back auto Fleer RCs. It's said that 14 of the 23 were redeemed and Upper Deck has not commented to my knowledge on the remaining 9.
The most recent sale was via Heritage auctions of $264,000 including buyers premium for card number 21.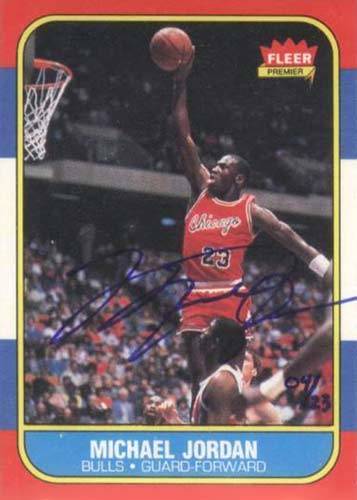 08-09 Jordan Team Leader buy back auto
I was able to connect with Difficult-Task-7309 to talk about finding the card and the story behind it. It's a monster card to find and the story is a great read.
Can you tell us about how you found it?
I found it in a plastic card holder with a bunch of other Jordan cards. It wasn't stored super nicely, but I had been collecting for long enough by 08/09 that a Jordan still went into a mostly safe space.

I've been going through my full basketball collection for the last couple of weeks with the goal of starting to sell off a majority of it. Got to the Jordan portion of my collection and found it about halfway through.

When I first saw it I still didn't think anything about it. I literally set it down and moved on to other cards! In my brain I just thought it was some sort of Silver Script like they had in the Collectors Choice sets back in the day. In fact I had just gone through my Muggsy Bogues collection and had 2-3 of those silver script cards.

After going through a few more Jordans, I switched back to it and thought it could be something crazy. So that's when I posted to Reddit and the reality started to sink in that it's something really special.
What do you remember about pulling the card?
I wish that I wasn't telling the truth, but I honestly do not remember pulling the card at all. I know that's wild to believe, but it's the truth.

Growing up my parents would always get me 3-5 boxes of basketball cards for Christmas and even after I grew up and flew the coop, they still get me 1 box per year as a sort of tradition.

So this would have been the box of basketball cards I got for Christmas. (This is different than my story on reddit slightly, I've had time to calm my brain and think clearly. In 08 I was not in college, I graduated in 07.)

I got married in the summer of 08 and was living in an apartment 2.5 hours from my parents. So chances are I opened my christmas box at their house, just to pack it up the next day and drive home. I clearly did my due diligence and put all the numbered cards and this Jordan in the right places, tucked them back into the closet and done.

Side story, I went through a few cards about 6 months ago and discovered that I had a 2016 Jaylen Brown rookie Mojo Prizm /25. Again another card I had no idea I had. Got graded PSA 10. I had a Ben Simmons /99 from the same set.
Why do you think you didn't realize what you had at the time?
It's a 92/93 card. It looks just like all the other cards from that era. I grew up collecting from probably 91-03.

I have about 50,000 cards and I'm very aware that a majority of those cards are not really worth much. Seeing a Jordan from 90s; I have probably 300 of those. Most are around $5-$10. Combined with the Silver Script cards I'd get back in the day, this one just kinda blended in.

Also, I know that 1/1's are somewhat common now, you can go to ebay and see quite a few with minimal effort.

But when I was collecting that wasn't really a thing. Why would a card I have actually be a 1/1 like this card was saying? It didn't seem real. Like why would it be real and that I, of all people, have it.

I'm an only child and couldn't see another house from my house. I spent every weekend and many nights after school just sorting and going through my basketball cards. I knew pretty much every card I had; especially my Jordans.

I literally had no memory of this card, so must have been nothing.
Which players did you collect?
I grew up collecting primarily Shareef Abdur-Rahim. My favorite player was Muggsy Bogues, so I have a pretty good collection of him as well.

Being a kid with pride in my collection I of course was always stoked when I got a Jordan or a Kobe from one of my boxes.

My pride and joy (well it's now #2, but don't tell) is a 96 Slam Cam of Jordan. I knew what I had right when I got it. I screamed so loud, I was probably 11 years old, that my parents came running thinking I had injured myself.

I also have a 96 Net Assets Jordan too. Love all my Jordans for sure.

As for being a collector, I was pretty much done collecting by 2003. I missed out on a ton of Lebron opportunities for sure. But my parents getting me a box of cards for Christmas every year is still a great tradition and seems like it's paid off!
What do you think you'll do with the card?
I know that I'm going to go the Authentication route for sure.

I know it's real, I have the cert card and everything. And I know I've never purchased a Jordan single in my life. So if I have it, it's from me ripping a box.

But I also understand a picture on the internet is just a picture on the internet, so getting it authenticated will be good.

I'm not sure if I'm looking to sell it or not. I found this card about 12 hours ago, so I'm gonna sleep off the adrenaline first!

When I started going through my collection I said I wouldn't sell my Jordans, Kobes, Shareef Abdur-Rahim, or Muggsy. Everything else is fair game.

I think I'm gonna try to stick to that, but I will definitely be looking to keep myself educated on my options.

I really like the idea of selling to a personal collector though. When it comes to something like this, being able to shake a person's hand and hand it over feels like a good story and lifetime memory.

What I can say is that I will be paying way more attention to the cards I open on Christmas this year!
What a great story this is! I will definitely update this post with more information and photos once the authentication comes back and will post a link if the card is headed to an auction house.