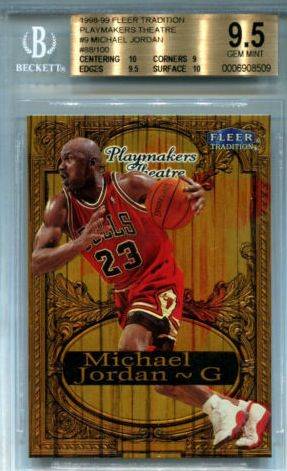 High end Michael Jordan cards collector Nat Turner has alerted the collecting community to his 98-99 Michael Jordan Fleer Tradition Playmaker's Theater BGS 9 (worth around $3200) showing up for sale on eBay.
As you will see below, this is a terrible series of events and I really hope Nat eventually regains possession of his card. If you see serial number 88/100 of the 1998-99 Michael Jordan Fleer Tradition Playmaker's Theatre show up for sale anywhere please let Nat know.
Nat has stated that he is not interested in the insurance money - it is his very difficult to replace card that he is after - this is certainly understandable. However if you are sending anything this valuable through the mail always ensure you adequately insure.
Below is the content of Nat's eBay listing which he used to alert the community:
I am a major buyer of rare Michael Jordan cards. On March 17, 2011 I purchased a Michael Jordan Fleer Playmaker's Theater BGS 9 serial numbered 088/100 (here is a link to the original auction).

After successfully receiving the card after winning the auction (for $3,250), I scanned the card and posted it to my personal collection. You can clearly see the serial #.

On June 16th, I mailed the card to Beckett Grading Services (BGS) in Dallas hoping to have the grade bumped up to a 9.5 via USPS. I also sent along two other cards, both high-end Lebron James cards (one is scanned here before I sent it). Beckett never received the cards.

About a month and a half later, my exact card which never arrived to BGS showed up on eBay for a conspicuously low BIN ($2,700) from a seller in Dallas (the same city that BGS is located in). The auction of course ended quickly, with better_cover_lover (who now goes by the_pirates_parrot). The seller was xedbats, whose name is Michael Becker (link to auction). I talked to Michael after locating his phone number, and he promised to hang onto the card and not sell it to better_cover_lover or anyone until we resolve things. His story at the time was that someone walked into his store in Dallas and offered him the card sight-unseen for $2,000 cash, which he paid, and then he posted the card on eBay not knowing it's true value but wanted to make a quick buck. As soon as I talked to Michael on the phone, I messaged better_cover_lover over eBay knowing that she (Amy) bought/won the auction, alerting her to the fact that Michael/xedbats was selling a card that was stolen from me, and therefore she should not pay for the item as she would be buying stolen property.

Unfortunately, Michael went dark soon after that and never returned any of my calls or emails. In the meantime, I flew to Dallas and met with the police and postal police, and started cases with both for the stolen property which presumably was stolen out of the mail. The theory being, someone recognized who the recipient was (BGS), knew that cards that were worth grading were contained inside, and kept the package.

Now, today, about 5 friends of mine who are big Jordan collectors have emailed me a scan of my card, with the same serial # (088/100), which has (as expected) been successfully bumped up to a 9.5 by BGS, which is being offered for sale by better_cover_lover / the_pirates_parrot. This person is Amy from Australia. In fairness to Amy, I have successfully purchased many cards from her on eBay and have had no problems, however that doesn't change the fact that she is currently in possession of my high-end stolen card which she bought from Michael Becker. It appears that she/better_cover_lover/Amy/the_pirates_parrot knowingly, after me having alerted her to the fact, bought the stolen card from Michael Becker in Dallas, got the card bumped by BGS, and is now offering it for sale.

I have attached two photos of the card, the first in BGS 9 form of when I owned it, and the second in BGS 9.5 form that Amy is currently offering for sale. I personally find it very unethical that she would go out of her way to buy this card KNOWING that it is stolen, and then go about selling it. That doesn't speak highly to her business practices, which many people have questioned in the past.

DO NOT BUY THIS CARD. It is stolen property, and will need to ultimately be returned to me. I am working with the authorities both in the US and Australia now to have the card recovered. If you buy this card, you are buying stolen property. I have received countless legal advice on the matter, which is unanimously centered that if you buy stolen property, and it's discovered as such, the rightful owner has the right to have the property returned without consideration (as it should be). Which is why it's important to obtain proof of ownership when you buy something high-end (such as a car, etc…). Worse, knowingly selling private property is an offense (which Amy is currently doing)

Please contact me at [email protected] or 281-923-9417 if you have any more information. Thank you

-Nat
The eBay listing was promptly removed after Nat released this statement through various platforms.
There are a couple of discussions on forums going on in which Nat is keeping the community up-to-date:
Here's hoping a good outcome for Nat.
If you are looking to add the Michael Jordan Playmaker's Theatre to your collection check out the page below:
Update March 10 2011 by Nat Turner
Nat posted to Sports Card Forum the following update on March 10 2011.
Hey everyone - as a quick update here, I was able to work out a deal with Amy / better_cover_lover / the_pirates_parrot for the return of the Jordan Playmakers 88/100 BGS 9.5 (which was a BGS 9 when I owned it and had sent it to BGS to be re-graded when it was stolen out of the mail presumably in Dallas, and then sold to Amy).

She was willing to take into account the fact that I technically currently own the card and thus had paid an amount to to originally acquire the card, and so I paid an amount of cash to make her whole for her troubles and the fact that she also bought the card (from Mike Becker in Dallas). I was very impressed that she was willing to work out a deal with the original owner (myself, who was a major customer of hers before).

Here's a link to the scan I just took of the card now that it is in my possession.

You can be sure that this card will not be entering the mail system any time soon 🙂

As a note - the two LeBron's (one Fleer Patchworks Ruby /50 PSA 10 and one Topps Contemporary Gold /25 BGS 9) that were stolen along with the Jordan Playmakers are still missing. Please let me know if you notice these cards for sale or being offered anywhere.

Thanks

-Nat