Popular Jordan cards
90-91 Hoops Sam Vincent - Jordan wearing number 12 jersey shadow card
Jordan wearing the number 12 jersey after his was stolen pre-game Feb 14 1990.
Year

1990-91

Set

Hoops

Number

223

Player

Sam Vincent
Valentine's day 1990 and a stolen Jordan jersey led to an interesting oops by Hoops in their 1990-91 release.
Jordan's number 23 jersey was stolen from the Bull's locker room in Orlando Arena before they were due to face the Magic. Efforts to locate the jersey failed and Jordan was forced to wear the spare number 12 jersey.
Jordan went on to score 49 points and the Bulls won the game 135-129.
As luck would have it, this moment was immortalised accidentally by Hoops on the card number 223 of the 90-91 set. Jordan is seen as a shadow in the foreground of the Sam Vincent card wearing the nameless number 12 jersey.
Hoops corrected the 'error' releasing a revised copy of the card after the Jordan shadow was discovered. As a result there are less copies circulating than other cards from the set.
The Jordan wearing number 12 card is readily available on eBay - see below for cards currently available for sale.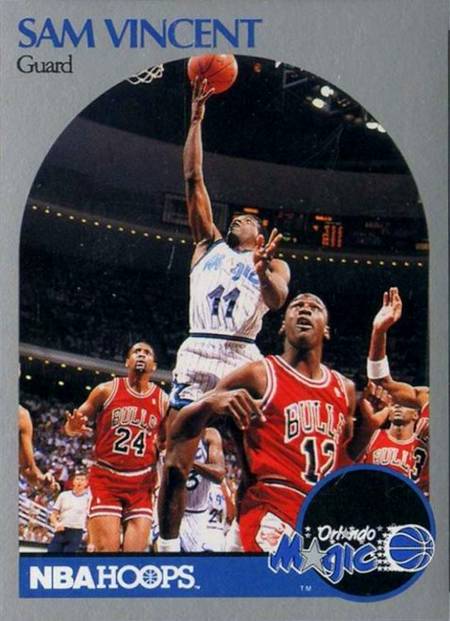 90-91 Hoops Sam Vincent - Jordan wearing number 12 jersey shadow card for sale on eBay now
This website is user supported. Clicking some links and making a purchase may result in the site earning a commission. Affiliations include but are not limited to eBay. This in no way affects editorial content.