Popular Jordan cards
92-93 Michael Jordan Team Leader
A well respected and sought out insert distributed only through rack packs.
Year

1992-93

Set

Fleer Team Leader

Number

4

Player

Michael Jordan
If you've read much of this site you will know by now that I am a huge fan of the early era cards and particularly the early inserts. The 92-93 Fleer Michael Jordan Team Leader is a very nice early insert and one of the rarest in prime condition..
This card was not available in standard 1992-93 Fleer packs - it was a rack pack only insert. Due to this fact not only was the card rarer due to the sales volume of rack packs vs standard pack but the size of rack packs allowed a little more movement by the cards. This movement meant the Team Leader insert often experienced chipping of the edges within the pack.
The Jordan Team Leader features the blue bordering, slightly muted colors and gold foil stamping that was common of early 90's inserts.
Both the border and the gold foil can chip over time so make sure you look very closely (back and front) at any card you are thinking of buying. Also check the centering carefully.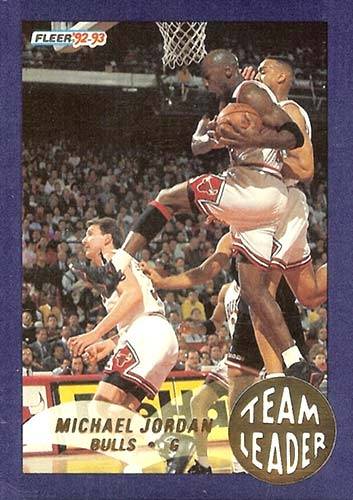 92-93 Michael Jordan Team Leader for sale on eBay now