Popular Jordan cards
93-94 Topps Stadium Club Dan Majerle Frequent Flyers Jordan shadow card
Are we looking at the aftermath of an accidental slap as Majerle flies to the rim with Jordan aggressively in tow? Also available in the First Day Issue, Members Only and Frequent Flyer Upgrade versions.
Year

1993-94

Set

Topps Stadium Club

Number

353

Player

Dan Majerle
Probably the greatest example of unfortunate timing on a photo of Jordan in a trading card, this card features Majerle flying to the rim in game 5 of the 1993 NBA Finals.
Majerle heads down court receiving a pass and closely followed by Jordan all the way to the rim. Majerle misses the basket and MJ gets called for a foul - he shows his serious disagreement with the referee as the Bulls call a timeout.
Take a look at the exact moment the photo was taken in the video here.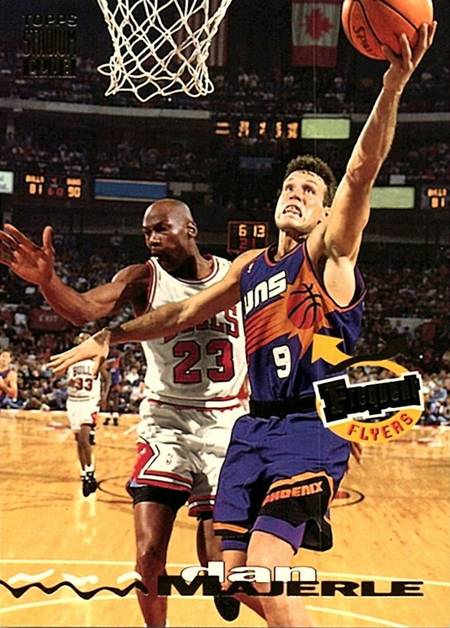 93-94 Topps Stadium Club Dan Majerle Frequent Flyers Jordan shadow card for sale on eBay now
This website is user supported. Clicking some links and making a purchase may result in the site earning a commission. Affiliations include but are not limited to eBay. This in no way affects editorial content.