Popular Jordan cards
Autographed Michael Jordan Cards
Trading cards autographed by Michael Jordan - it is recommended to only buy certified authentic and slabbed MJ autos.
Michael Jordan autograph cards hold serious value - after all they've been signed by the greatest athlete of all time.
Thankfully there is usually a wide variety of options for buyers of Jordan auto cards available for sale. These include:
Product released autos (those out of a pack or via redemption)
In-person autograph cards (obtained in person by fans)
Buyback autos (cards bought back from the secondary market by Upper Deck, signed and re-distributed via redemption or in packs)
The cards themselves can be either signed on-card or through use of a 'sticker auto' where stickers are signed by the player to be affixed to cards at a latter date.
Be aware that counterfeiting autographs is a rampant problem so you should never buy an autographed card unless it is graded or you have a strong understanding of the player's signature. Regardless of grading, it is a good idea to become familiar with Jordan's autograph.
If you're interested in choosing a Michael Jordan autograph card, take a look at the listings of cards for sale on eBay right now below.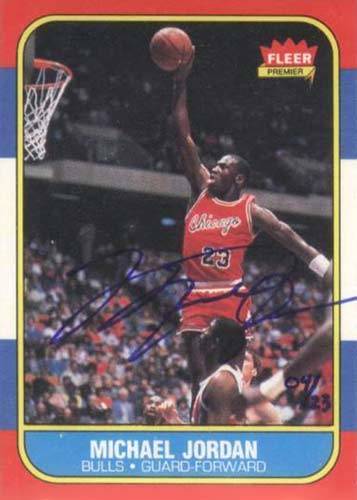 Autographed Michael Jordan Cards for sale on eBay now
This website is user supported. Clicking some links and making a purchase may result in the site earning a commission. Affiliations include but are not limited to eBay. This in no way affects editorial content.