Popular Jordan cards
Exquisite Basketball Boxes
Boxes of Upper Deck's highest end basketball cards with plenty of options for MJ autographs and game used memorabilia cards.
Upper Deck debuted the Exquisite Collection series with the 2003-04 season's release. All you need to know about the quality of the product is evident by its original 2004 suggested retail price: $500 for a single pack of 5 cards.
Exquisite Collection has continued to produce some of the nicest autograph and patch cards ever made. Logoman cards, multi-star autographs, amazing game used patches and even booklets containing massive numbers of autos are available.
Beckett covered the Jordan auto booklet containing 16 Michael Jordan autographs when it was pulled from a 2012-13 Exquisite pack.
Take a look at the video below to see a break of 2007-08 Exquisite Collection by a Belgian collector. He pulls a monster Logoman!
Exquisite basketball boxes do not come cheap having appreciated considerably in value since release. Here you'll find a list of boxes currently available for sale on eBay.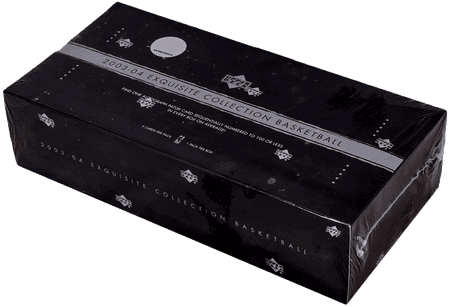 Exquisite Basketball Boxes for sale on eBay now
This website is user supported. Clicking some links and making a purchase may result in the site earning a commission. Affiliations include but are not limited to eBay. This in no way affects editorial content.