Popular Jordan cards
Michael Jordan Star Co Cards
The earliest officially licensed producer of Michael Jordan cards was Star Co - it is recommended to buy only BGS or PSA graded and slabbed Star Co Jordan cards due to counterfeiting and reprinting.
Whether you consider Star Co #101 to be Jordan's true rookie card or you prefer the 1986-87 Fleer #57, there's no denying the impact Star Co had on the hobby.
As the only licensed manufacturer of basketball cards between 1983 and 1986, Star Co produced the first card of a stellar series of rookies.
The Shop at Home scandal of the 90's caused serious distrust and confusion when it came to legitimate Star Co cards. False rumours circulated and collectors were burned by purchasing back-dated cards purported to be legitimate Star Co cards.
If you're interested in Star Co Michael Jordan cards I recommend you only buy graded cards and familiarise yourself with the 1984 and 1985 releases only buying cards listed by Jarret Kahn's Basketball Gold.
There is one 1990's release that was a legitimate release and worth a look at also: the 1990-91 Bulls Equal set and Equal glossy variation.
Keep an eye here for plenty of Jordan Star Co cards for sale now on eBay.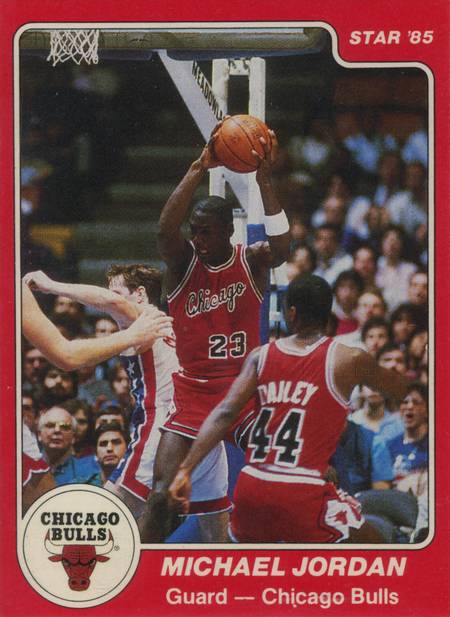 Michael Jordan Star Co Cards for sale on eBay now
This website is user supported. Clicking some links and making a purchase may result in the site earning a commission. Affiliations include but are not limited to eBay. This in no way affects editorial content.