This article is the first in a new series I am starting looking at some of the great Michael Jordan parallel cards around – and there are a lot! Particularly in the past decade or so, card manufacturers have been producing parallel insert sets. For those new to collecting this might beg a couple of questions: what are parallel cards and what are refractor cards?
What are parallel cards?
Parallel cards are simply standard base cards or inserts which have an addition of a defining feature such as a gold stamp, a stamped signature, a foil overlay etc. Parallel cards are rarer than their standard counterparts and often come in stages. For example below is the 1994-95 Collector's Choice #23 Michael Jordan card released the year Jordan left the NBA to pursue baseball. Also shown are the silver and gold signature parallel cards. The base card can sell for as little as $1, the silver auto approximately $6 and the gold auto approximately $45.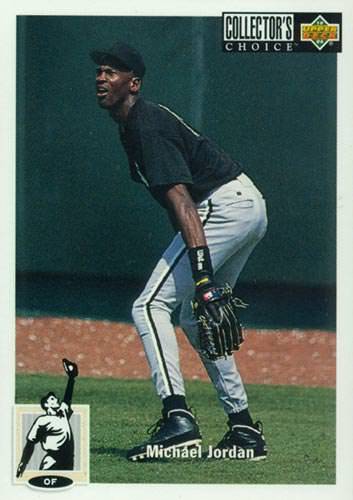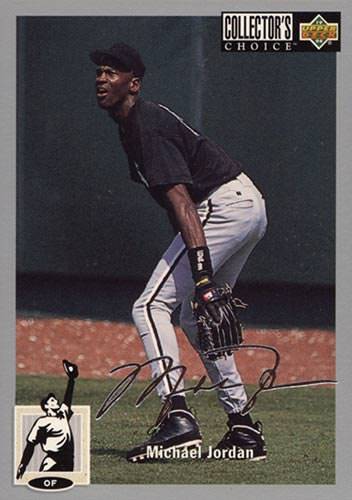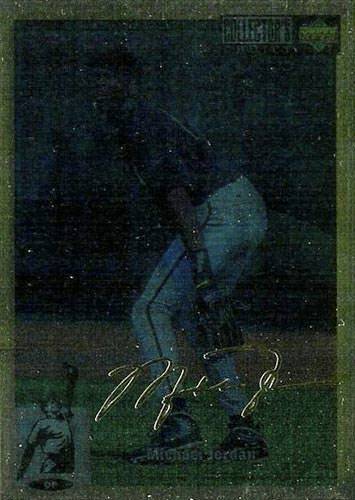 As you can see the cards are identical in every way except for the silver and gold overlays on the two parallel sets. (Sometimes collecting all of these is known as a rainbow collection.)
These cards are commonly available on eBay and a certain standout in your collection so you might be interested in tracking down some for sale on eBay through the links below:
Why parallel cards?
As I mentioned earlier parallel cards became even more popular in the last decade or so with the explosion of new sets available. It makes sense that manufacturers embraced this idea due to the fact that it meant considerably less work for the creation of further insert sets.
Many manufacturers also expanded the parallels available to follow precious metal type rarity (eg Bronze, Silver, Gold, Platinum) and made some parallels extremely rare, serial numbered sets. If you are an avid rainbow collector this made completing your collections an exciting and difficult task!
What are refractor cards
Refractors are the parallels that we are having a look at today and in my opinion they are by far the nicest of the parallels around. Refractor cards are highly colored gloss cards that feature a unique coating. When the card is tilted at an angle the surface of the card appears to 'refract' the light. When a beam of white light passes through a prism it splits the light into it's rainbow of colored components – this is called refraction.
Refractor cards mimic this effect on the surface of the card by bouncing light back to the viewer in a rainbow of colors. This is why you rarely ever see refractor cards scanned when for sale online – they need to be photographed at an angle to show off this spectacular effect! There are also no other discerning markings made to refractors so it provides the proof needed when buying online that the card for sale is in fact a refractor.
The cards below are a couple of my favorites both as a base and refractor card. The cards are the 1994-95 Topps Finest Michael Jordan base and refractor cards featuring Jordan wearing the number 45 jersey. (A second card is shown angled so you can clearly see the refractor styling.)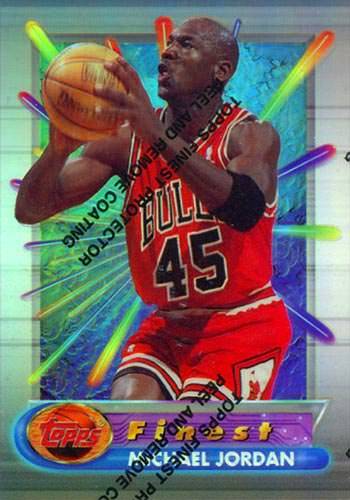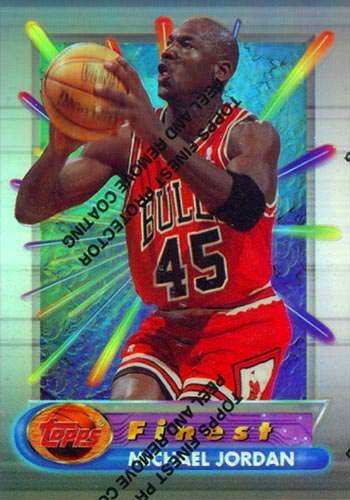 These very nice cards are commonly available on eBay so check these links out if you're looking to add them to your collection:
Different types of refractors
As is the case with parallels by nature, refractor cards come in several flavors. There are also refractors around that were never intended to reach the open market!
Early days of Michael Jordan Refractors
The first couple of Michael Jordan refractor cards that became available were released by Topps Finest in the 1993-94 and 1994-95 sets. These cards featured high color, high gloss photos and backgrounds which were perfect for the refractor insert sets. Both cards sell for around $150+ on eBay ungraded.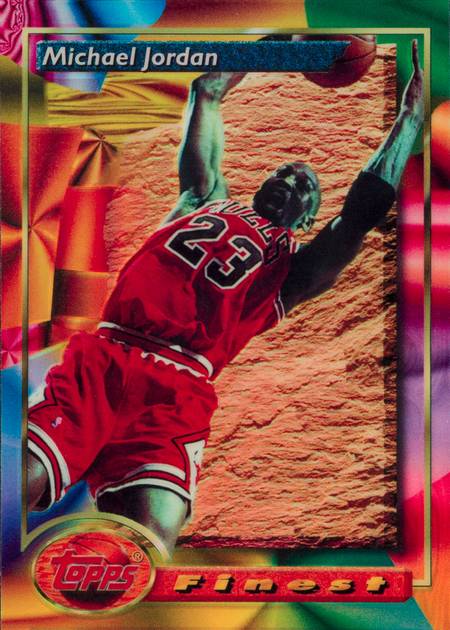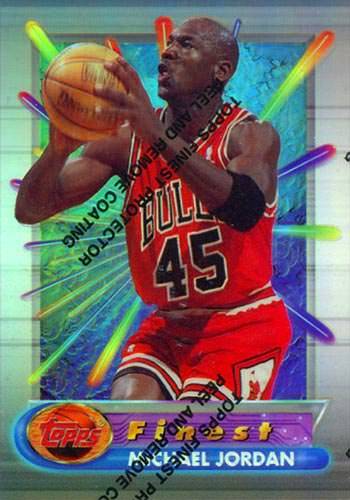 Both cards are spectacular additions to your collection and are commonly available on eBay for sale. Check out the links below to track down these refractors for sale online:
Michael Jordan Mystery Refractors
Starting in 1995 Topps stated adding an extra level of excitement to pulling a refractor out of a pack – they started coating cards with a black sheet of plastic. These were called the Mystery Refractors. You knew you'd pulled one when the card came out black – you only didn't know what you had until after you peeled the black coating!
Keep one condition issue in mind if you are looking to add this card to your collection – due to the peel which must be removed to determine the type of card (standard, silver, gold refractor) there can sometimes be some edge or corner damage depending how careful the original owner was when removing the peel.
Below is a scan of the 1995-96 Michael Jordan Topps Mystery Finest Bordered Refractor (left) and the 1995-96 Michael Jordan Finest Mystery Borderless Refractor (right). There was also a third refractor available in this season which we will see below in the 'Test Refractors' section however this one did not include the black coating.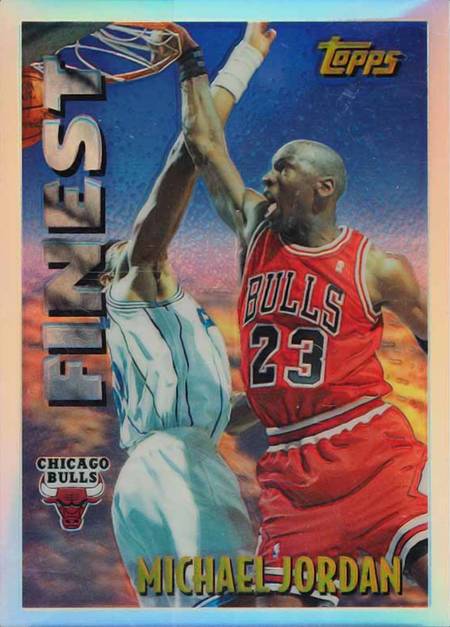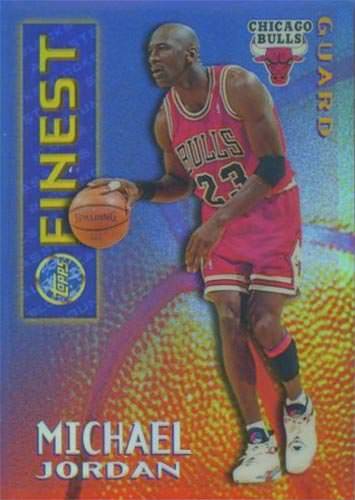 If you're interested in adding these cards to your collection check out the link below:
Michael Jordan Atomic Refractors
Atomic refractors are a spectacular addition to the refractor family. These great cards feature the same refracting style of rainbow light as the standard refractors however also include star bursts throughout the surface. The cards below shows this off very nicely (angled to show off the spectacular atomic refractor styling): the 96 Bowman's Best Michael Jordan Atomic Refractor and the 97-98 Bowman's Best Michael Jordan Atomic Refractor.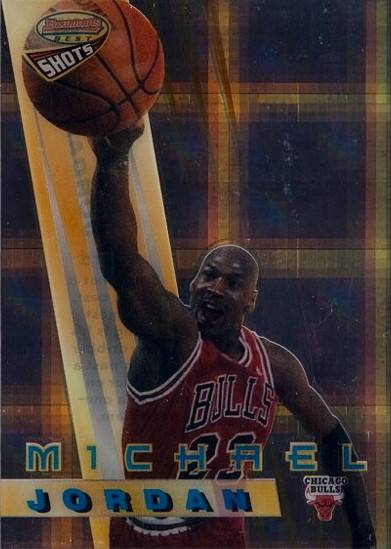 There are plenty of awesome atomic refractors around just waiting to join your collection:
The 1984-85 Michael Jordan Star XRC Reprint Refractor
In 1996 Stadium Club Finest celebrated the historic 1984-85 Star Michael Jordan XRC by releasing a refractor reprint of the card. This card is the same in every way to the original except that it has an entirely foil coating with the refractor styling.
A very nice addition to your collection this card typically sells on eBay for around the $125 mark ungraded.
Note: Don't confuse this card with the 1996 Topps Finest card. The Topps version of the card is not a refractor though it does feature the very nice Topps Finest styled foil. If you are looking to buy this card make sure to see evidence that the card is in fact a refractor by viewing a good photo of the card in the light on an angle or buying only from a well trusted dealer.
Michael Jordan Test refractors
There have been a couple of refractor inserts produced which were never intended to reach the marketplace. These cards are known as 'Test Refractors'.
Test refractors are cards which were produced by the manufacturer as a proof of concept in order to determine the best cards to officially release as part of the set.
Two great examples of Michael Jordan Test Refractors are the 1995-96 Michael Jordan Finest Mystery Bordered Refractor and the 1997-98 Finest Gold Test Refractor.
The official 1995-96 refractor has no orange border (seen on the right below as comparison) with the bordered test refractor shown to the left. The 1997-98 refractors come in various flavors (including a test) and will be the subject of a continuation post shortly. (The follow up post is now online: 97-98 Finest Michael Jordan Refractors)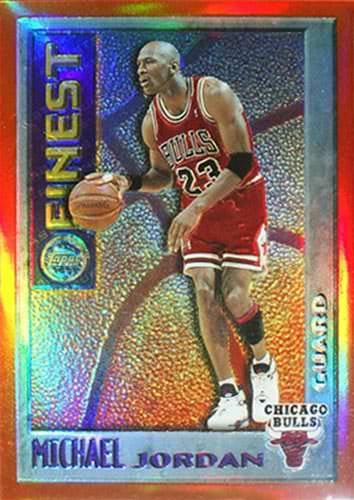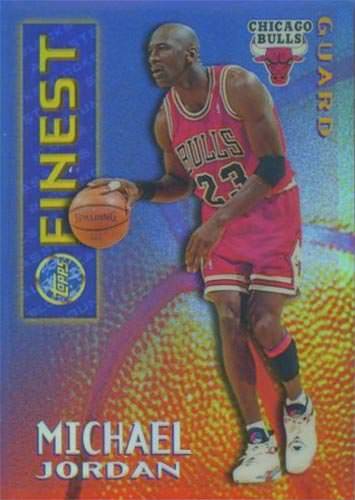 Test refractors are extremely rare and to my knowledge there has never been any information released indicating numbers available. If you're looking to add a Michael Jordan Test Refractor to your collection be sure to keep an eye on the page below:
I hope this has given you some pointers about adding some of these spectacular parallel cards to your collection. Refractors can be very rare but do regularly turn up for sale online so keep an eye out! I've only mentioned a few of the very abundant options when it comes to buying Michael Jordan Refractor cards – check out the link below to see all Michael Jordan Refractors available for sale on eBay right now:
Happy collecting.
I have some continuations to this post which might interest you: