Nike based their entire brand around a personification of victory but there was no denying that "a shoe is just a shoe, until someone steps into it". Nike's basketball division needed more than just brand association with Greek mythology to sell shoes - they needed a guy kids would want to be. There's disagreement on how it came to be but the end result was Air Jordan.
The movie Air - where we get the quote above - is out now and, though the reviews are mixed, I haven't seen anything on par with the ever-candid Kareem's feelings about Winning Time.
While I haven't had a chance to get to it myself it seems many visitors to this site have. The uptick in interest relating to Jordan Nike cards is obvious - especially given they are not something I've written about a great deal.
So let's correct that and dive into a look at Michael Jordan Nike cards - the trading cards, the poster cards and some actual shoe memorabilia cards.
1985 Michael Jordan Nike card
The promotional card released by Nike in 1985 as part of its six card 'Sports Cards' pack is by far the most well known and sought after Jordan Nike card. In a photo taken by Chuck Kuhn the Jumpman is flying to the hoop in Air Jordans with the Chicago skyline at sunset in the background. There is an abundance of iconography in one card!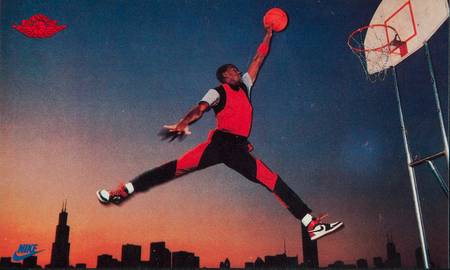 This card - like the Star Co #101 and Interlake cards - predates the 1986-87 Fleer #57. At a time when trading cards were usually bordered with heavy, solid colours this full bleed photo really stands out in a mid-80's collection.
The set is an oversized, multi-sport set featuring five athletes and a title card. The packs are shrinkwrapped in clear plastic and contain the set of six cards in alphabetical order with a slightly textured tan coloured backing. The cards themselves are printed on a slightly off-white stock and are based on some of the athlete Nike posters.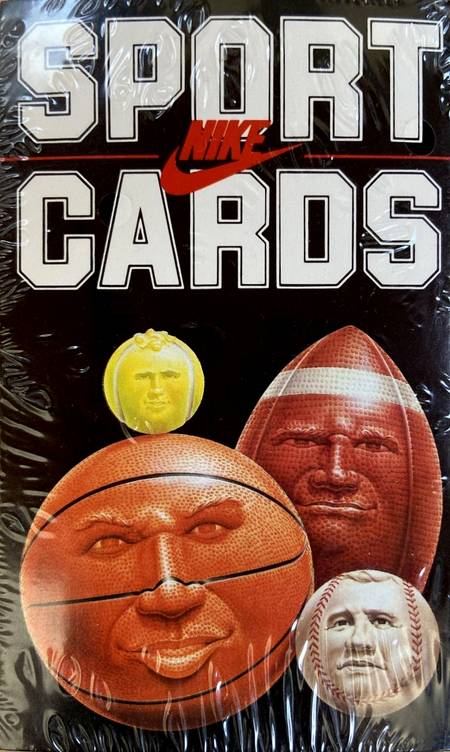 It's worth noting that I have seen packs without the tan backing and varying cards (including Jordan) as the final card unlike the Parrish when in alphabetical order. At the moment I can't say either way whether these are legitimate, re-packs or altogether fake. It seems unlikely that the packing process would change to begin randomising the order and leave out the backing card. To stay on the safe side I would recommend only looking to buy packs with the tan backing and do some reading up on spotting fake packs.
Bear in mind also this is a heavily counterfeited card so sticking to buying graded only would be a wise choice.
Michael Jordan Nike poster cards
Beginning in the late 70s, Nike produced posters of their sports personalities showing them outside of their usual arena. The reason for this was two-fold. Firstly, Nike didn't need to pay licensing fees to the team and leagues. Secondly, they could present the player head-to-toe dressed in Nike gear or get creative with the setting to create a unique piece never before seen.
These posters were available for sale in sporting goods stores as rolled and sealed items - if you're lucky you can find some for sale on eBay.
Due to the size of the posters they were difficult to display so Nike began printing miniatures in the form of 5x7 poster cards. These cards were sent to stores along with counter displays to show off the range of posters available. They came in varying types - some had a hole punched to be held together in a flippable group and others had either black or white backgrounds with varying amounts of information included and were intended to go into binders or be stuck to the poster display.
Dr Phil Garrou has created an excellent resource on Nike Poster Cards I truly recommend you take a look at. The full checklist has been pieced together with the help of both Nike and print shop staff.
There is a range of poster cards available spanning years. Here we'll take a look at some of the Nike poster cards featuring Michael Jordan from 1985-86.
Air Jordan poster card
Does poster card number 290850 below look familiar? This is the poster and poster card on which the 1985 Michael Jordan Nike card is based.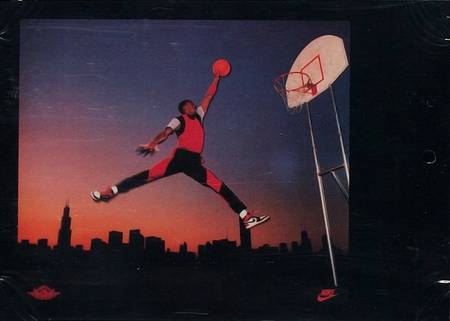 I mentioned earlier that Jordan was flying to the rim in this shot. Actually that's not true as Jordan himself says in a 1997 interview with Hoop Magazine:
"I wasn't even dunking in that shot. People think that I was. I just stood on the floor, jumped up and spread my legs and they took the picture. I wasn't even running. Everyone thought I did that by running and taking off. Actually, it was a ballet move where I jumped up and spread my legs. And I was holding the ball in my left hand."
Freezeframe poster card
For card number 290851 Nike got NBA permission to feature Jordan in Bulls jersey unedited which is a different tact than the bulk of the posters.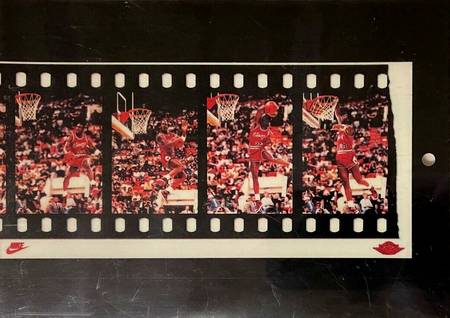 It was worth it as what they produced is a spectacular display of pure athleticism and, if paired with the preceding card, pays homage to Jordan's appearance at the 1985 Slam Dunk Contest. The warm up jersey featured in card number 850, the 'banned' Air Jordan 1s and a Slam Dunk entry which would become immortalised are captured beautifully on these two posters and poster cards.
The card features a series of frames from Jordan's 1985 Slam Dunk Contest entry in the tie-breaker dunk-off round to determine whether it would be he or Terence Stansbury who proceeds to the semifinals. Jordan went on to reach the final to be beaten by Dominique Wilkins.
Jordan Blue & Black poster card
Card number 290858 was released in 1986 and features Jordan in blue and black Nike gear.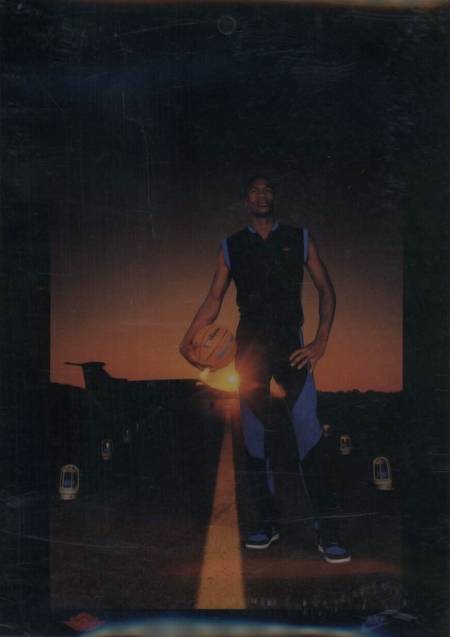 Jordan is featured on the runway and sunset with perfect composition of the sun, the plane in the back ground and the tarmac markings and lighting.
Michael Jordan and Spike Lee cards
Spike Lee and Michael Jordan came together in 1991 for a series of Nike commercials. As part of this collaboration, a promotional set of six trading cards was produced based on some of the printed advertisements.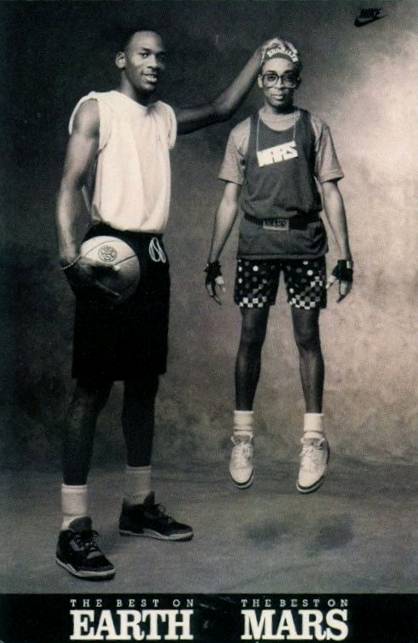 There's a play on words with Lee's character Mars Blackmon, a promo for Jordan's Flight School and a Stay in School card among the set.
Michael Jordan shoe memorabilia cards
Finally, to round out our look through Michael Jordan Nike cards, let's take a look at some of the shoe piece memorabilia cards.
Michael Jordan MJx Game Worn Shoe
In 1998 Upper Deck released the MJx Commemoratives Game Worn Shoe card - I believe this was the first ever trading card to feature a piece of a game worn shoe. The card is serial numbered to 230 and I've seen versions featuring both black and white patches.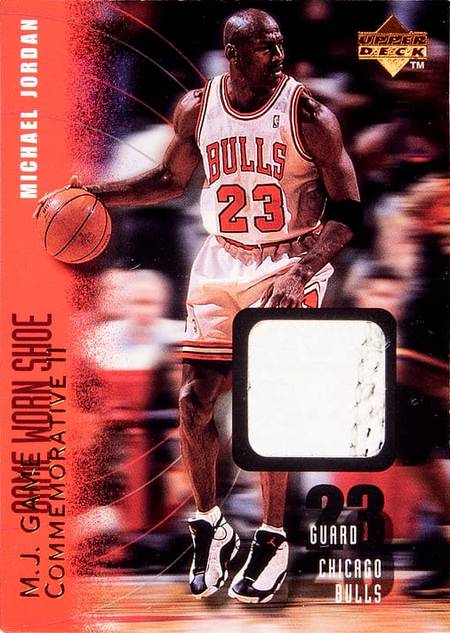 Michael Jordan HoloGrFX NBA Shoetime
I've always liked Upper Deck HoloGrFX and the 99-00 NBA Shoetime card doesn't disappoint. These cards feature game used shoe pieces - proudly announced on the back as "on the front of this card is an authentic piece of a shoe used by Michael Jordan in an NBA game". Also available in an autographed version.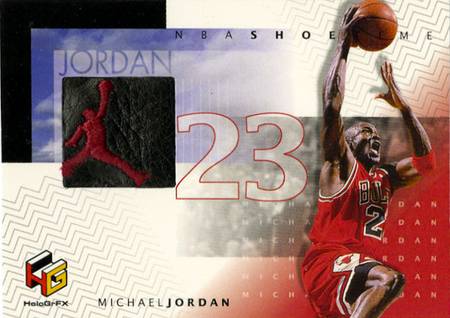 The patches can come in varying colours with the most appreciated being the Jumpman logo as shown here. In 2006 this very card could have been yours for only $207!
Michael Jordan Exquisite Signature Kicks
The Upper Deck Exquisite Signature Kicks sets give us some of the nicest and boldest autographed shoe memorabilia patch cards around. Released as part of Upper Deck's flagship Exquisite Collection line, these cards can include patches, a Jumpman or swoosh and laces of Air Jordan Nike shoes.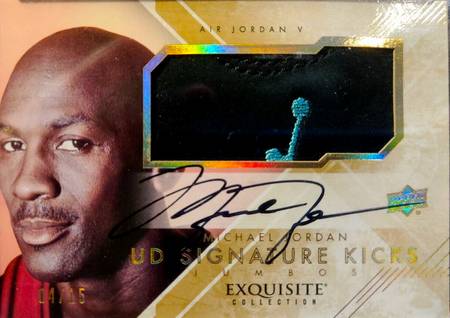 The play on words with the players' 'Signature' kicks along with their autograph is a nice touch.
I hope that helps anyone interested in finding more out about the various Jordan Nike cards available. Feel free to write in if you have any questions or ideas to add here.