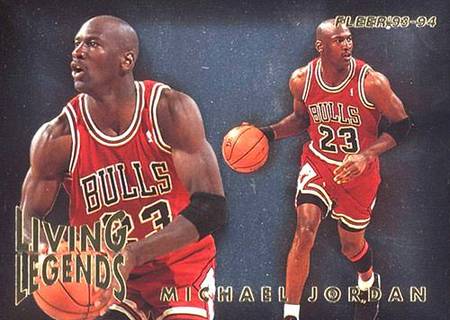 I can sum this iconic Jordan card up in one word: foil. This card is foil central and doesn't it look unreal? Fleer moved ahead in leaps and bounds over the quality of their inserts of the previous year with this set. (Don't get me wrong though – I'm a big fan of the early look!)
The card features two full colour, high gloss deep etched photographs of Jordan on a star burst styled gold foil background.
Due to the high amount of foil on this card chipping of the edges is common. Also make sure you check the back of any card you are thinking of buying for chipping.
The Michael Jordan Living Legends is another card that Upper Deck released as a buy back autograph card: Michael Jordan Buy Back Auto Cards.
1993-94 Michael Jordan Living Legends Cards for sale on eBay