Popular Jordan cards
86-87 Fleer Basketball Packs
The packs which may contain an 86-87 Fleer MJ rookie card - due to counterfeiting and resealing issues only buy graded.
Year

1986-87

Set

Fleer

Player

Michael Jordan
The 1986-87 Fleer basketball set is one of the most iconic sets of trading cards ever created. Not only did the set feature the Michael Jordan rookie card but contained the first mainstream release cards of a stellar line-up of rookies.
Of course, Star Co released the first licenced cards of many of those rookies however the market at large has generally accepted these as rookie cards.
Once you have a Michael Jordan rookie card and a Michael Jordan rookie sticker your mind might turn to an original pack from this famous set.
I recommend to only buy sealed packs which are graded due to the ease of opening and resealing wax packs. A common issue with ungraded packs is that they have been opened, any star player cards removed and replaced then resealed.
With the help of Steve Hart of BBCE, PSA do grade the 86 Fleer packs so these are a good way to buy an authentic, unopened pack of 86-87 Fleer.
The prices can vary based on the visible first card and sticker. This is compounded by the fact that these cards were released in a sequence so anyone who knows the sequence can predict with some certainty which cards the pack contains.
I always like it when a pack shows up with Magic Johnson on the front and the Larry Bird sticker on the back - a pack that sums up the rivalry of the era!
They don't show up for sale a great deal but any available for sale on eBay right now will appear here. Check back regularly if this pack is on your want list.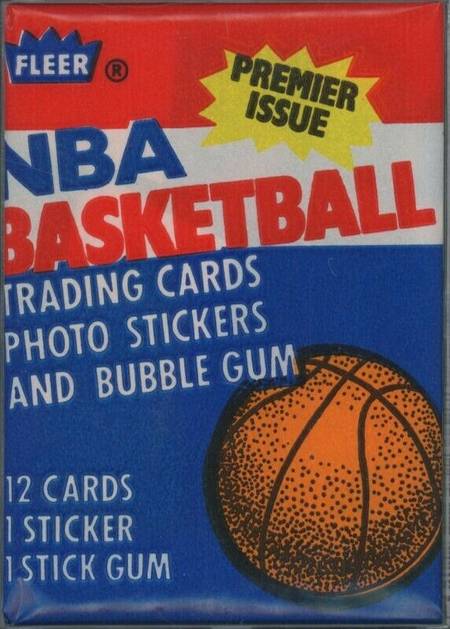 86-87 Fleer Basketball Packs for sale on eBay now
This website is user supported. Clicking some links and making a purchase may result in the site earning a commission. Affiliations include but are not limited to eBay. This in no way affects editorial content.