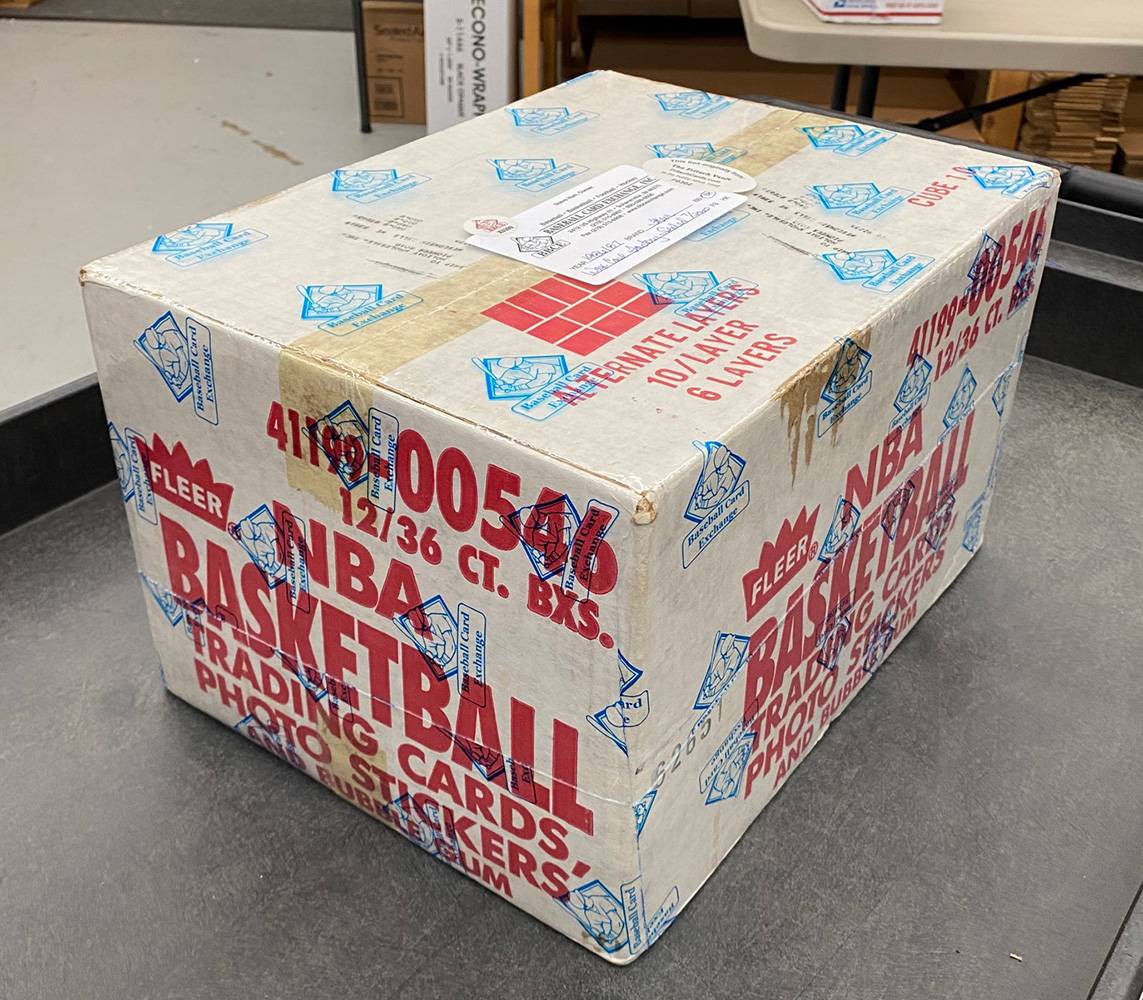 The news that Collect Auctions has brought to the marketplace a sealed case containing 12 boxes of 86-87 Fleer – with up to 40 Michael Jordan rookie cards – has caused quite a stir within the collecting community. This is the only case to come to auction in modern times. At the time of writing, the auction has 13 days remaining and is sitting at a bid of $1.28 million.
I wrote about the case of 86-87 Fleer basketball as the news was announced and have seen a renewed interest among collectors around boxes and packs of 86-87 Fleer basketball since.
There are a number of serious considerations around buying boxes or packs of 86-87 Fleer. This is particularly true if you are looking to pull the Michael Jordan rookie card as packs containing the Jordan rookie card can be easily identified. Additionally, the boxes were never factory sealed and packs can be resealed.
As a result collectors should only buy graded packs which have been certified as untampered. The standard for box authentication has become Steve Hart's Baseball Card Exchange (BBCE). BBCE has since certified the entire case of 86-87 Fleer currently at auction.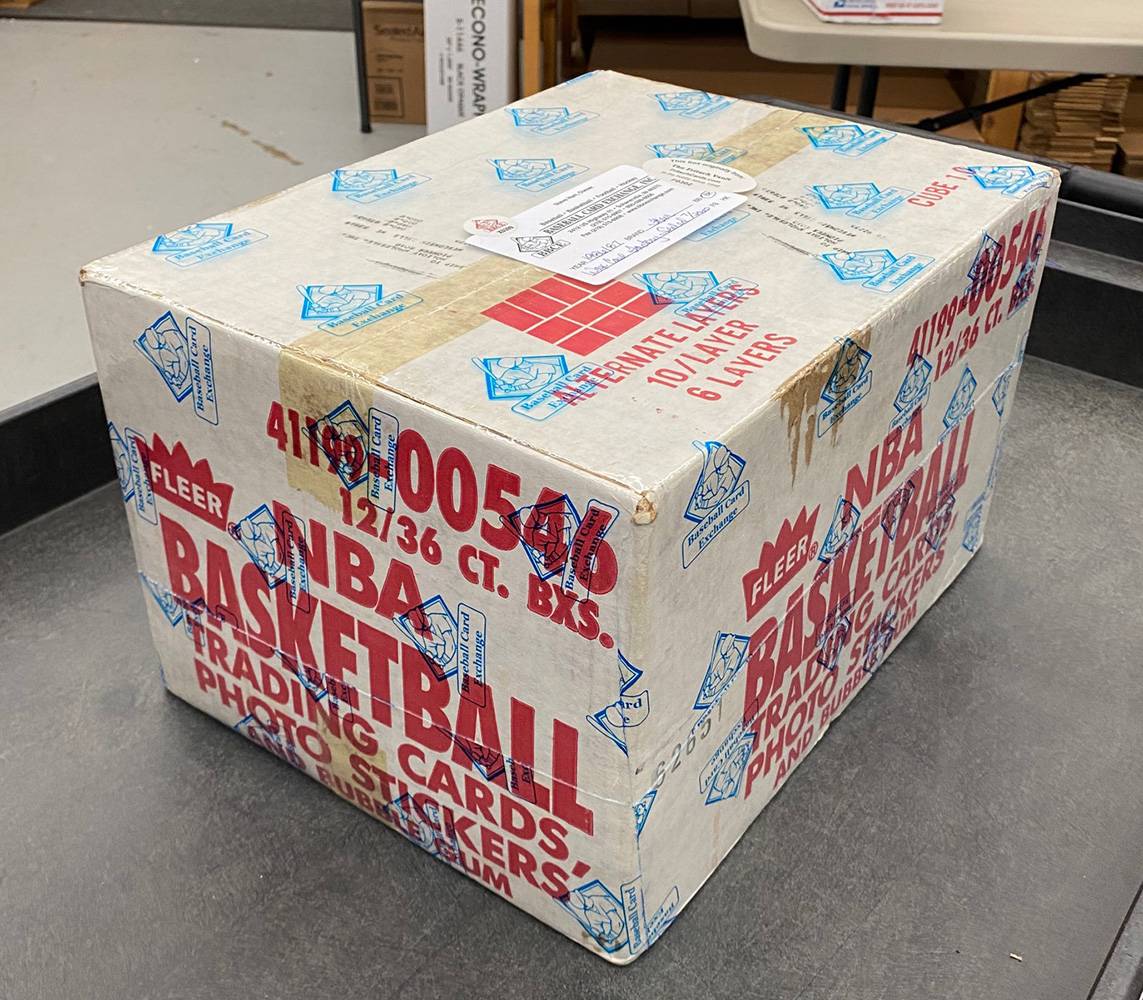 I wanted to talk to Steve to get his thoughts on the 86-87 Fleer case on auction as well as his insights into what collectors should look for when looking to buy 86-87 Fleer packs.
Steve certainly knows his stuff when it comes to ensuring a box of 86-87 Fleer is authentic having handled likely over 10,000 packs. His knowledge on what makes up an original box as it left the factory is second to none and his integrity and decades of experience with boxes of vintage trading cards shows in the trust BBCE is afforded by the collecting community at large.
Here I share with you a quick conversation Steve and I had about how BBCE began, how 86-87 Fleer boxes and packs can be authenticated and what collectors should look for if they're hoping to add an authentic pack to their collection.
You might also be interested in watching a live break of a BBCE certified box of 86-87 Fleer by Vintage Breaks on YouTube.
If you're looking to buy 86-87 Fleer packs and boxes have a look at the links below. I do recommend you only buy BBCE certified boxes or graded packs.
Interview with BBCE owner Steve Hart
Thanks to Steve Hart for his time and insights for this interview.
How long has BBCE been in business?
October 1st this year will be exactly 30 years since I opened BBCE as a full time, every day business. I would do several shows a year before then, but basically 30 years since it went full time in a store/office/warehouse.
How did you begin certifying vintage boxes and become the standard for box authentication?
Its been about 20 years since we first started wrapping our boxes and putting our label/business card in it. We did it for security in shipping (so the box didn't blowout all over) and for the advertising if the box changed hands. And of course, we did it to help ensure our customers that we thoroughly looked the box over. Believe me, if we were going to sell something that wasn't acceptable, we sure wouldn't attach our name to it!
So this auth/wrapping didn't even start out as a specialty business like it has become. About 10 years ago, people would ask me if I would look over their boxes and wrap them. I even did it for free for the few people that asked! Then eventually it grew to the point where I could no longer it for free due to the time it was taking up. Today since the Pandemic started, its been a full time 7-day a week process just trying to keep up!
I really don't like being referred to as the "expert" or "authority" on anything. I have been given that label, but never in my own words. That would be like giving yourself a nickname! Its just what I do and give the best I can every time.
Aside from the 86-87 Fleer are there any standouts you've had the pleasure to review and certify?
We have had some pretty cool boxes come through in the last few years. 1958 Topps football wax boxes, 1967 Topps baseball cello boxes, 1971 Topps baseball wax boxes. Things like that.
Do you personally handle and certify boxes that come to BBCE?
That is the biggest issue with the time it takes to turnaround submissions. We have team to wrap the boxes and a team who then ship. However, we only have 1 authenticator: me! Everything that comes through these offices goes through my hands.
What do you look for when certifying a box of 86-87 Fleer?
First and most importantly, we check to make sure all of the packs are original and untampered with. At today's prices you can still have a 36 pack box, with every pack showing an Alex English sticker, and the box is still a $75,000 item! So making sure the packs haven't been tampered with is the most important issue.
After that, we then do our best to determine if the box is original as it was issued from Fleer, or if it was a box built together with packs from different locations.
This is a lot more difficult to do as we have to check the sticker count, the centering on the wrappers being consistent, the colors of the wrappers being consistent, the gum being in the same spot in each pack, the sealing, the corners folds, etc. All these things will give me insight as to if the box is original or a built box.
What are some tips you have for anyone interested in buying packs of 86-87 Fleer looking to open for the Jordan RC?
Opening packs of 86/87 Fleer packs to try to hit a Jordan is not easy to do.
First of all, make sure who you are buying the packs from is reputable. The amount of resealed 1986/87 Fleer packs we see is staggering.
Then since these packs come in a certain sequence, people can tell if Jordan is in the pack just by the player showing on top. Half the time the top card showing is upside down, so you see more of the card image than the name. However even then, someone who knows the set very well can determine who that top card is, just by seeing a small portion of the cards image.
Why should collectors only buy certified boxes or graded packs when it comes to the 86-87 Fleer?
Again, the amount of resealed packs out there is tremendous. When you see ungraded packs selling on eBay for $400, there is a reason they are so cheap!
Is it true – under certain conditions – the contents and even order of cards in a pack of 86-87 Fleer can be predicted with accuracy?
Yes. Like in the answer I just gave above, Fleer printed these in a consistent sequence. By knowing the card showing on top of the pack, you can predict all the cards below it about 98% of the time.
How easy is it to tell if a pack of 86-87 Fleer has been resealed?
Sometimes, its very easy. The pack looks so bad that you can see glue or reheated melted wax etc. However, on the good tampered with packs, its very difficult. People have been pretty good and reproducing the corner folds and roller marks.
Is it possible – by looking at the front card and sticker – to tell if a pack is not original?
I believe that every single pack I have examined, which is probably over 10,000 of them, there is one thing I can say I see every time. The sticker on back only shows the back of the sticker. The card on top of the pack only shows the face of the card (non-stats side). I really cant remember seeing this any other way, unless the pack was tampered with.
Do you know of any interesting back stories to boxes of 86-87 Fleer which you have certified?
There have been 2 finds of 86/87 Fleer boxes that I have handled.
One of them was 3-4 years ago that had 7 boxes still in the original case and untouched. Luckily, we were able to buy those boxes.
Then more recently someone came to the office with again, 7 boxes in the original case. These boxes were recently uncovered in a storage garage that was abandoned! Both of these finds produced the finest, untouched 14 boxes that I have ever seen!
Where do you rank the 86-87 Fleer set in importance across all trading cards?
It is probably in the 5 most important sets of all-time. I know vintage collectors may disagree with this. However, I'm just talking in terms of importance to the hobby. You could probably say T-206, 1933 Goudey, 1952 Topps, 1986/87 Fleer basketball and 1989 Upper Deck are arguably the most important sets in the growth of our hobby/industry.
What do you think about the case of 86-87 Fleer currently at auction? Have you seen another case sold in modern times? Or do you know of a collector who owns one?
The case is awesome. Other than a little paper loss on the edge near the top, the case looks like it was shipped out from Fleer yesterday. The last case that I can confirm myself that traded hands, was in the late 1990's to hobby veteran Mark Murphy for a little over $100k. There may have been a case of two after that, but I can't confirm it myself.
What is your prediction for the sale price of the case?
$2.25 million.
If you bought the case what would you do with it?
Have a case break with it by team. Bulls cost $1.5 million! Just kidding… I would leave it intact as it is.
What other services does BBCE offer? Do you ever run breaks of vintage boxes?
We auth/wrap unopened material in all sports and non-sports for full boxes. We also do the same for rack packs, since PSA does not have a holder to fit them.