It's been an interest of mine for some time - were the photographs used on the 86 Fleer Jordans taken at the same game? What about the Star Co #101? Could we find footage of the very moment these iconic cards were photographed?
Well, as it turns out, if we look very closely at the cards and the likely games, maybe we can!
Here are the three cards we are looking at for this article.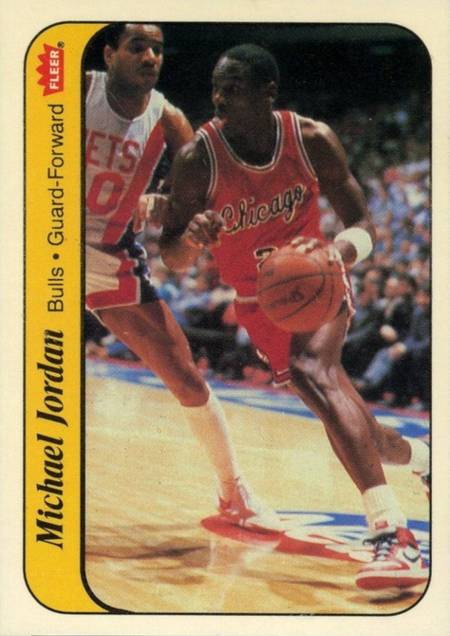 Narrowing down the games
First up let's look at the most obviously similar features of the three cards. What can we easily see that will tell us about the possible game dates?
Bulls jersey design
The Bulls players are wearing the Chicago script jersey worn up until the end of the 84-85 season.
This was Jordan's only season in this jersey which tells us all photographs were taken in his rookie season 1984-85.
Bulls away jersey
We can see the Bulls are wearing the red away jersey in each photo - the home jersey was the white without the Chicago script for the 84-85 season.
This tells us the Chicago Bulls were on the road when all three photos were taken.
Opposition team
All three photos feature the Bulls going against the New Jersey Nets.
That rounds out a decent number of similarities which point to the possibility that some or all of these cards use photos from the same game.
Game date possibilities
Together, this information tells us that all three photos were taken at games in the 84-85 season, on the road and against the Nets.
There were three games which satisfy this criteria all played against the Nets at Meadowlands:
December 14 1984
January 16 1985
April 13 1985
It was likely a deliberate decision by Fleer to use photos of Jordan in his rookie season since there was no Fleer release for 84-85.
Digging out more information
Now that we've narrowed down the possible games, its time to look deeper for more clues.
There's very useful information about these three games available. Notably who played, who didn't and what shoes was Jordan wearing.
Who took to the court?
Below I have two tables thanks to information from Basketball Reference summarising which players from each team played in the three games in question.
Notable is Woolridge, McKenna, Birsdong, O'Koren and Turner.
Chicago Bulls
| # | Name | Dec 14 1984 | Jan 16 1985 | Apr 13 1985 |
| --- | --- | --- | --- | --- |
| 0 | Orlando Woolridge | ✓ | | ✓ |
| 1 | Wes Matthews | ✓ | ✓ | ✓ |
| 3 | Ennis Whatley | ✓ | ✓ | ✓ |
| 10 | Dave Greenwood | ✓ | | ✓ |
| 13 | Caldwell Jones | ✓ | | |
| 21 | Sidney Green | | ✓ | ✓ |
| 22 | Rod Higgins | ✓ | ✓ | ✓ |
| 23 | Michael Jordan | ✓ | ✓ | ✓ |
| 32 | Steve Johnson | ✓ | ✓ | |
| 33 | Jawann Oldham | ✓ | ✓ | ✓ |
| 39 | Caldwell Jones | ✓ | | |
| 40 | Dave Corzine | ✓ | ✓ | ✓ |
| 44 | Quintin Dailey | ✓ | ✓ | ✓ |
New Jersey Nets
| # | Name | Dec 14 1984 | Jan 16 1985 | Apr 13 1985 |
| --- | --- | --- | --- | --- |
| 10 | Otis Birdsong | ✓ | ✓ | |
| 33 | Kevin McKenna | ✓ | | |
| 42 | Mike Gminski | ✓ | ✓ | ✓ |
| 31 | Mike O'Koren | | ✓ | |
| 20 | Micheal Ray Richardson | ✓ | ✓ | ✓ |
| 35 | Jeff Turner | ✓ | | ✓ |
| 55 | Albert King | | ✓ | ✓ |
| 52 | Buck Williams | ✓ | ✓ | ✓ |
| 43 | George Johnson | ✓ | ✓ | |
| 53 | Darryl Dawkins | | ✓ | ✓ |
| 14 | Kelvin Ransey | ✓ | | ✓ |
| 12 | Darwin Cook | | ✓ | ✓ |
Jordan's shoes
As luck would have it Jordan's shoe choice was not yet set in stone early in the 84-85 season. He was wearing Nike Air Ships early on before transitioning to the Air Jordan 1's. We can group photos by looking for evidence of which shoe he was wearing.
The only game dated photos I've been able to find were taken by Paul Sutton at the January 16 1985 game - here we see Jordan in the Air Jordan 1's with black laces.
Noren Trotman's photography
I knew there was a Jordan poster out there which used the same photo as the 86 Fleer #57 - I could just never find which one whenever I went looking. But then I came across the Junk Wax Hero video which names Noren Trotman as the photographer.
Using that very valuable information as part of my searching I finally turned up the poster - the 1987 Starline Jordan poster!
Trotman is credited for all photos taken on this poster. We can see both the Fleer #57 and sticker photos as well as both white and dark shoes on the photos used.
We can also see that Jordan is wearing a left knee support in all photos where he is wearing the white shoes.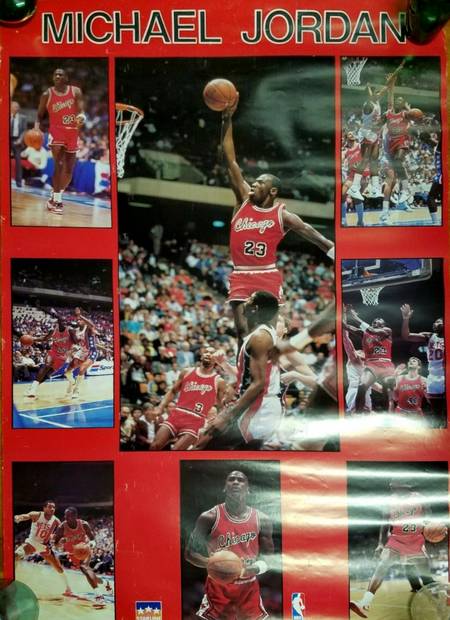 If anyone owns the 1987 Starline poster please get in touch if you're happy to share high resolution scans since I haven't been able to source great shots as yet.
Game dating the Star Co #101
In the Star Co Jordan #101 photo Jordan looks to be taking an aggressive defensive rebound.
The clues we've looked at so far give us enough information to game date the Star Co #101 card - well almost, we just need one more piece of evidence for the overall picture: the transparency.
On behalf of Bill Schonsheck, Steve Taft has available for sale the original transparencies used to produce Star Co cards - including the #101.
While hidden behind the border on the card, we can see just a glimpse of Jordan's shoe lace on the transparency. It's white which tells us this is not January 16 1985 as Paul Sutton's photos show dark laces.
The transparency shows Gminski in the foreground however he played all three games so nothing helpful there.
Quintin Dailey also played all three games.
Behind Jordan we can see Kevin McKenna. McKenna only played the December 1984 game.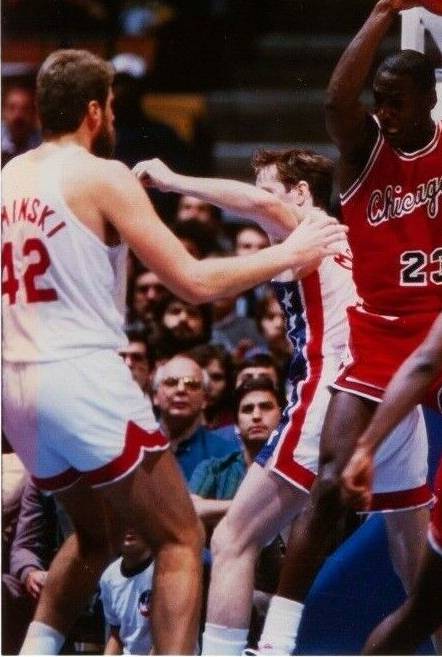 So I believe we can date the photo to the December 14 1984 Bulls vs Nets game and we now know Jordan wore white shoes in that game.
If we look at the #288 Star Co Rookie of the year we can see that this may also have been taken at the same game.
As an interesting aside, we can see some crowd members make it onto multiple Star Co cards.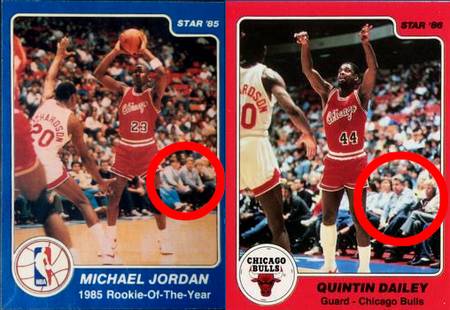 If anyone has footage or stills of the December 14 1984 game please get in touch.
Game dating the 86 Fleer Jordan sticker
A classic Jordan drive toward the basket gets featured on the 86 Fleer Jordan sticker.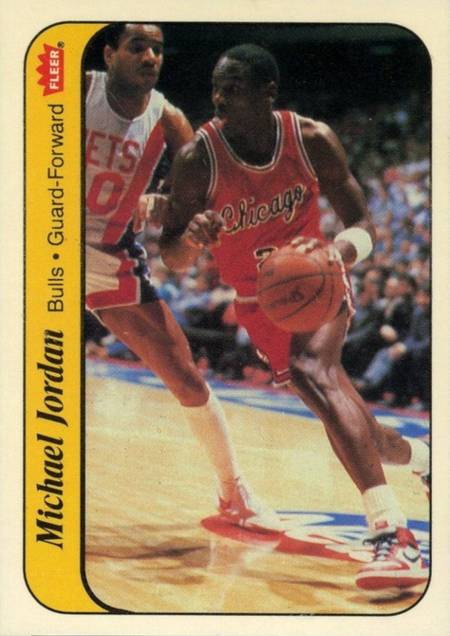 The information that McKenna is behind Jordan and that Jordan's shoes have white laces in the Star Co #101 gives us enough information to date the Fleer sticker.
Otis Birdsong, who is guarding Jordan in the photo, only played December 14 and January 16 games so we can rule out the April 13 1985 game.
We know Jordan's shoes were white in the December game and Paul Sutton's photos show colorway Airs in the January game. We can see these same shoes worn by Jordan on the Fleer sticker.
Ruling out April, as Birdsong didn't play, leaves us to game date the 86 Fleer sticker to January 16 1985.
Game dating the 86 Fleer #57
This one is a lot trickier but bear with me. In a perfectly composed photo Jordan is flying to the rim, tongue out in his iconic style on the 86 Fleer #57 card.
We know the photo was taken by Noren Trotman and we know the Starline poster shows other Trotman photos with Jordan wearing both white and black/red shoes.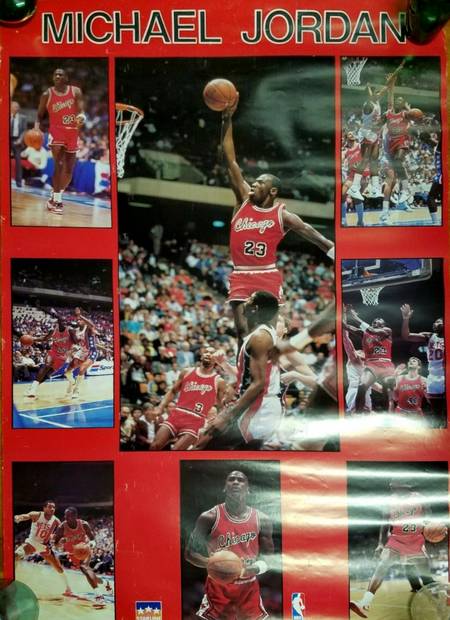 Trotman's photo on the Starline poster is less cropped than its use on the #57 so it gives us a little more - and very useful - information.
Based on build and the left leg support we can see, I believe the Bulls player in the foreground to be Orlando Woolridge.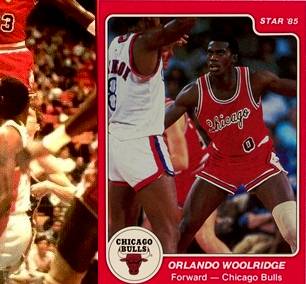 Woolridge played only the December and April games. This rules out January meaning the #57 photo was not taken at the same game as the sticker photo which we have already dated to January.
The poster shows Ennis Whatley alongside Jordan. Whatley played in all three games.
I believe the foreground Nets player to be Micheal Ray Richardson who also played all three.
So no help from Whatley or Richardson's presence. But who is that behind Jordan - could identifying him help?
It's the tiniest glimpse of a Nets defender so it's very hard to say who it is. We can rule out Gminski as he had facial hair as seen in the Star Co #101 transparency.
Since we've ruled out January it mustn't be Mike O'Koren as he only played January.
I think it must either be Kevin McKenna or Jeff Turner. I've got some close-ups below of them for reference. Looking at these photos I do lean toward it being Turner.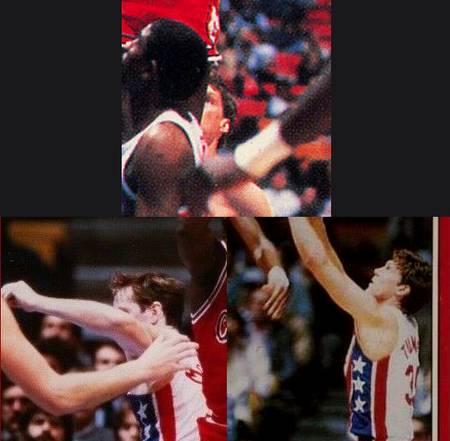 Turner and McKenna both played December. So if either of McKenna or Turner the photo could have been taken at the December 14 1984 game - the same as the Star Co #101.
If Turner, however, it could also be game dated to April 13 1985 as he played that game while McKenna did not.
Neither Turner or McKenna played the January game which we've already ruled out due to the presence of Woolridge.
We know Trotman shot at least two games, as Jordan is wearing different shoes in the photos, so it is conceivable that all three of the games in question were shot. The photos were shot years before use on the 1986-87 card so there's no reason to think a game early in the season would need to be used.
So let's keep digging - can we turn up more Trotman photos which might help? Yes! Take a look at these two amazing photos side by side - the photo used on the 86 Fleer #57 and the photo shot by Trotman and used on the 1988 Starline poster. Notice any similarities?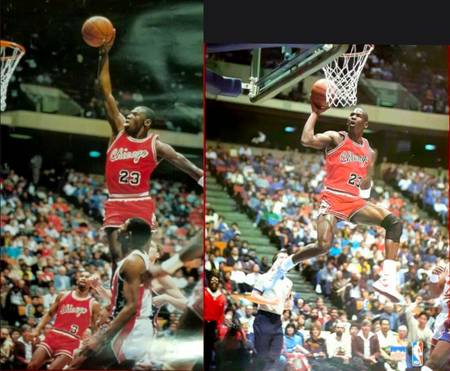 These spectators tell us the photos were taken at the same game. This tells us categorically that Jordan was wearing the white shoes on the 86 Fleer #57 photo. The same white shoes we see him wearing on the Star Co #101. We also see the knee support seen on other white shoe photos.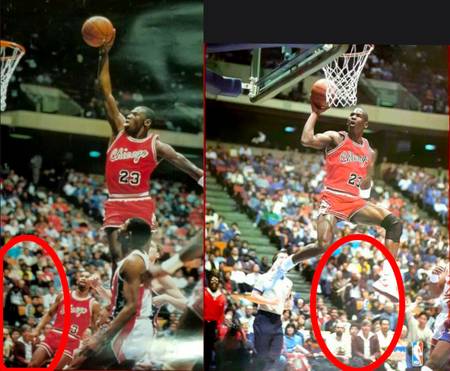 We are lucky we have the posters - and the transparency for the Star Co - as the extra information about Woolridge and the spectators is far less obvious on the card.
So we know the photo was taken either December 84 or April 85. We know Jordan was wearing white shoes in the December game but we don't yet have further information on the April game.
I haven't been able to turn up anything about the April game at all.
I'm no sneaker expert but I think we are looking at Jordan wearing Nike Air Ships here. This is significant as - according to sneaker site Gear Patrol - Jordan only wore the Air Ships until December 20 1984. He then moved permanently to the Air Jordans.
If this is correct then we can not only date the 86 Fleer #57 to December 14 1984 but we can also confirm that it was taken at the same game as the Star Co #101. Two of the most iconic cards ever made were photographed at the same game!
I reached out to Trotman to see if there's any records of the date but have not yet heard back.
Anyone with dated photos or video of these games please do get in touch as I'd love to see them and look for further proof on this theory.
Game dating these iconic Jordans
To summarise I think we can confidently say:
the Star Co #101 was shot at the December 14 1984 game
the 86 Fleer sticker was shot at the January 16 1985 game
the 86 Fleer #57 was shot at either the December 14 1984 or April 13 1985 games with strong evidence pointing to December
So to answer one of our initial questions - were the Fleer #57 and Star Co #101 shot at the same game - it does look likely!
Footage
How good would it be to watch these three games in full and to carefully look for the moment the photos were taken?
I've searched thoroughly, contacted rare footage collectors and even tried to reach NBA archives. So far I haven't been able to source any footage. The only dated photos I've found are those published by Paul Sutton.
The closest I've come to finding more on the December 14 1984 game is an archived write up from UPI and an NY Times archive that confirms the game was indeed televised.
Hopefully, over time, this article will help turn up more on this interesting topic.
I'm keen to hear everyone's thoughts and please do share if you know more or have access to footage from these match-ups.
30 May 2023 update
Rich Mueller of Sports Collectors Daily wrote in to share these photos from newspaper clippings documenting the December 14 1984 game. Here we see the white shoes as per the Star Co #101 and Jeff Turner in the foreground.
Rich was also able to confirm the game was televised by checking an old pocket schedule - so now we just hope a VHS or Beta tape shows up with the game recorded some day!