Popular Jordan cards
86-87 Fleer Michael Jordan Rookie Sticker
An underrated sticker from the same set as the 86 Fleer rookie card.
Year

1986-87

Set

Fleer

Number

8

Player

Michael Jordan
If you ask me the Michael Jordan rookie sticker is one of the most underrated cards.
The rookie sticker is from the same set as the coveted rookie card, had similar seeding per box, was intended to be destroyed by being peeled and stuck so potentially lower availability and suffered similar centering issues making quality copies rare.
Obviously, the market doesn't consider the sticker a rookie card which is something that will vastly affect the stickers demand.
Perhaps a downside and contributor to the lower demand is Fleer's choice of photo on the sticker was not great - the photo they chose for the rookie was perfect!
Having said that let's take a look at the value of the Michael Jordan rookie sticker vs the rookie card as at February 2023.
The values of both the sticker and rookie card vary based on centering even when graded the same. PSA 7 copies of the sticker sell in the realm of $700-$775 and the rookie card around $5000-$6500.
What this does mean is that if the 86 Fleer rookie is out of your price range, maybe the sticker is not. Take a look below for the list of stickers available on eBay now.
Pay close attention to the centering - even when graded - as this can really vary between copies. Additionally, its worth checking for a diamond cut on the back as that was very common on these.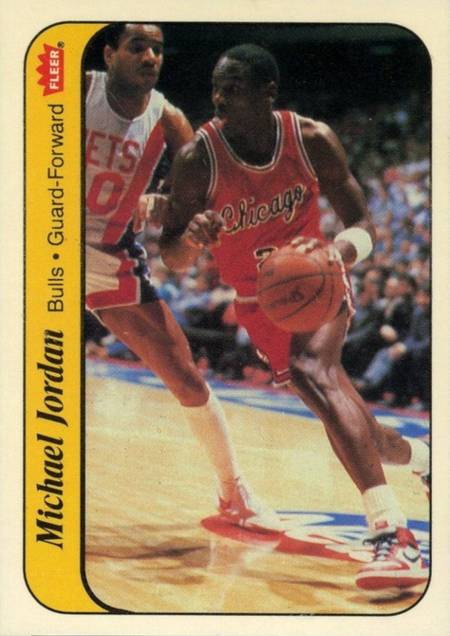 86-87 Fleer Michael Jordan Rookie Sticker for sale on eBay now