Contributor: Interview provided by Steve Taft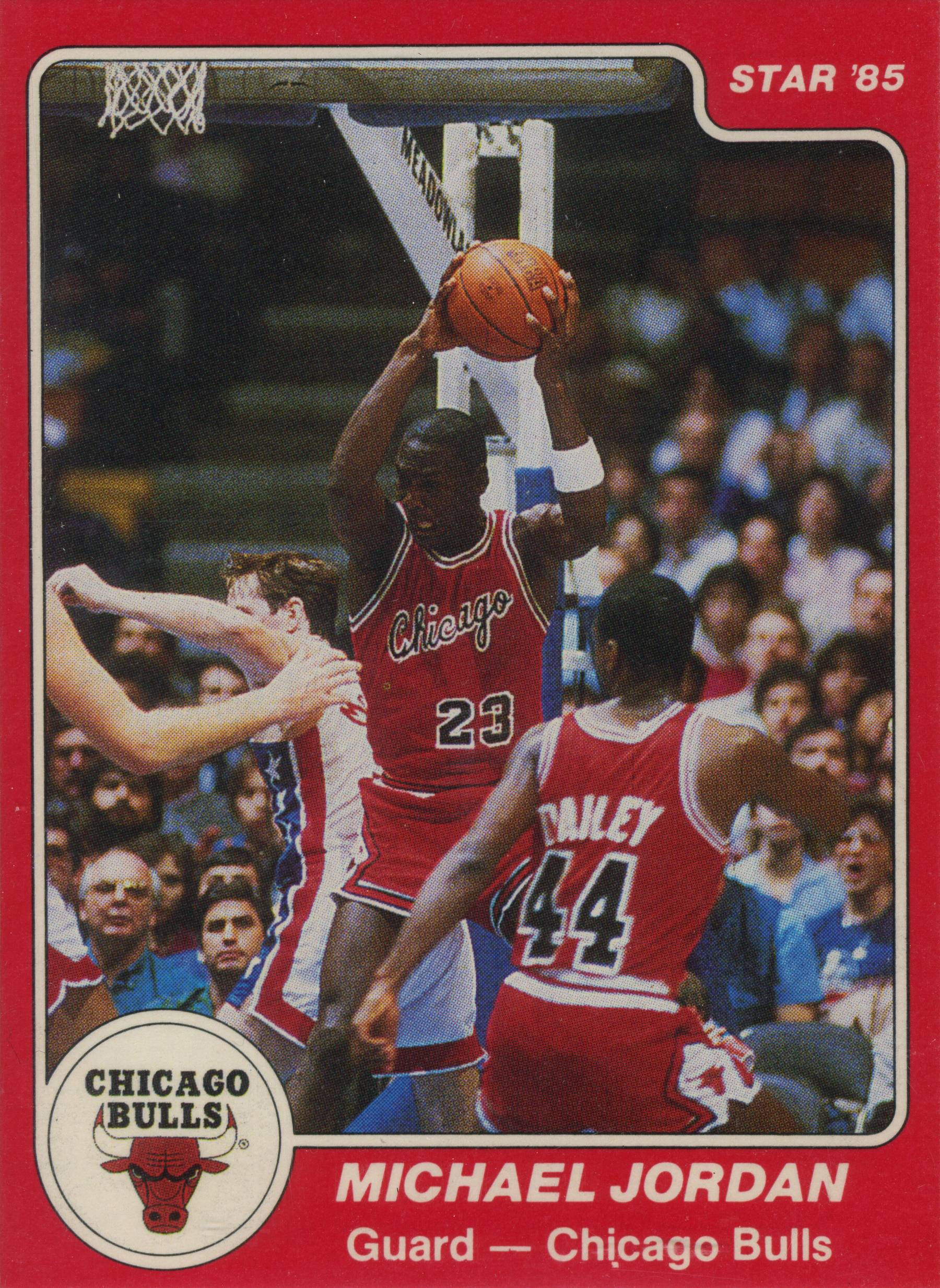 The 1984-85 Star Co Michael Jordan XRC card is one of the most sought after Jordan cards available. In fact most of Jordan's Star Co cards are highly sought by serious collectors due to their age, rarity and history.
However many websites and other sources (including this website until recently) reported that many of these cards, specifically the 1984-85 Michael Jordan XRC, were reprinted by Star Co using the original printing plates in an unauthorized print run in the 90's. It was reported that this meant that even some of the big grading companies avoided grading these cards for this reason.
Recently a collector pointed out to me – thank you Dino – that while it is correct that the owner of Star Co did print cards which were not authorized by the NBA this run did not include the 1984-85 Michael Jordan XRC.
As a result I was able to track down an interview with one of the world's most knowledgeable experts of Star Co cards and Star cards grading trainer to BGS and GAI, Steve Taft. In the brief interview Steve shares what really happened with the unauthorized reprinting, the level of counterfeit 1984-85 Star Co Jordan XRCs around and how collectors can authenticate real Star cards for their collection.
Interview with Steve Taft
JordanCards.com: Please briefly describe your background with the Star Co sets.
Steve Taft: I was an original dealer of Star Co. basketball cards, dating back to ordering the company's first offering, the 1983 All Star Game Set. I've maintained a large inventory of Star Co. cards for all these years.

JordanCards.com: How is it that you came about to be regarded as an industry leader in identifying authentic Star Co cards?
Steve Taft: In the early 1990's I was contacted by a couple guys selling some cards that were different from the cards I originally bought direct from Star. It was this event that made me research and study the cards very intently. Ultimately, I had a meeting with the NBA's lead attorney on "counterfeiting" issues as they were trying to determine where the bad cards were coming from.
When the 1997 Shop at Home "counterfeits" surfaced, the NBA had a Private Investigator on the case. He called me to get a general background on Star, and, to get my opinion on the legitimacy of the cards. He was on the case, already, because the NBA thought the cards were likely illegal, and, I pointed out many reasons why I agreed with them.
The key point I was able to provide, that, up to that point had been left out, was that the so-called 1984-85 Olympic Team issue being sold on Shop at Home could include ineligible NBA players, as, Ewing, Mullin, and Tisdale all went back to school for a year after the Olympics, and, did not enter the NBA until the 1985-86 season. I don't know what the NBA thought of this piece of info, but, to me, it was the smoking gun.
Upon this info, the Star Co. owner was followed to the print shop and a search warrant was issued. They found cards in the process of being printed. The NBA filed a lawsuit against the owner of Star Co, Shop at Home, and some others. The NBA won approximately $1 million in the lawsuit.
Where this is important to the hobby, and, what is almost always confused, is thatStar Co. and their printer did not re-print their original cards. They made new cards (in 1997), but, back-dated these cards to 1985 and 1986.
A couple examples are a 1986 Lite All Stars and a 1986 Crunch N Munch. These sets have different color borders and a different date than the original sets. Many of the cards from this 1997 counterfeit run used the same photos from original Star Co. cards, but, the set names and/or dates were different. Border colors were also different. The cutting patterns were another easy thing to spot.
An easy way to work thru this is to use the Beckett Annual Price Guide. If the set is not in the Annual Beckett, specifically by year and name, it's not an original. Also important to note, these 1997 cards were printed by a shop in Florida, the original Star Co. cards were printed by two shops near the PA/NJ border area.
It was a couple years later that I got involved with training grader's and preparing my "Star Co. Authentication Manual" for grading companies to use.

JordanCards.com: It is commonly reported that the 1984-85 Star Co set was reprinted by Star Co in the early 90's. Is this true and if not which sets were reprinted, if any?
Steve Taft: No, this is NOT true! Now that we know about the 1997 Shop at Home scandal, I think if the owner of Star could have made exact duplicates of his cards, he might have given it a try. Problem is, I don't think it's possible to match the cutting characteristics of the original cards, plus, the original printers were no longer in business.
Star did not print their own cards, the work was contracted. So, the original equipment is no longer available. The paper stock could probably be duplicated, but, I just don't see how they could have cut the cards the same. A little common sense, here, if you could exactly reproduce your original cards and get away with it, why would you make "new" cards and back-date them to sell to Shop at Home? It would have been a lot easier to make an extra 500 Jordan 101 Rookies that could have been wholesaled quickly at $2000 per card back then.
Admittedly, there's a lot more details to this, but, I hope this is enough to at least clarify the big picture.