Recently I came across a Chicago Bulls team bagged set produced by Star Company that I hadn't seen before. After a little research I decided that this was something that absolutely had to join my collection and surprisingly I won the auction of a 100% mint set for less than $20!
Serious Jordan collectors know that fully authentic Star Co team bagged sets are stunning additions to any collection. Accordingly they sell for many hundreds of dollars. For those that don't know, back in the early days of basketball cards Star Co produced team bags as opposed to random packs of cards. You could buy any team you liked and you knew exactly what you were getting. Unopened bags are well sought after items in the basketball cards industry.
The Bulls team bag that I bought is the 1990-91 Silver Season Equal set as pictured below.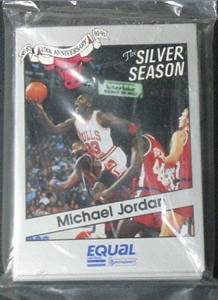 As we know, Star Co team bagged sets are great additions to any collection however there was something else that really drew me to this bagged team set – something that I think is almost entirely unique to this set: These cards were given to Bulls fans on entry to the games during the 1990-91 season! (See update below regarding over supply)
So that means in all likelihood these bagged sets were AT the games when Michael Jordan was leading the Bulls to the first of their six championshipsof the Bulls dynasties of the 1990's – at the games in fans' hands! What other cards can you add to your collection that were so close to this awesome piece of sporting history?
Personally I think that is just plain cool! And for a current sales price of around $20 how could you not want this set in your collection. I'm not sure why the set is somewhat unappreciated and hence the value is so low – perhaps they aren't well known or are seen as advertising material (however there are other advertising pieces are valued highly). They are an abundant set so perhaps supply outstrips demand keeping the prices low. Either way it is great for collectors looking to buy.
I do have to add a couple of disclaimers: First my research didn't come from an authoritative source however I did read the same history multiple times and it is certainly likely given the advertising nature. Secondly I have read that not all bags made it to the games and its possible some were excess however the likelihood is certainly high that most bagged sets were given to Bulls fans. See below regarding excess printing.
Update 22 February 2012: Star Company cards expert Steve Taft has confirmed that many more were produced than required for the game distribution. These extra copies were provided to dealers and there is no way to tell if your card was given out at the games. Steve estimates between 20,000 and 30,000 bagged sets were produced.

There was also a glossy version produced and delivered in cases numbered to 250 however once the seal was broken the numbering was no longer in tact.
The set includes both past and present players (90-91 and 66-67 seasons). Current players are in full color while past players are in blue tint. In the bagged set are 16 cards:
Michael Jordan
Tom Boerwinkle
Bob Boozer
Bill Cartwright
Artis Gilmore
Horace Grant
Phil Jackson
Johnny (Red) Kerr
Dick Motta
John Paxson
Bob Love
Scottie Pippen
Guy Rodgers
Jerry Solan
Norm Van Lier
Chet Walker
This is certainly a set (and single Michael Jordan card) I recommend to buy especially given the low sale price at the moment. Check out the link below if you are interested:
Happy collecting.