Written by Lou Costabile – guest writer and webmaster of http://www.JustMJ23.com.
Contributors: Steve Taft (follow up remarks), Joel Rusco, Franco Cugge, Jarret Kahn, Dino Iacobo
When Michael Jordan first arrived as a pro in 1984 there was only one sports card company producing basketball cards: Star Company.
That year Star Company produced three Michael Jordan cards:
# 101
# 195 (MJ is in an Olympic uniform)
# 288
The next two years Star Company produced several other MJ versions, however there is no question of the three 1984 cards, the #101 is Michael's first card, and is the most popular with collectors and investors to possess.
So let's focus on the #101 as the Brightest.
Beckett Grading Service (BGS) is the only company grading Star Company cards with a population report. Beckett (as of the date of this article) has graded 10 #101 cards as high as a BGS 9 of the 133 #101 cards graded in a Beckett holder, and there are no BGS 9.5 or BGS 10 cards.
So why so few mint BGS 9 cards?
There are two challenges with grading a Star #101. The challenges are:
Centering. From the Star Company factory the cards were usually cut off center from side to side, and top to bottom. Consider yourself lucky if you own a Star #101 and you only have one of the two border issues.
The card is "Diamond Cut", which is also a centering / border issue. I have heard Joe Clemons, Senior Customer Representative for Beckett grading, call the bottom of the star Company #101 cards state that they have a "Diamond Cut". This is where the bottom left edge of the card is cut with a slight angle up toward the right corner giving the card a left corner to right corner upwards slanted, or slopped look.
The other two cards, #195 and #288, are terribly off center with borders side to side and / or top to bottom randomly off center. The #195's highest grade is a BGS 9 with a population of 1 (I have owned two of the 8 BGS 8 cards on the Beckett population report, of the 277 currently graded). Also when you do have one with a centering grade of a 8 or higher, the actual number "195" on the back of the card is usually 1/2 off the back of the card. This makes the back of the card look off center also.
The #288's highest grade is a BGS 8.5 (5 BGS 8.5 cards of the 59 graded).
In 1985 Star Company improved the cutting / centering border issue and the grades of cards improved dramatically.
Below are photos of the front and back of the best centered BGS 9 #101 card I have found.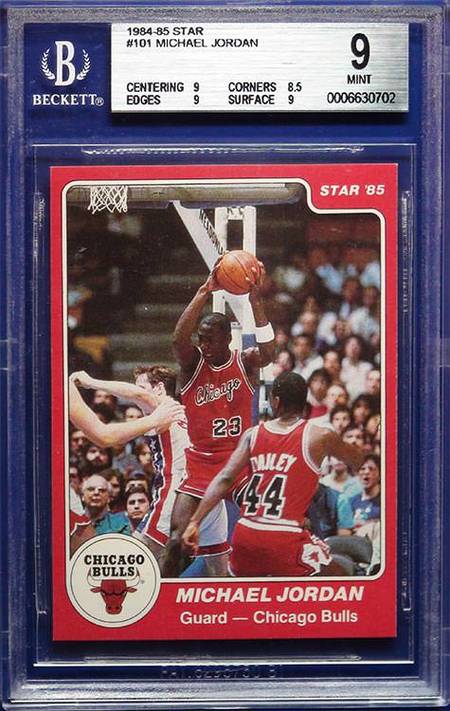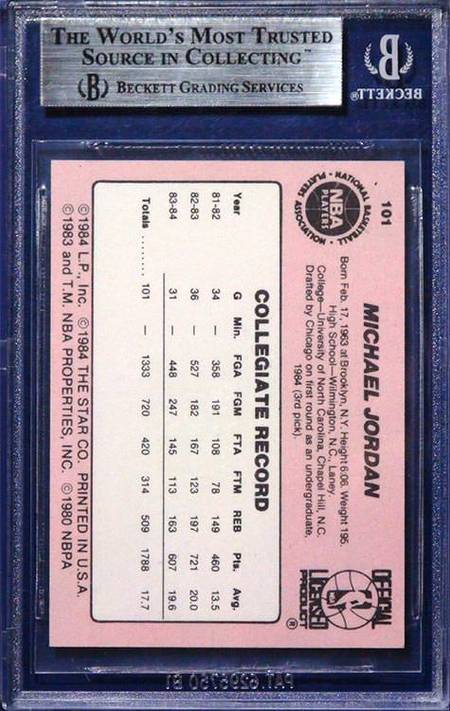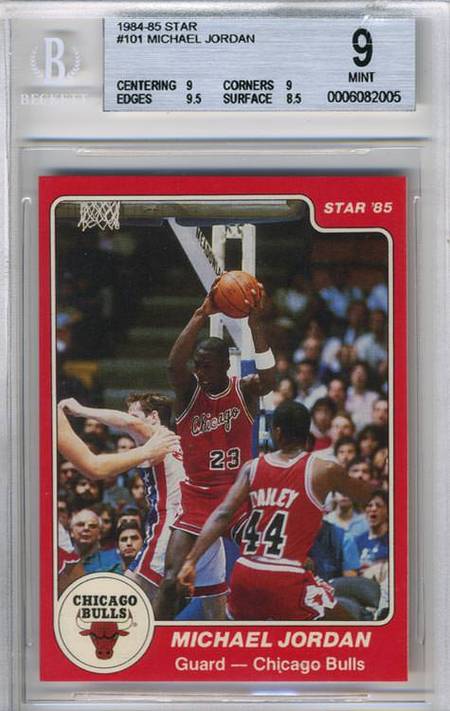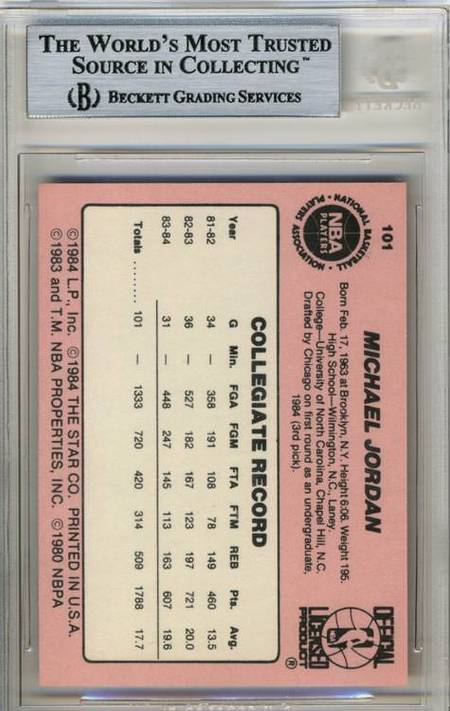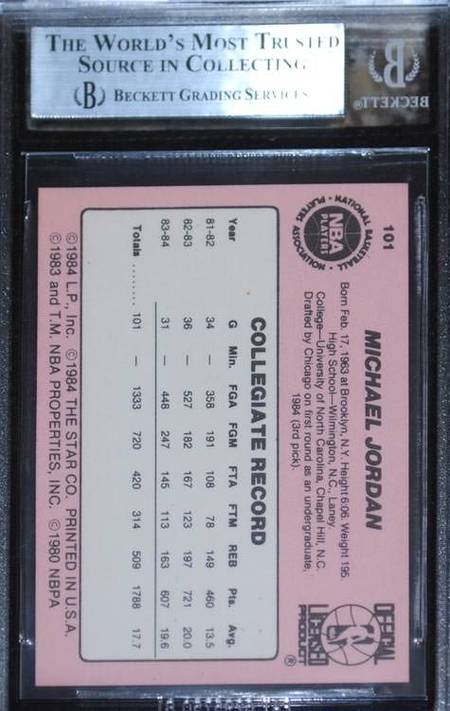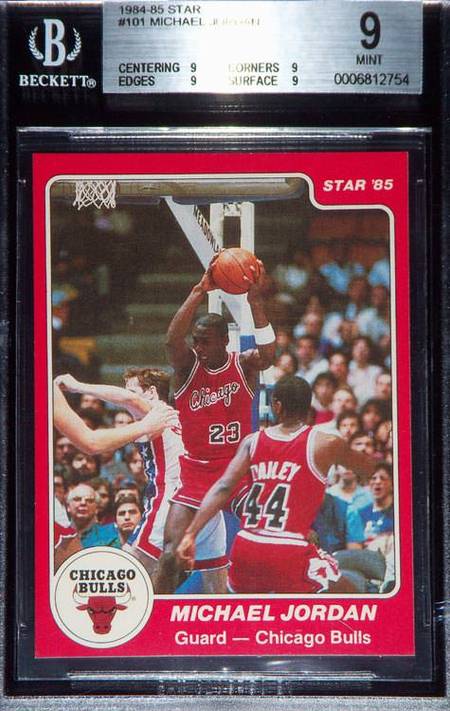 Below are photos of the front and back of the BGS 9 #195.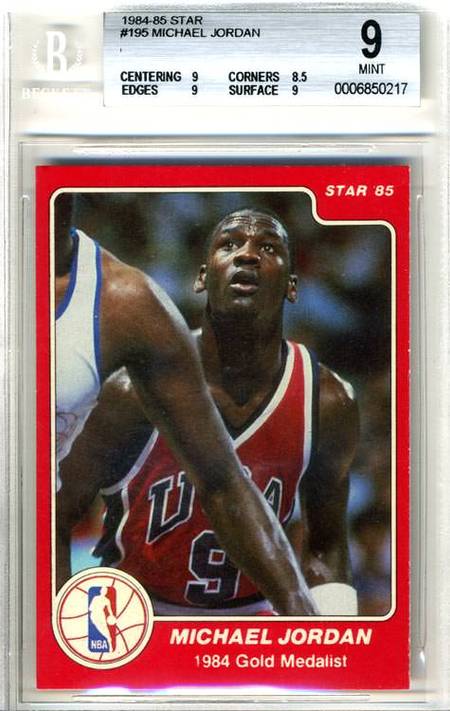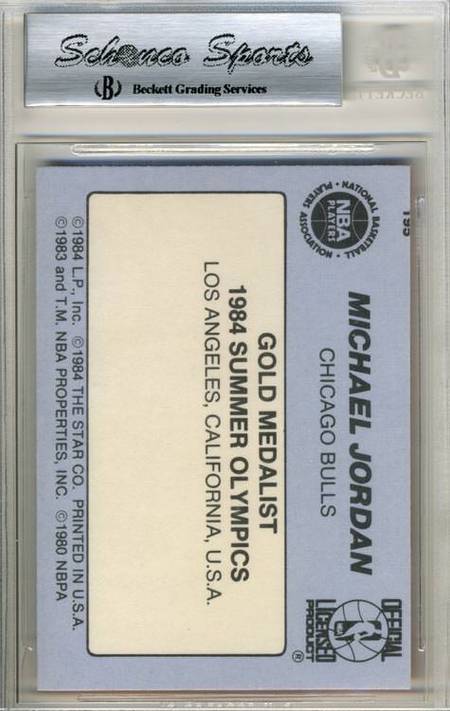 Below are photos of the front and back of one of the BGS 8.5 #288 cards.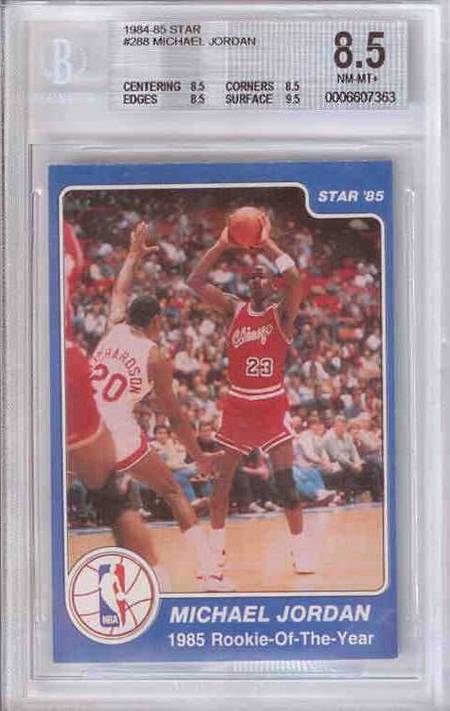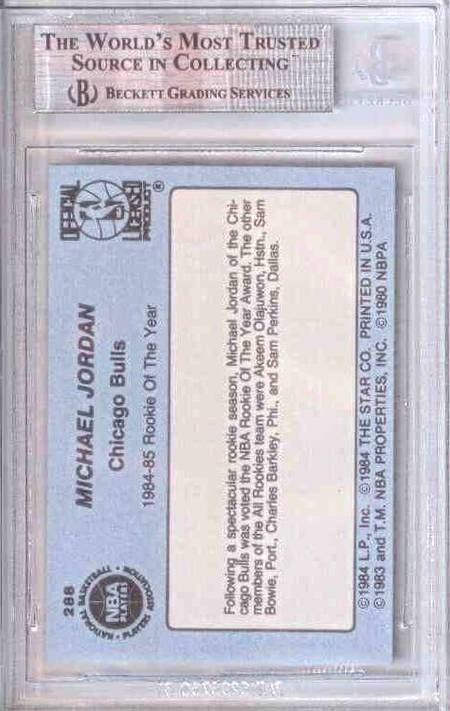 You can be the judge, is this the Brightest Star?
E-mail me your thoughts, and scans to [email protected].
Have fun collecting your MJ cards,
Lou
To see Lou's entire collection of Michael Jordan cards go to http://www.JustMJ23.com.
Thank you to Lou for his experise in Star Company cards and sharing his observations and insight. Lou also shared some of his collection showing us some very rarly seen Michael Jordan cards in his previous guest post: Loch Ness Monster! Big Foot! Michael Jordan Caesars Palace Lake Tahoe Heavy Hitters!
You might also be interested in the Michael Jordan cards for sale online section where we have information on thousands of awesome cards available including the bright 1984 Michael Jordan Star Co Cards.
Comments from Steve Taft – renowned Star Co cards expert
Update 20 June 2011
Lou has summed up the centering issue well. Further condition sensitivity comes from the Jordan being the top card of the original factory sealed team bag, subjecting it to wear around the corners. That's a pretty common issue for most of the Star Company cards, ie. seeing the top and / or bottom card in the bagged set a little more susceptible to minor corner wear. A grade of BGS 8.5 or better should be a well appreciated card due its condition sensitivity status.
When discussing Jordan's first NBA licensed card, the 1984-85 Star Co. Court Kings 5 x 7 should also be mentioned. Many of us original Star Co. dealer's recall this card coming out before the #101. I can't offer definitive proof, but, that's my recollection that other's have also noted.
Thanks to Steve also for his expertise in the area of Star Co cards. You might also be interested in my interview with Steve: The Real Star Co Cards Story. You can buy cards directly from Steve Taft through one of his stores below: