This article is written by Lou Costabile – guest writer and webmaster of http://www.JustMJ23.com.
Contributors: Mike Childers (North Carolina), Barry Weinstein, David Hensley, Jarret Kahn
Michael Jordan's cards are so much fun to collect. Unlike every other player I've collected over the years, each of his cards looks like a little poster because he consistently has so much emotion / skills / passion / fun in each picture on his cards.
In the 1980's and 1990's when MJ was playing (we'll not be concerned with his time with the Wizards) sports cards shops were everywhere. Customers and Shop Owners discussions were usually regarding the 'hard to find' cards. The discussion finally circled around to the question, 'Have you ever actually seen one?'
In the 1980's and 1990's cards that were 'hard to find' inserts, or limited versions of cards were chased after and coveted by collectors, as they still are today.
Thanks to computers, scanners, digital cameras, the internet, and eBay, information gathering is much easier.
Cards shops have now become few and far between as eBay and other auctions sites have created an opportunity that each person / Collector / Investor can be his or her own Home Business Owner. As such, owners of sports cards can easily be a source for viewing and purchasing cards around the world at your fingertips, and have the purchased card delivered right to your mail box. It's so easy.
The 'hard to find' insert card, or prototype are now viewed with regularity … or are they …
Here is the stories of two Michael Jordan cards that are in that Big Foot, Loch Ness Monster category.
They are both graded, so you'll know they are authentic.
1991 Caesars Palace Lake Tahoe Heavy Hitters, Card #1
There was a golf outing at Caesars Palace. The event gave clients / customers an opportunity to pay to play golf with a celebrity.
The Promoter decided to provide the clients scheduled to attend with a keep sake. The promotional item created was a set of 8 cards of the celebrities:
Michael Jordan
Maury Povich
Randy Quaid
Jim McMahon
John Elway
Mark Rypien
Kenny Rogers
Title card
Clients / customers were apparently not that interested in the few hundred sets that were produced and apparently left them behind, or threw them out, resulting in one of the rarest Michael Jordan cards known to exist. Even the most experienced Michael Jordan collectors when they see this card often say – 'I've never seen that!'
Professional Sport Authenticator (PSA) has 2 graded (one Mint 9 & one Gem Mint 10).
Beckett has one graded (a BGS 9.5).
I have seen 3 others ungraded since 1991.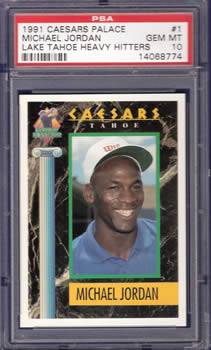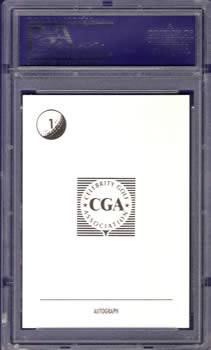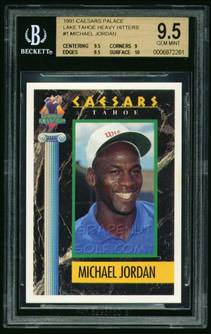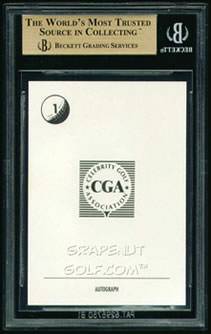 BGS 9.5 scans of the Michael Jordan 1991 Caesars Palace Lake Tahoe Heavy Hitters contributed by David Hensley
Update 18 December 2010 – Lou has tracked down scans of the remaining cards in the set.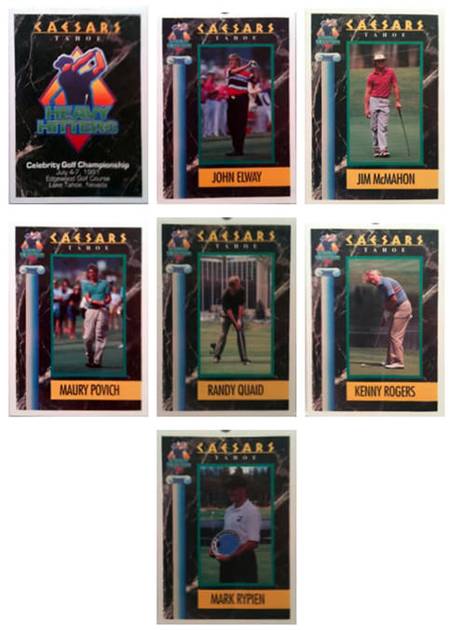 1995-96 SP Holoviews, (Antonio McDyess Background), Card #PC5A
In 1995 Upper Deck Company used holograms pictures on the fronts of a few cards, usually as a background with a regular photo of the player over the hologram. When the SP line came out, Michael Jordan had two versions of a Holoviews card, a regular version, and a Die Cut (Holoviews Special FX) version.
But wait just a minute, there was one more.
A rarely seen version where Jordan was not in the hologram background, but rookie Antonio McDyess was!
Rumor at the time had started to spread that Upper Deck had made a mistake on a card. At first an Upper Deck spokesperson said the rumor was not true. After a little time had passed an Upper Deck spokesperson mentioned that maybe four cards might have gotten out in packs resulting in very unique rare version of that Michael Jordan card.
Professional Sport Authenticator (PSA) has none graded.
Beckett has 3 graded: 1 BGS 9 and 2 BGS 9.5s.
I have seen 1 other ungraded since 1995.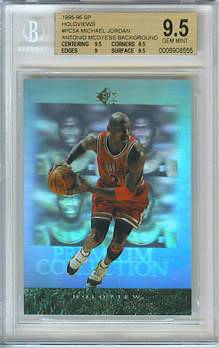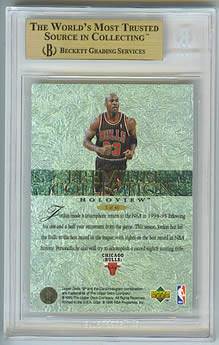 If you have a story of a Michael Jordan card you rarely see, please e-mail to [email protected]
To see Lou's entire collection of Michael Jordan cards go to http://www.JustMJ23.com
You might also be interested in the Michael Jordan cards for sale online section where I have information on thousands of awesome cards available.