eBay user rixg71 currently has available the almost complete set (13/21) of the ultra rare 1993-94 Stadium Club Beam Team Members Only Gold Stamp cards available for sale.
If you're new to these cards check out my post on the Members Only Gold Stamp cards from back in 2012 where a collector sent in a scan of his unique error card. He also had an original fax from Topps where he queried what he had back in the 90s. Basically the 'Gold Stamp' cards have the same Members Only gold stamp as the standard set as opposed to the Members Only overlay across the Beam Team foil of the true Members Only Beam Team set.
These were printing errors an intended to be destroyed by Topps back in 1993 however in the last few years some have been popping up for sale and BGS has been grading them as '1993-94 Staium Club Beam Team Members Only Parallel Gold Stamp'.
Personally I'd only seen the Michael Jordan and Patrick Ewing cards (the Ewing when collector Dan from New York sent in his scans of the Jordan and Ewing Beam Team Gold Stamp cards). However recently 13 of the cards have become available for sale!
This stunning and seriously rare set must have been very difficult to put together! I chatted with eBay user rixg71 who has the cards available for sale hoping to get the story on how 13 of the 21 cards were pulled together. rixg71 writes:
I acquired them at an estate sale of a man that owned a card shop years ago – they were all together in one box. He had a lot of interesting/good cards. There doesn't seem to be much anywhere on them that I could find. But Beckett did grade them as an alternate type set than the 'Normal' ones. I have seen a couple on eBay in the past year or so and they seemed to sell for a pretty good price… but it just seems like to me there are so many unknowns about the cards, nobody knows what they are worth.
rixg71 sent both the Jordan and Shaq cards off to BGS for grading and they came back as 7.5 and 8 respectively.
The listing is currently available at a starting bid of $124.99 with a BIN option of $165.99. Considering we've seen the Jordan alone sell for more than this in the past (albeit higher graded) and the complete set of the standard Members Only Beam Teams commanding decent prices I think this a truly good price! I hope the set goes to a great collection who may even be able to locate the remaining cards to fully complete the set… in fact it's very tempting for me (though not the best timing unfortunately as my wife and I have not long just welcomed our first born).
If you're here well after the listing has ended – here's the almost complete set shown for your viewing pleasure.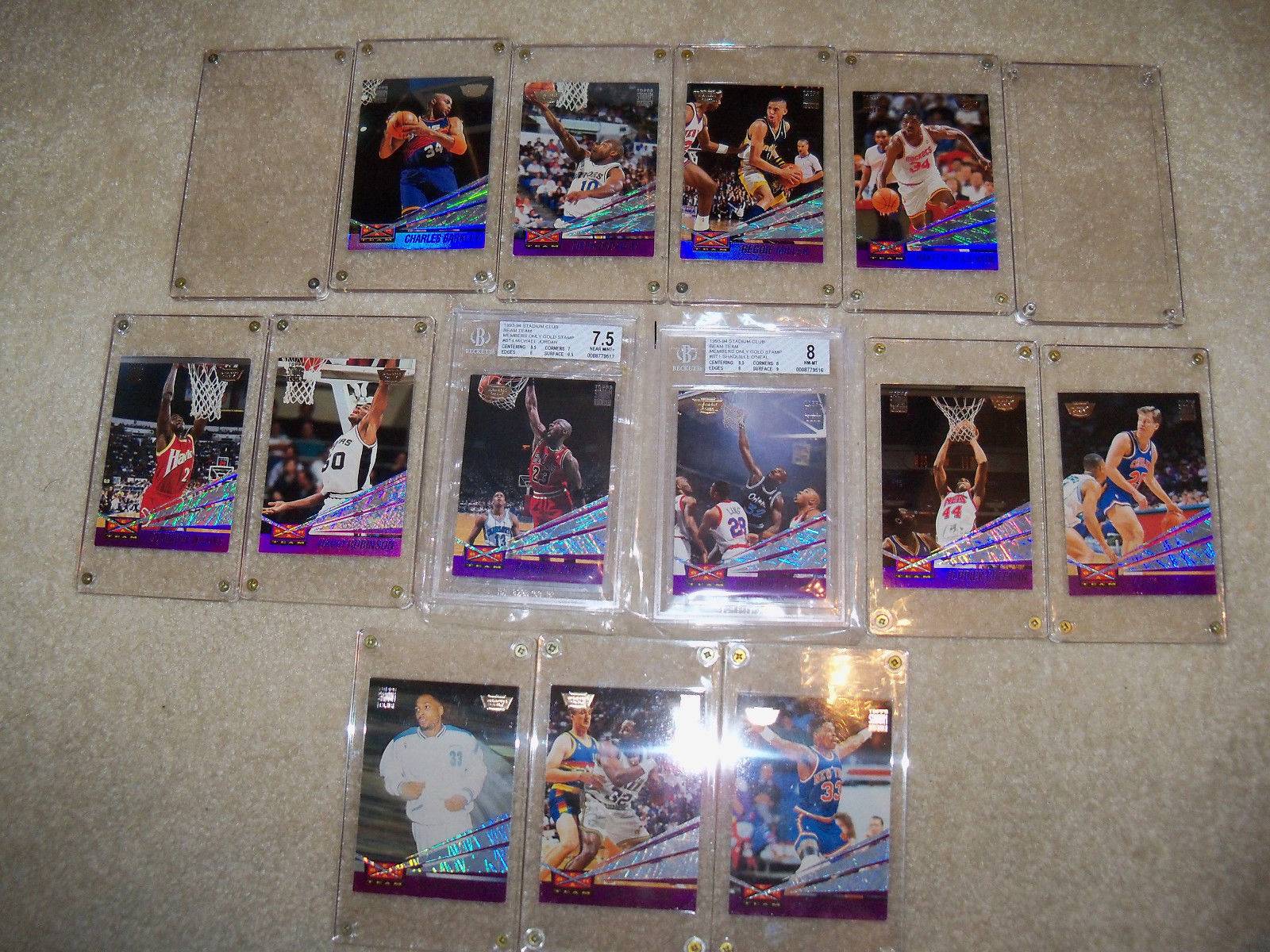 I'm always keen to hear from collectors with unique cards so if you have any of these Gold Stamp Members Only Beam Team cards feel free to write in or comment below.
And if you're looking to add any of these cards to your collection here are some links:
Happy collecting!