Late last month a very rare and unique Michael Jordan 93-94 Stadium Club Members Only Beam Team became available for sale on eBay. This card is similar to the unique 96-97 SP Michael Jordan card I looked at earlier this year in that it seems to be a very rare printing error card.
The standard 93-94 Beam Team cards feature three beams of holographic foil at the bottom of the cards. The Members Only version of the card features these same holographic beams however show the words 'Members Only' printed in black over the top. Below are side-by-side scans of the standard and Members Only Beam Team cards along with a close-up of the Members Only Beams.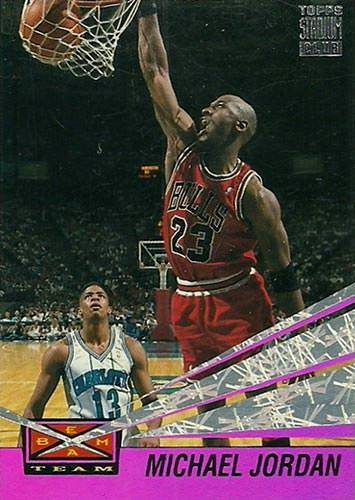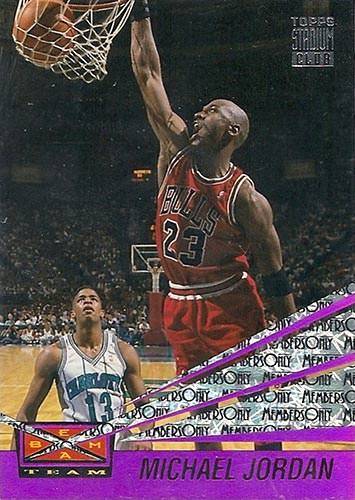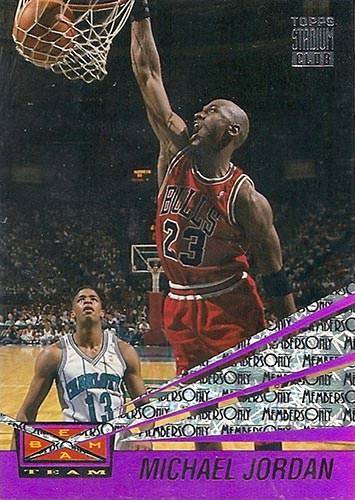 The base card set released by Stadium Club for the 1993-94 season was also available as Members Only versions. For the base cards Stadium Club featured a gold foil stamp with the words 'Members Only' embossed within the stamp. Below are side-by-side examples of the Michael Jordan base card from this set in both standard and Members Only versions along with a close-up of the Members Only stamp.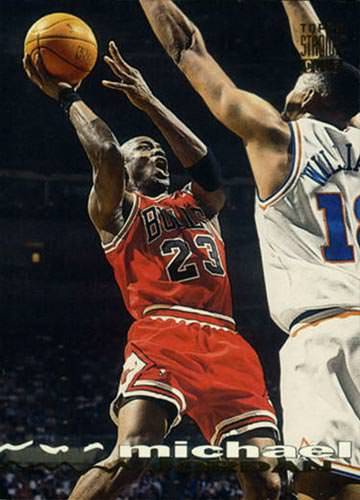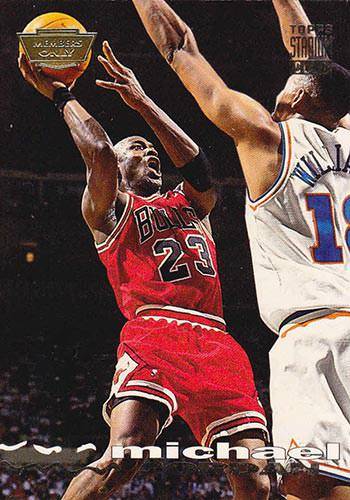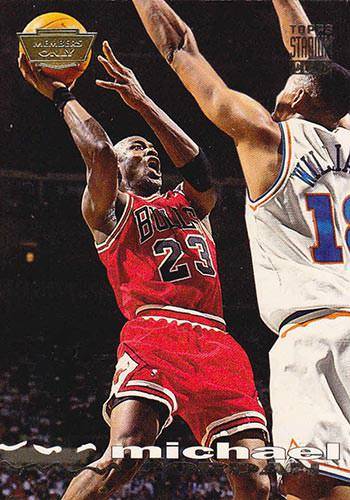 eBay user thankyou45 (Oscar), however, had a third version of the 93-94 Beam Team. Oscar's card is identical to the 93-94 Michael Jordan Beam Team however instead of featuring the standard 'Members Only' print through the beams this card features the same 'Members Only' gold foil stamp of the base card set.
See below for a scan and close-up of Oscar's unique Michael Jordan Beam Team.
Oscar writes in his listing that he bought the Members Only set himself back when it was released only to find this card among the others. He reported the issue to Topps who checked their production and learned that an employee error meant some of these cards made it into packages when they were supposed to have been removed and destroyed. He still has the old fax from Topps confirming this!
The sale ended on 29 June 2012 and the card sold for $300 – roughly 10 times the average sale price of the standard Michael Jordan Beam Teams from 1993-94!
This is a very cool and very unique card that a lucky collector now has as part of their collection! I'm definitely keen to hear of any other cards like this out there.
The TSC Beam Teams are great looking cards in any Jordan cards collection – if you're looking to add these cards to your collection the links below may help:
Happy collecting!