Back in March this year a curious 1994-95 Topps Finest Michael Jordan card appeared for sale online. The card was identical in every way to the usual number 331 Jordan card however this one had a series of diagonal lines running through it and, instead of wearing his number 45 jersey as usual on this card, Jordan was wearing number 23!
To top things off this was authenticated by PSA as an authentic 1994 Finest number 331! I quickly reached out to the seller however had no luck in making contact and the listing was pulled shortly thereafter – perhaps meaning someone had made an acceptable offer on the card. Here's that card in the PSA holder as it was listed in March 2016.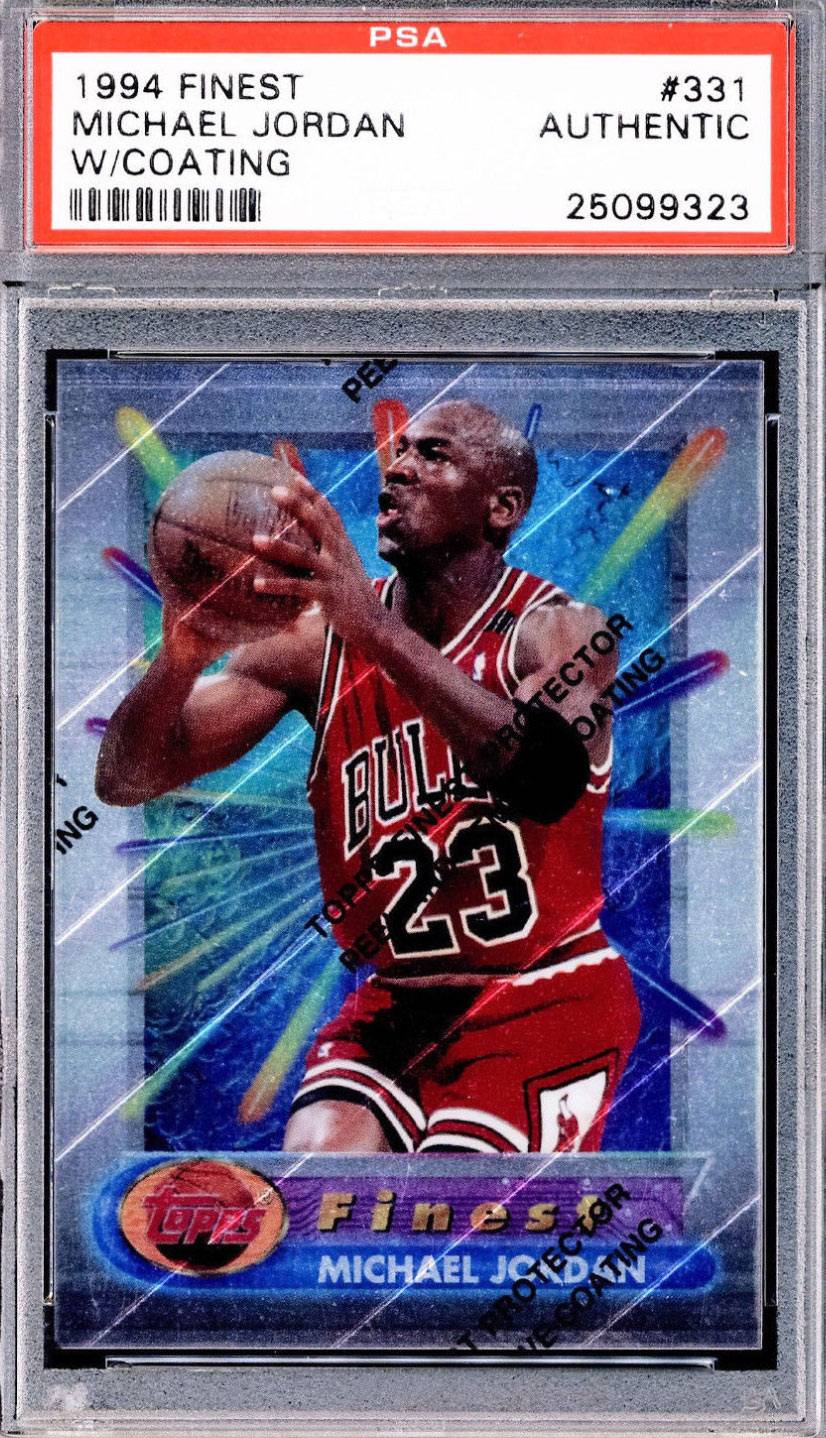 That seemed likely to be the last chance to talk with someone who owned this interesting 1994-95 Finest Michael Jordan wearing number 23 card – until just recently when eBay seller stacik1313 listed one for sale on eBay with a buy it now price of $4,999 or starting bidding at $999. Check out the listing here.
I reached out to stacik1313 to see if there was any extra information on how this card came to be:
I received the card from another seller who has numerous prototypes of various Jordan refractors as well. He claims these were produced to promote 1994-95 Finest product but the number on the jersey had to be changed to match Jordan's new number. Only a handful are know to exist, probably up to 10. I've only seen one in the last 20 years.
stacik1313 also has a company card from the company which produced the Finest refractors for some years however it is dated 1998 so we're not sure whether or not it is related to this exact card or not. Here's the front and back shots of stacik1313's listings: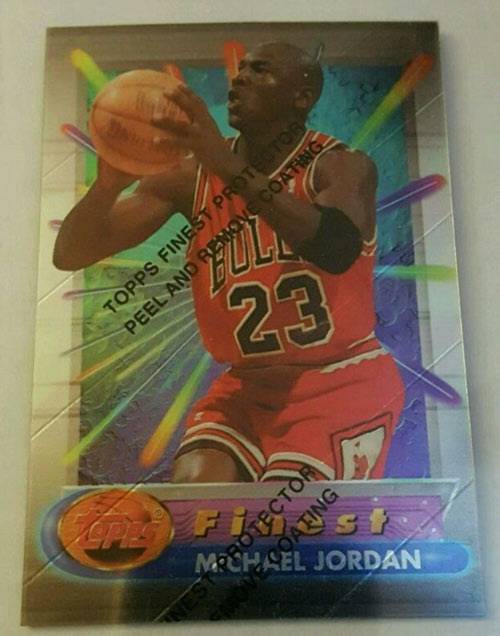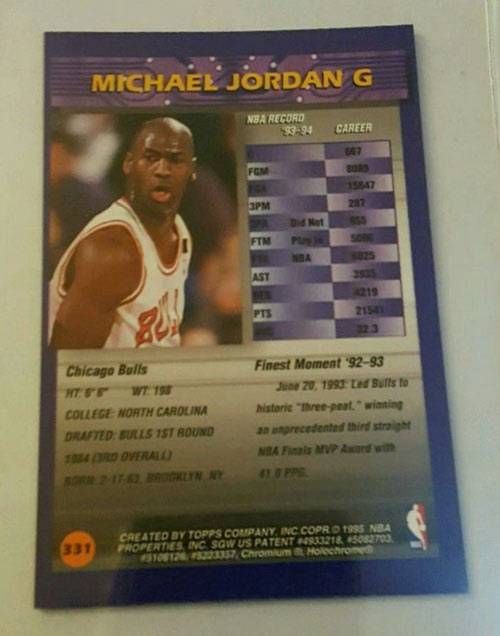 This is an amazing card! It's a true rare piece of Jordan history – we have proof that PSA have previously authenticated another copy and none have regularly surfaced in over 20 years! The new owner of this card could happily display the sweet series of 1994-95 Jordan Finest cards as below!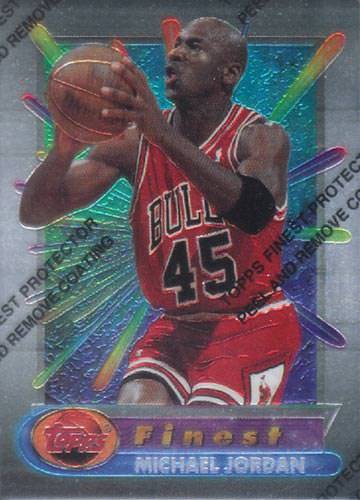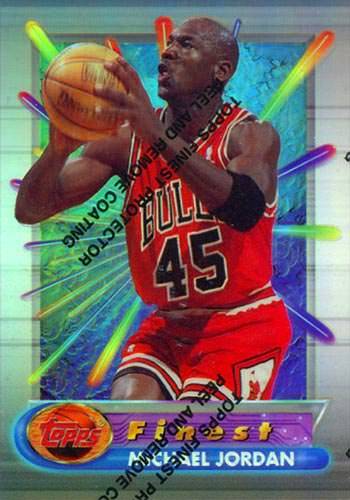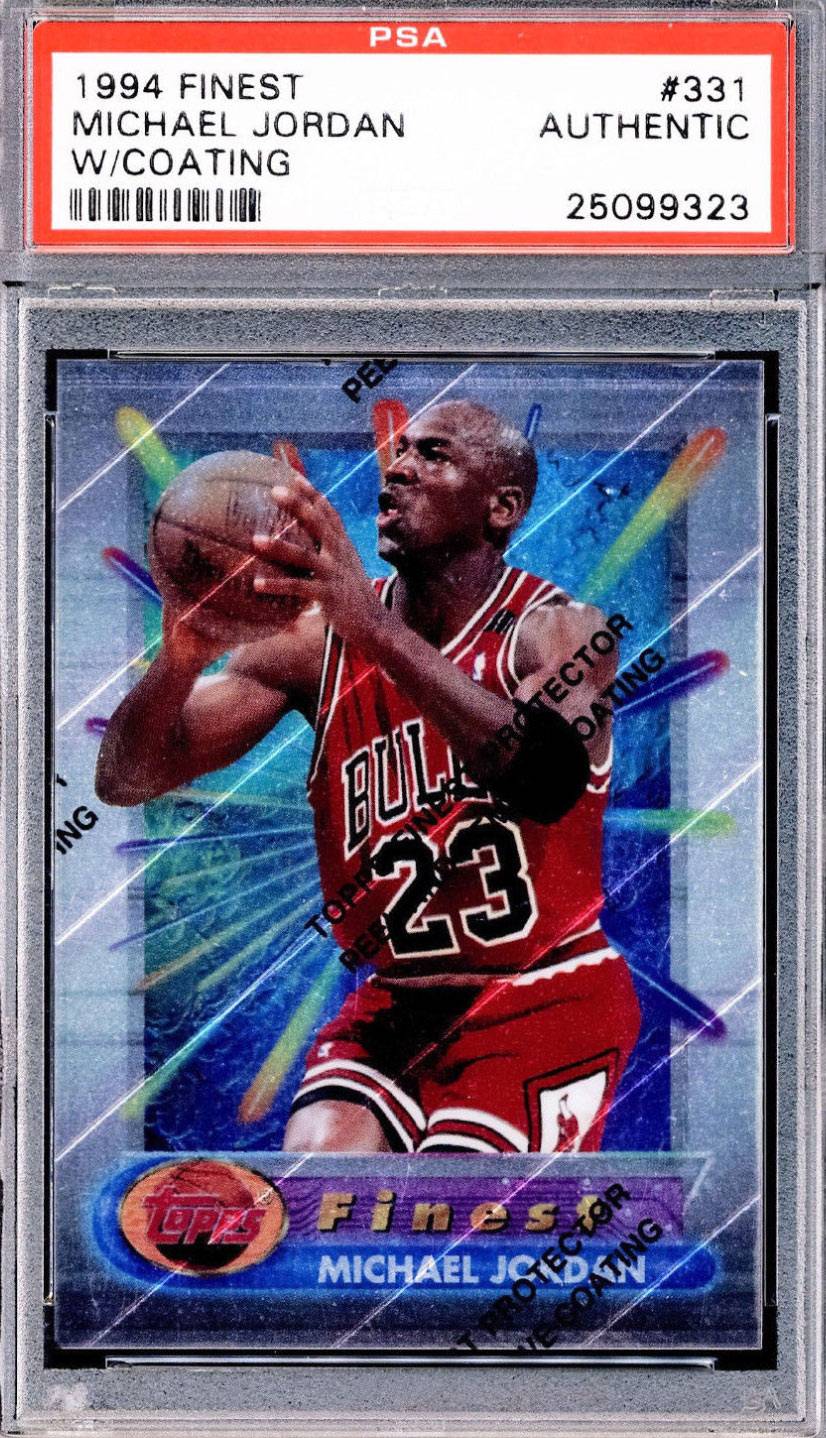 I also reached out to both BGS and PSA to see if they were happy to share any more information they may have. If either get back to me soon I'll be sure to post the information here.
Update – Feb 22 2018
A BGS authenticated copy of the 1994-95 Finest showing Jordan wearing number 23 has shown up for sale on eBay – see the listing here. The card again resembles the standard version of the card in every way however shows Jordan wearing number 23 along with a series of diagonal lines. As with the PSA version, this card is marked 1994-95 Finest #331 – there is no designation as a 'promo' or a 'test' meaning BGS must be verifying this to be part of the actual set. I reached out again to BGS for a comment however have not yet received a response. I've got a scan of the card below.
The same consigner has a non-graded version of this card available for sale also.