Popular Jordan cards
94-95 Topps Finest Michael Jordan Refractor
The design and colours of the 1994-95 Topps Finest set really show off the refractor technology - they are stunning in hand. Here's Jordan wearing the only refractor of Jordan in the #45 jersey.
Year

1994-95

Set

Topps Finest Refractor

Number

331

Player

Michael Jordan
The 1994-95 Topps Finest refractors were a parallel insert. Parallel inserts are rare copies of the base cards with the addition of some sort of differentiating factor such as gold foil, a stamped signature or - in the refractor case - a spectacular light refracting coating.
No front-on photos do the refractor cards justice as the effect is best viewed at an angle. If you have never seen a refractor then you will be blown away the first time you hold one!
The 1994-95 Topps Finest cards - including the refractors - were issued with a protective coating. This is the angled black text you see across the front of the card. Some will have had this coating removed.
The cards are also printed on high quality stock much stronger than standard cardboard so a good condition of the corners and edges is a must.
It is one of my favorites, making number 7 in my top 10 Michael Jordan cards of all time, and would make an excellent addition to your collection.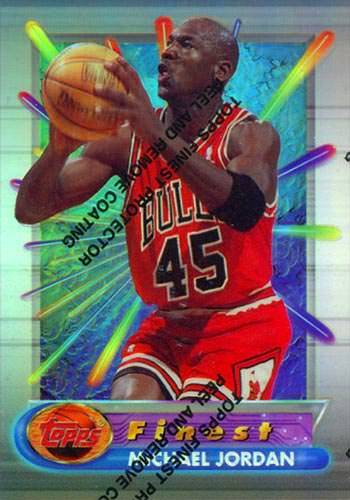 94-95 Topps Finest Michael Jordan Refractor for sale on eBay now
This website is user supported. Clicking some links and making a purchase may result in the site earning a commission. Affiliations include but are not limited to eBay. This in no way affects editorial content.