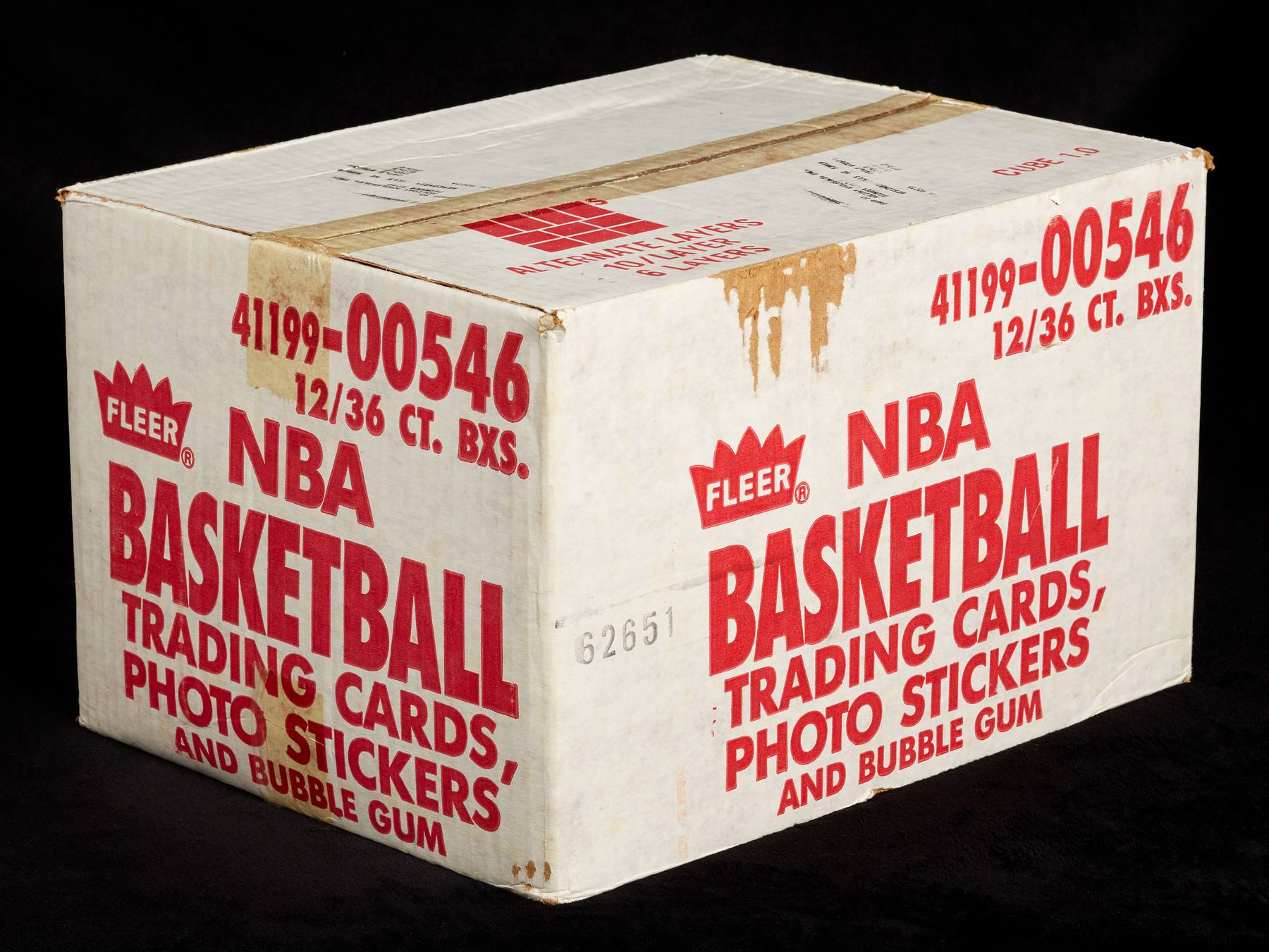 Collect Auctions has just announced their upcoming auction of not one, not two but twelve boxes of 1986-87 Fleer Basketball all sealed in their original case. According to Collect Auction's researchers, this is likely the only sale of a complete sealed case of 1986-87 Fleer in modern times.
The 1986-87 Fleer — which was Fleer's first basketball card set since 61-62 — is considered by many collectors to be the most important basketball cards set ever made.
Not only does the set include the Michael Jordan rookie card but a plethora of other star rookies and hall of famers including Hakeem Olajuwon, Patrick Ewing, Larry Bird, Magic Johnson, Charles Barkley, Karl Malone and Kareem Abdul-Jabbar – in fact every star from the era is included.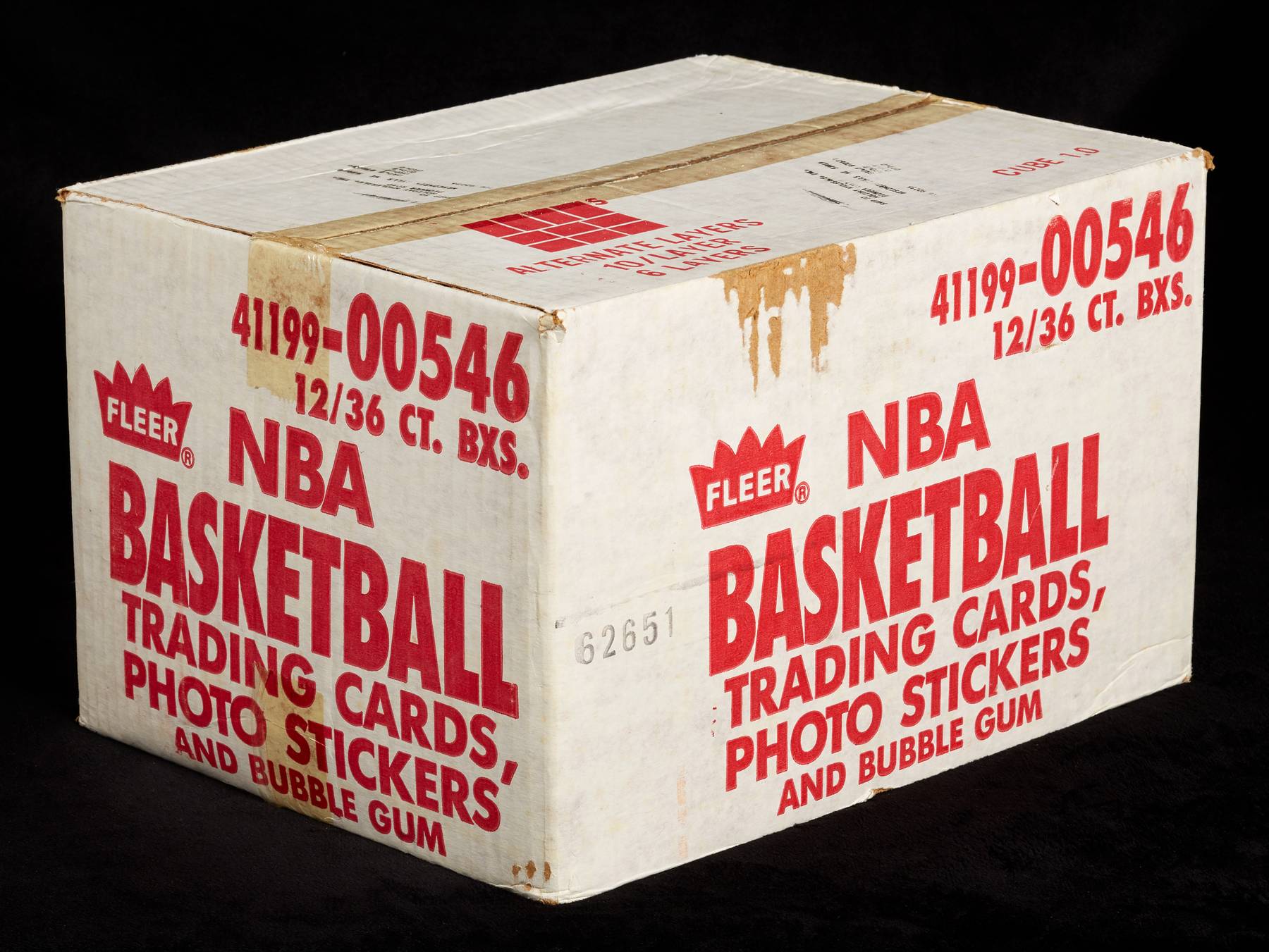 A single BBCE certified box of 86-87 Fleer (which was part of the Midwest Storage Find) recently sold through Goldin Auctions for $109,200.
This case includes 12 boxes which haven't seen daylight since the mid 1980's. The fact that the case remains sealed in original form adds to the provenance and value considerably – I won't be surprised to see the final sale price pass well past $1 million.
The auction – with a starting bid of $250,000 – is set to commence on July 13 2020.
Why are 86-87 Fleer boxes often BBCE certified?
A major issue with buying boxes of 86-87 Fleer is the fact that they were not factory sealed. The case itself was sealed with packaging tape however the boxes themselves could be opened without evidence.
This presents an issue that packs can be searched for key stickers which are visible through the pack wrapper at the back. Additionally, due to the way Fleer collated the packs, it was somewhat possible to determine the contents of a pack by looking at the front card (also visible through the wrapper) and the sticker.
Finally, packs of 86-87 Fleer can easily be resealed and go unnoticed by many collectors.
As a result full boxes could easily contain leftover packs from other boxes which have already been searched for their key cards. Or, worse, contain nothing but resealed packs each containing only the lowest value cards and stickers.
Baseball Card Exchange (BBCE) offers a certification process which carefully examines the contents of 86-87 Fleer boxes to guarantee that the box is in its original form.
How to we know there are up to 40 Michael Jordan rookie cards in this case?
As I touched on above, Fleer collated their packs in the 86-87 set in a somewhat predictable fashion. It is possible to predict the exact contents and even order of cards in a pack by looking at the top card and sticker.
Each box contained 3 and some contained 4 of any given card – the exact ratio is approximately 3.2 per box. This means we can assume the case to contain approximately 3.2 x 12 Michael Jordan rookie cards: 38.4 rookies which haven't seen daylight in 34 years.
Don't forget also that these numbers apply to all cards in the base set – so 38.4 Olajuwon RCs, 38.4 Ewing RCs, 38.4 Birds, 38.4 Magics etc.
Where will the auction end?
As tempting as it must be for the winner of this auction to relive the 80's and bust open those packs, I would think the wisest investment strategy would be to store the case carefully in a secure and humidity and temperature controlled environment. This is particularly true if this case is one of the last in existence.
I'm confident we will see a sale price well past $1 million and, given the individual boxes could sell for $110,000 each, reaching $1.5 million seems certainly 'on the cards'. It will be very interesting to watch.
Commencing on the same day as the 86-87 Fleer case through Collect Auctions are also auctions of a 87-88 Fleer case and 88-89 Fleer case.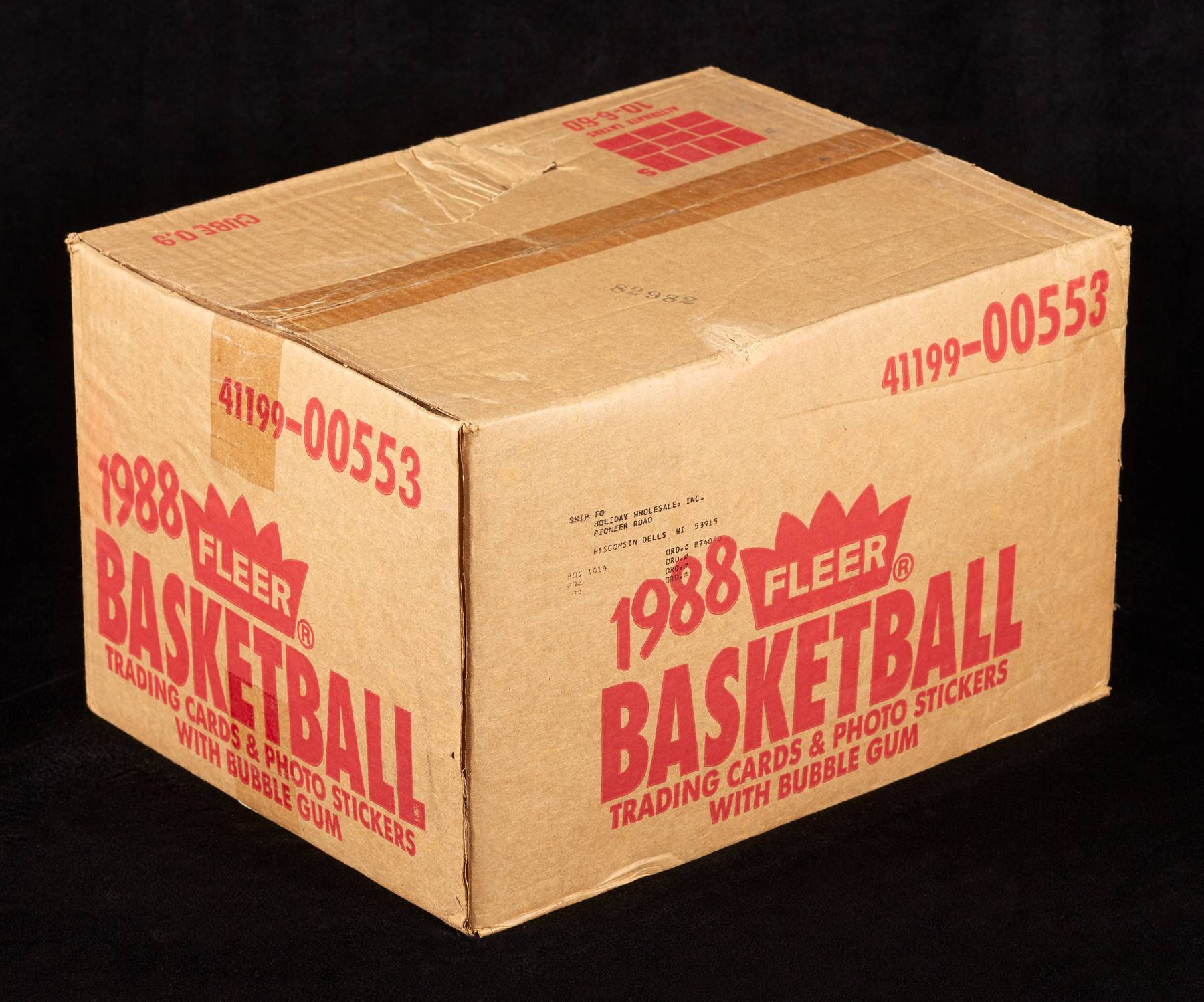 I'm keen to hear your thoughts on possible ending values in the comments.