Popular Jordan cards
89-90 North Carolina Michael Jordan Collegiate Collection Gold Edition
UNC Coca-Cola gold parallel set of the North Carolina Collegiate Collection featuring gold foil lettering and photo border.
Year

1989-90

Set

UNC Gold

Number

13-17

Player

Michael Jordan
The 1989-90 Michael Jordan UNC Gold is one of the earliest Jordan parallel cards made - preceding the popular refractors and PMGs by years.
In 1989 Coca-Cola partnered with the Tar Heels to release the collegiate collection of cards celebrating key players from the clubs history. This included the earliest Michael Jordan college cards officially released.
The gold edition parallels the base set with the addition of a gold foil border around the action photo.
Here is a listing of the collegiate gold Jordan cards currently available for sale on eBay.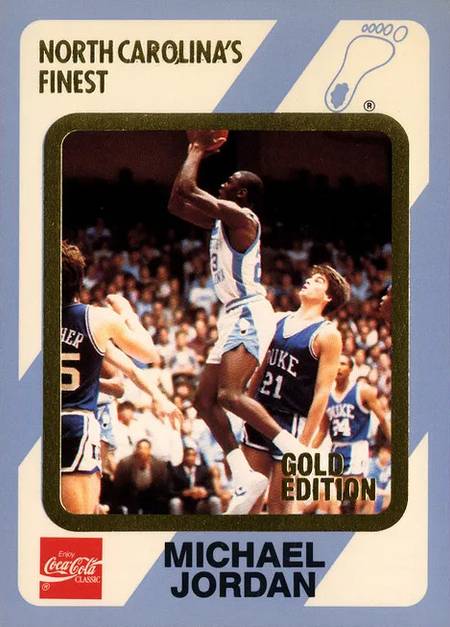 89-90 North Carolina Michael Jordan Collegiate Collection Gold Edition for sale on eBay now