Popular Jordan cards
92-93 Michael Jordan All-Star
A vintage look with dual deep etched photos on this early Jordan insert.
Year

1992-93

Set

Fleer All-Star

Number

6

Player

Michael Jordan
Aside from the sticker 'inserts' of the 80's this All-Star Weekend card released by Fleer for the 1992-93 season is among the first true All-Star inserts for Michael Jordan. The card features Jordan at the Orlando All-Star game of the 92-93 season.
I like the dual photograph design of these cards - it is a little similar to the 1993-94 Michael Jordan Living Legends and displays very nicely side-by-side.
As you can see in the image, the card features one full length shot of Jordan in action at the game as well as a close up portrait styled photograph. The blue bordering, gold foil stamp and muted colours give the card a stand out old school appeal - a very nice card and you don't have to break the bank to buy one! (In fact this complete set is very nice.)
The ultimate copy of this card has to be the 1/1 Michael Jordan buy-back autograph that Upper Deck released. Upper Deck sent one copy of the card for signing and included it in their Michael Jordan buy-back autograph cards release.
The 1992-93 Fleer Michael Jordan All-Star Weekend insert card is regularly available on eBay and usually sells for around the $20 mark depending on condition and seller reputation.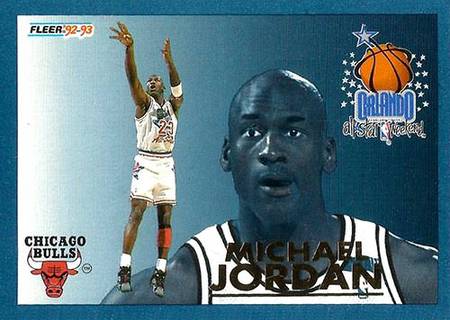 92-93 Michael Jordan All-Star for sale on eBay now
This website is user supported. Clicking some links and making a purchase may result in the site earning a commission. Affiliations include but are not limited to eBay. This in no way affects editorial content.