If you've not read the earlier parts to this series I recommend you check out:
Michael Jordan played in a mammoth 14 All-Star Weekend games, he was awarded 3 All-Star Weekend MVP awards and took out the All-Star Weekend Slam Dunk Championship twice. This is a huge part of Jordan's career and the trading card companies have not let it pass by without including many great cards.
Michael Jordan All-Star Game Cards
There are many great options for collectors of Michael Jordan trading cards who want to include cards featuring Jordan playing in the All-Star Weekend games. This includes plenty of easy to obtain base cards as well as some very nice (and some very expensive) insert cards.
Each All-Star game was played in a different style of jersey so you might like to document all 14 of these through your collection.
Below are two very nice and very easy to locate base cards featuring Jordan as part of the All-Star Weekend games. On the left is the 1993-94 Michael Jordan Hoops All-Star card, on the right is the 1990-91 Michael Jordan Hoops All-Star card.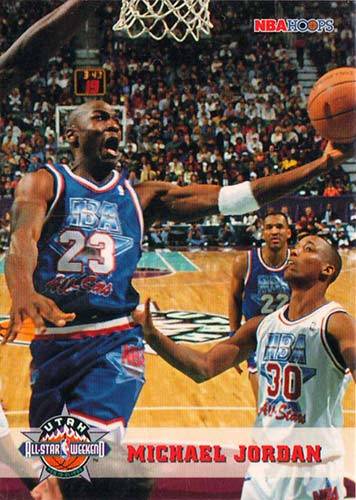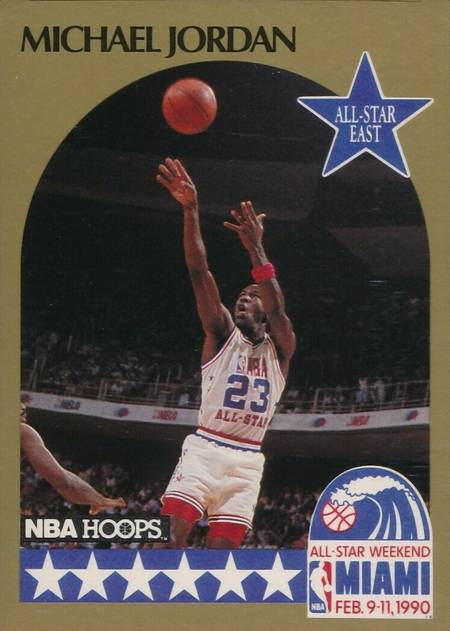 There are many great All-Star insert cards available and it will be down to your own perusal of the options to find your favorites. Check out Michael Jordan All-Star cards available on eBay right now if you're interested in buying.
Two of my all time favorite Michael Jordan insert cards are below – one which is available as a buy back autograph card! On the left is the old school and relatively hard to track down in nice, well centered condition 1992-93 Michael Jordan Fleer All-Star insert card. The card on the right is the 2003-04 Michael Jordan Upper Deck Die Cut All-Star in its spectacular buy back autograph card version – nice!
You might be interested in:
Michael Jordan All-Star MVP Cards
NBA Hoops were very good at featuring All-Star cards and All-Star MVP award winner cards. Below is one of the options available featuring Jordan and his 1988 All-Star MVP award. This card is the 1991-92 Hoops Michael Jordan MVP award card.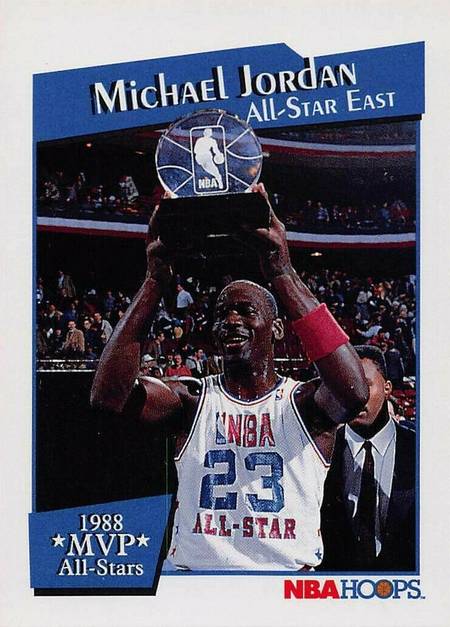 Michael Jordan Slam Dunk Championship Cards
The famous free-throw slam dunk was a spectacular achievement for its time and the showman Michael Jordan certainly did his best to make the best show of it that he could. You can add this iconic piece of history to your collection through the couple of nice cards available.
The card below is the 1988-89 Fleer All-Star card featuring Jordan flying through the air mid 'Free Throw Slam Dunk'!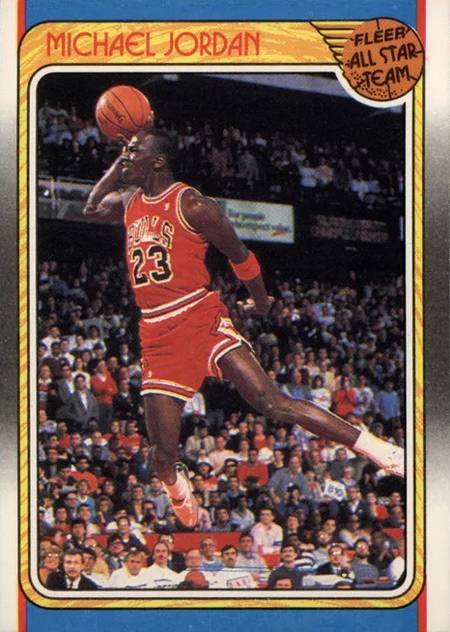 Happy collecting everyone.