If you've not read part one of this series I recommend you check out Collecting Michael Jordan History in Cards Part One – The Early Years for some background on my goal for this series of Jordan cards blog posts. In a nutshell it is aimed at those looking to highlight the history of Michael Jordan's career through their card collection.
What bigger era in Michael Jordan's career is there than the two historic Chicago Bulls Three-peats of the NBA Finals in the 1990's? This cemented Jordan as one of the greatest NBA players ever and brought the game to worldwide attention.
As collectors we have plenty of nice opportunities to include this era in our collections.
Michael Jordan NBA Finals Base Cards
Many sets of the 1990's included cards celebrating the season's finals. This usually included the lead up and playoffs as well as cards celebrating the victor. There are some great options available for collectors of Jordan NBA Finals base cards. Some include the 1993-94 Upper Deck Jordan NBA Finals card (left below) and the 1990-91 Skybox NBA Finals card (right below).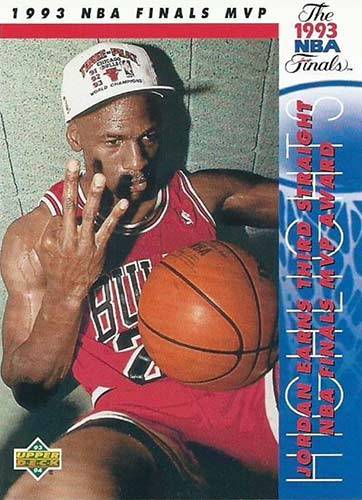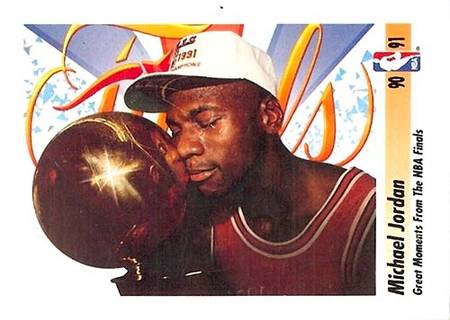 Michael Jordan NBA Finals Predictor Inserts
In an attempt to help collectors feel more a part of the game Upper Deck released the 'Predictor' insert set. These cards were inserts of the 1995-96 Upper Deck set and were released in a range of players and 'predictions'. The idea was that if the prediction on your card came true then you could mail the card to Upper Deck and receive a special complete set of Predictor redemption cards back.
This set was very popular at the time and, though the cards are no longer usable as predictors, still remain sought after to this day.
Michael Jordan NBA Finals Award Winner MVP Inserts
Along with some nice base cards celebrating Jordan's and the Bulls' feats in the NBA Finals many sets released inserts celebrating Jordan's multiple awards and MVP nominations.
Michael Jordan Final Shot NBA Finals Cards
As Jordan retired after the NBA Finals on two occasions some card manufacturers released cards showing his 'Final Shot' in these games. Some of these cards even include pieces of the actual game-used floor in which Jordan played his last game (at the time as he returned twice to the NBA).
These are sensational additions to your collection – a must for serious collectors! The 1999-00 Upper Deck Final Shot card (below left), 1999-00 Upper Deck MJ Master Collection Final Shot auto (below centre) and 1999 UDA MJs Final Floor jumbo card (below right) are three very nice options.
Note: the UDA card includes a piece of the game used floor itself and is available with and without a Jordan auto.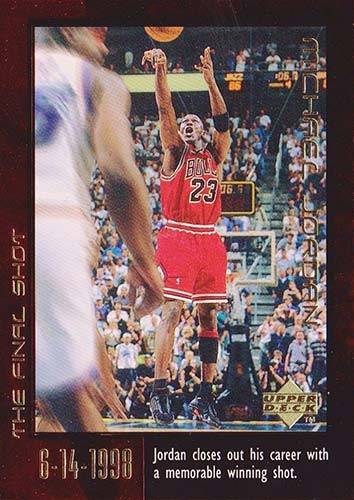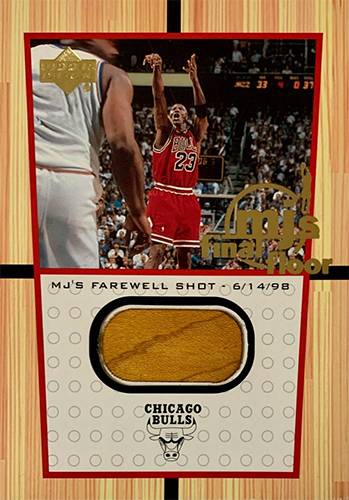 Relive the Chicago Bulls Dynasty of the 1990's
Now that you've got your card collection sorted to document this iconic piece of history wouldn't it be great if you could watch some of the games again? Well the NBA Dynasty Series has produced just that – and great viewing for any collector it is! Check out my blog post if you're interested: Relive the historic Bulls Dynasty of the 1990's on DVD.
Happy collecting.