Popular Jordan cards
95-96 Michael Jordan Predictor
A simple 90's styled design is used on this Upper Deck insert.
Year

1995-96

Set

Upper Deck Predictor

Player

Michael Jordan
The predictor series were a fantastic idea from Upper Deck. After a way to involve collectors more into the actual game itself, Upper Deck released the Predictor series of cards - a range of which included Michael Jordan.
These cards included a prediction regarding Michael Jordan's achievements for a certain month or during a certain game. If you were lucky enough to be holding a card with a prediction which ended up coming true you could mail the card to Upper Deck to receive a special redemption only set of Predictor cards.
Obviously now the cards are no longer redeemable however they still make nice additions to your collection - especially those which came true! The redemption set is also a very nice set of insert cards.
These cards are regularly available on eBay so you should have no problems tracking down a nice addition to your collection.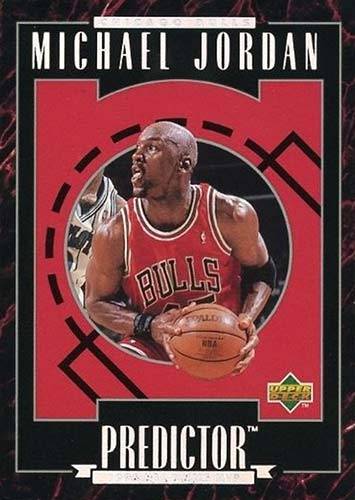 95-96 Michael Jordan Predictor for sale on eBay now
This website is user supported. Clicking some links and making a purchase may result in the site earning a commission. Affiliations include but are not limited to eBay. This in no way affects editorial content.