Popular Jordan cards
03-04 Michael Jordan Die-Cut All-Star
A classic design from 1994 is back and this time sporting a Jordan card.
Year

2003-04

Set

Upper Deck Die-Cut All-Star

Player

Michael Jordan
As regular readers know I am a big fan of die-cut Michael Jordan cards and this style has to be my favourite.
The 03-04 Upper Deck Die-Cut All-Star card features the design that Upper Deck first debuted back in the 94-95 SE set - it was spectacular then and still is today. There is also another Jordan in this style - the later 07-08 Michael Jordan Die-Cut All-Star.
This card features the key design and shows Jordan playing as a member of the All-Star team. It is a rare and highly sought after card which has continued to climb in value since its release.
Perhaps the best thing about this card is the fact that it is available in three variations - each more rare and sought after than the previous. There is the standard card, the black version (limited to 25) and the buyback autograph version limited to 24.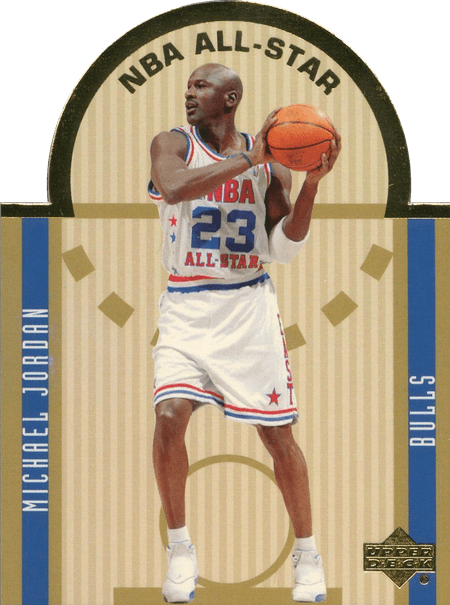 03-04 Michael Jordan Die-Cut All-Star for sale on eBay now
This website is user supported. Clicking some links and making a purchase may result in the site earning a commission. Affiliations include but are not limited to eBay. This does not affect editorial content.