Popular Jordan cards
93-94 Michael Jordan Famous Nicknames
Paying homage to the world famous iconic 90's nickname: Air.
Year

1993-94

Set

Fleer Ultra Famous Nicknames

Number

7

Player

Michael Jordan
There was good reason that Beckett included this card as a part of their top ten Michael Jordan cards ever made. It might seem to some like an odd inclusion given the card is not exactly rare or valuable. It does, however, document history (which all great collections should) in that it points to Jordan's well deserved nickname Air Jordan.
The quality of this Fleer Ultra insert is high. It features a high color photograph of Jordan flying to a dunk, borderless design, a smashed backboard / hardwood style background and high quality foil stamping which I have never seen chip or flake.
Many years after its release Upper Deck sent one copy of the card for signing to Michael Jordan and included it in their Michael Jordan buy-back autograph cards release - what a card!
This card is a must for all Jordan cards collections!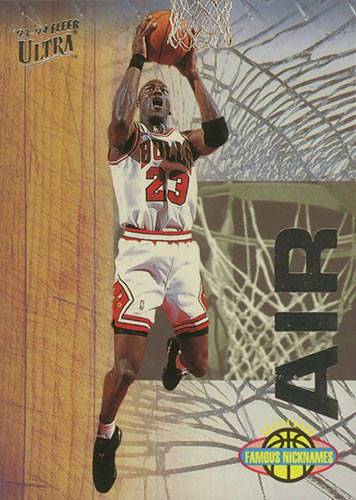 93-94 Michael Jordan Famous Nicknames for sale on eBay now
This website is user supported. Clicking some links and making a purchase may result in the site earning a commission. Affiliations include but are not limited to eBay. This does not affect editorial content.