Popular Jordan cards
95-96 Michael Jordan Double Trouble
A bright insert with nice use of dual photos and readily available for sale.
Year

1995-96

Set

Fleer Ultra Double Trouble

Number

3

Player

Michael Jordan
The 1995-96 Fleer Ultra Michael Jordan Double Trouble presents a very nice insert (and parallel insert) which can easily become a part of your collection along with the Gold Medallion parallel insert.
Like many cards of this era the Jordan Double Trouble is printed on extra thick card stock which makes it easy to find a copy in pristine condition. The card features two photographs of Jordan in action focusing on two aspects of his game.
As I mentioned earlier this card is available as both a standard insert and a rarer Gold Medallion parallel edition. The Gold Medallion edition looks the same as the standard version only it features a gold stamp over the standard Fleer Ultra stamp and was produced in a lower volume.
Both of these cards are great inserts readily available for sale online through eBay. They are inexpensive nice cards - a must for great Jordan cards collections!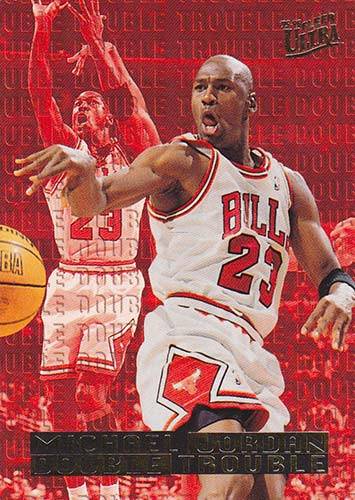 95-96 Michael Jordan Double Trouble for sale on eBay now
This website is user supported. Clicking some links and making a purchase may result in the site earning a commission. Affiliations include but are not limited to eBay. This in no way affects editorial content.