Popular Jordan cards
96-97 Michael Jordan Bowman's Best Shots
One of the earliest acetate cards featuring Michael Jordan.
Year

1996-97

Set

Bowman's Best Shots

Player

Michael Jordan
This is a very nice Michael Jordan card printed on a clear plastic acetate card stock which is transparent around the photo of Jordan flying in for a dunk. The Michael Jordan Bowman's Best Shots was an insert of the 1996-97 Bowman's Best set.
The plastic stock used for the card makes it extra strong on the corners and edges over standard cardboard stock cards. However the plastic surface can easily mark and scratch so make sure you check the surface carefully of any card you are thinking of buying.
Given the card's somewhat unique plastic stock and design this card will stand right out in any great Jordan cards collection - it is very popular and widely available for sale online. To top it off the card will not break the bank!
Another two great options are the refractor and atomic refractor versions of this card - it is a stunning card! Check out the refractor and atomic refractor (shown on an angle) below to see the stunning effect of the Michael Jordan Bowman's Best Shots Refractor.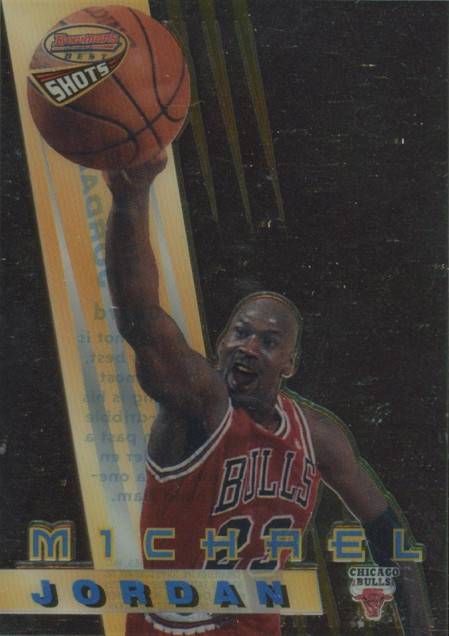 96-97 Michael Jordan Bowman's Best Shots for sale on eBay now
This website is user supported. Clicking some links and making a purchase may result in the site earning a commission. Affiliations include but are not limited to eBay. This does not affect editorial content.