Popular Jordan cards
96-97 Michael Jordan Hot Shots
One of the most intricate, well designed Jordan die-cuts of all time.
Year

1996-97

Set

Flair Showcase Hot Shots

Player

Michael Jordan
If you're a big fan of Michael Jordan Die Cut cards as I am then you'll absolutely love the 96-97 Flair Showcase Hot Shots! This has to be one of the most well designed die cut cards available.
With the thicker stock utilised by Flair they were able to design a card featuring all the curves and sharp points as in the Hot Shots and still maintain a high condition quality.
That doesn't mean you still shouldn't be careful and always check all edges and the many corners before buying this card.
Its not a cheap card but nor is it through-the-roof expensive. As the stunning showpiece that it is I highly recommend looking to track down a nice copy.
Happy collecting and best of luck!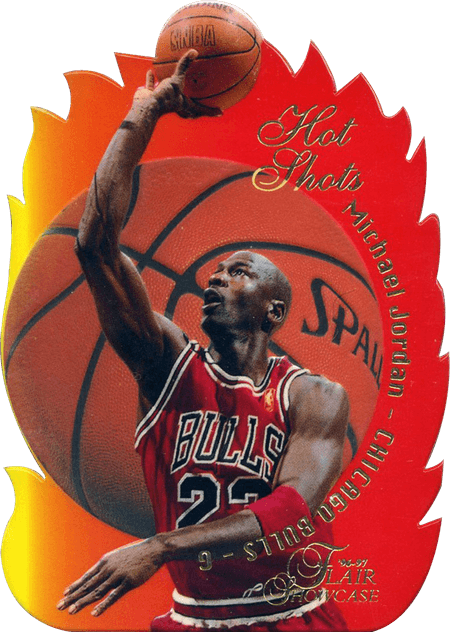 96-97 Michael Jordan Hot Shots for sale on eBay now
This website is user supported. Clicking some links and making a purchase may result in the site earning a commission. Affiliations include but are not limited to eBay. This in no way affects editorial content.