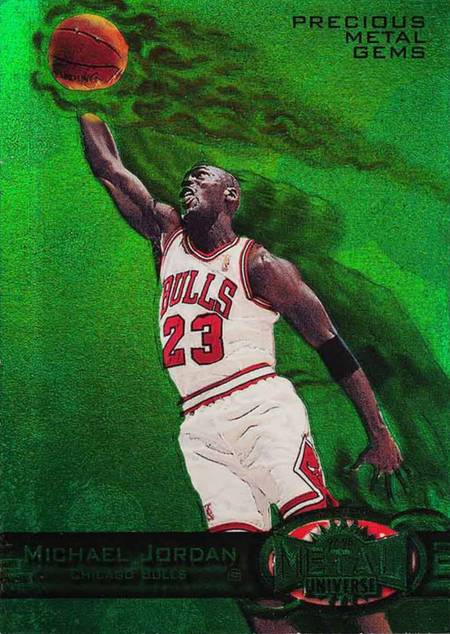 This post began as an attempt to decide upon my top ten Michael Jordan insert cards from the 1990's – Jordan's heyday era with two three-peat championships. However it quickly became clear this was going to be an impossible task to accomplish due to the abundance of quality Jordans available from the era!
Luckily, the basketball card inserts from the 1990's can be conveniently broken into two timeframes: 1990-95 and 1995-99. Inserts from the early 90's maintain an old school, sentimental feel for many collectors while inserts from the later 90's feature high quality, high value cards sought after by the most serious Michael Jordan cards collectors.
So I will break this post into two – this first one taking a look at my personal top 10 Michael Jordan inserts from the late 1990's. Of course I was still unable to limit my list to 10 inserts so I've included a series of 7 notable mentions to kick the list off.
Please bear in mind that I'm focussing on straight insert cards – this list will not include any of the amazing autograph or patch memorabilia cards available from the era. I'll save those for a post another day.
By the 1995-96 season the quality and rarity of top shelf inserts began to skyrocket. We started seeing lenticular cards, seriously intricate die-cut cards, fascinating 3D foil effects and cards so rare that in some cases only 10 were made.
As a result, many of the cards in this list are very valuable. Any collection with even one or two of these cards will be spectacular!
So lets kick off the countdown with 9 notable mentions that are far too awesome to leave out!
Notable Mention Michael Jordan Cards – Late 90's Inserts
Notable mention: 1995-96 Michael Jordan Skyview
Manufactured by Hoops, card #SV1
The Hoops 95-96 Skyview cards feature a stunning, highly colourful semi-transparent insert within the card itself – absolutely spectacular when viewed through light!
Additionally the card features the same imagery on both sides – however instead of simply inverting the image (which would leave text and numbers reversed) the graphic designers have ensured all text displays correctly. This is quite cool to look at closely and a nice touch.
Generally the Hoops Skyview sells for around $70 – $100 so its not out of reach of most Jordan collectors and a fine addition to your collection.
The Skyview is actually a parallel to the much less valuable Hoops Power Palette which doesn't feature the semi-transparent insert which gives the Skyview its name.
Notable mention: 1998-99 Michael Jordan Linchpins
Manufactured by Metal Universe, card #8
The Metal Universe Linchpins cards feature a very cool and unique die-cut design. Unlike most die-cut cards where the shape of the card is cut into an intricate shape, the Linchpins feature small pins cut out of the body of the card itself.
Coupling this with the bright, industrial design of the rest of the card results in a standout piece in any collection!
The Michael Jordan Linchpins sells for around $350 – $400 so it is starting to push into the higher end of the spectrum. Generally this card is in good condition but be sure to check the die-cut edges.
Notable mention: 1997-98 Michael Jordan Triumvirate
Manufactured by Topps Stadium Club, card #T1B
Regular readers know how big of a fan I am of nice die-cut cards and the Stadium Club Triumvirates fit this bill perfectly!
These cards are actually designed to fit together in a series of three – hence the name Triumvirate. The die-cut shape of each card complements those either side. In the Bulls edition of the 97-98 Stadium Club Triumvirate is Scottie Pippen, Michael Jordan and Dennis Rodman featured on the three separate cards.
Additionally the cards are all available in Luminescent parallel versions which are much rarer than the standard versions. The Luminescent editions feature a coating similar to that of refractors and are highly sought after. The Luminescent Triumvirate was inserted at a rate of 1:192 packs.
Even rarer again is the Illuminator version! This version of the card parallel the Luminescent version and features semi-transparent acetate stock which show light through the non-foil parts of the card. The Triumvirate Illuminator was inserted at a rate of 1:384 packs.
I like what the seller has done in my sample image below placing the card over a printed page so you can clearly see the Illuminator acetate semi-transparency.
Sales prices are around $100 – $150 for the standard Triumvirate, around $300 – $400 for the Luminescent Triumvirate and up to $1000 for the Illuminator Triumvirate.
It can be hard to tell the difference between these cards when not seeing them in person so be careful before buying either of the parallel versions.
Notable: 1998-99 Michael Jordan 3D's
Manufactured by Skybox, card #4
Selling for $150 – $200 this is one of the cards a little easier to add your collection.
The Skybox Michael Jordan 3D's features a single image of Michael Jordan displayed at differing sizes along a series of statistics and descriptions of Jordan's style of play. The card itself is coated with a very cool foil effect which displays very nicely.
This is a must have card for the price and I believe a fine addition to any Michael Jordan cards collection.