Popular Jordan cards
Michael Jordan PMG
Michael Jordan Precious Metal Gems were released in the 1990s and again as part of the Fleer Retro releases of the 2010s.
Most Jordan collectors would agree that the Michael Jordan PMGs are some of the greatest Jordan cards of all time. I use plural here as - though most focus is on the 1997-98 PMGs - there are several releases of this historic set available.
Take a look below if you're interested in buying a Michael Jordan Precious Metal Gems card.
1997-98 Metal Universe included the well known green and red PMGs. The green is limited to the first 10 with the red completing the set with the final 90 cards. The excellent deep etched photo choice coupled with the rich green and red foil give this set a standout eye appeal. Due to the heavy foil use it does suffer from common chipping issues straight out of the pack.
In that same year we also have the 1997-98 Metal Universe Championship Jordan PMG with its spiral patterned light foil overlay which is limited to 50. Jordan is deep etched flying over the Chicago skyline.
Following up the stunning inaugural PMG was going to be a feat and 1998-99 Metal Universe delivers nicely with the rich gold and metallic look of the 98-99 Jordan PMG. This release is limited to 50 copies.
And that was it for ten years! We didn't see another Precious Metal Gems set until the 2008-09 Metal Universe release when the green and red made their comeback.
The 08-09 PMGs revived the original concept with the first 10 cards being green and the final 40 (reduced from 90 in 97-98) being red. These cards suffer extreme surface issues and have not aged well.
After Upper Deck was no longer able to produce NBA cards, the company released a series of retro sets featuring players in their college years. With this the original PMG green and PMG red returned along with the addition of a PMG blue. Thankfully the condition issues have been resolved.
Oh but it doesn't end there. Upper Deck released the 2021 Skybox Metal Universe Champions series featuring player in generic uniforms. As part of this release there are PMGs red (/150), orange (/100), pink (/75), blue (/25), green (/10) and purple (1/1).
All PMGs are parallel cards to their base counterparts giving some stunning rainbow opportunities if you're lucky enough to own a copy.
Jordan PMGs are some of the most valuable Jordan cards ever made and far out of reach of most collectors.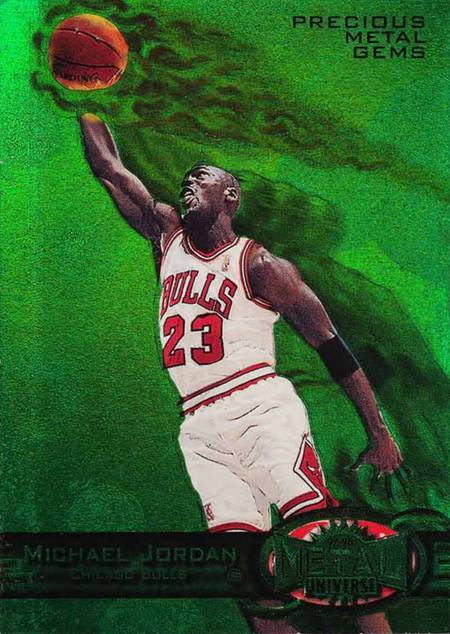 Michael Jordan PMG for sale on eBay now
This website is user supported. Clicking some links and making a purchase may result in the site earning a commission. Affiliations include but are not limited to eBay. This does not affect editorial content.