Popular Jordan cards
Michael Jordan PMG Green
The Michael Jordan Precious Metal Gems Green - or emerald as this was the stone which inspired the design - are the rarest of the PMGs.
The king of Michael Jordan PMG Greens will always be the 97-98 Michael Jordan PMG Green. There simply is no other PMG that comes close to the quality and well deserved respect this card enjoys.
Of course, you'll need around a million dollars and a small miracle to buy one given the extreme rarity and very low likelihood of any current owners deciding to part with one. One collection is known to currently have half the population under caretakership.
Thankfully there are other options if a Michael Jordan PMG Green is on your absolute must have list for your personal collection.
In more recent years, Upper Deck - as owner of the Skybox and Fleer brands - has released several sets of Fleer Skybox Retro.
These releases contained new Jordan PMGs with player photography from college games and more recently generic jerseys.
Rich green foil overlays the space inspired universe background pairing nicely with the full colour deep etched player photo.
It is also worth noting that the condition issues of the 1990's PMGs have been dealt with - the Fleer Retro PMG Greens are usually in very good condition.
Dive in here to take a look at the Jordan PMG Greens available for sale on eBay right now.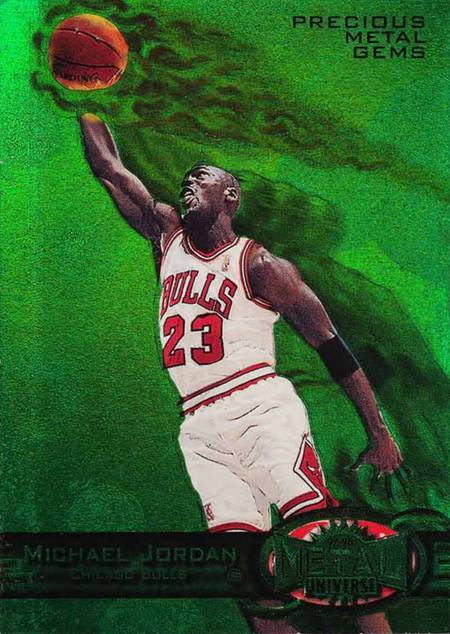 Michael Jordan PMG Green for sale on eBay now
This website is user supported. Clicking some links and making a purchase may result in the site earning a commission. Affiliations include but are not limited to eBay. This does not affect editorial content.