Popular Jordan cards
97-98 Michael Jordan PMG Green
One of the greatest cards ever made is the Michael Jordan Precious Metal Gems Green - or Emerald as it was inspired by designer Jean MacLeod's favourite gem. It features stunning green foil and is limited to 10 copies.
Year

1997-98

Set

Skybox Metal Universe Precious Metal Gems Green

Player

Michael Jordan
In 1992 Marvel Entertainment acquired Fleer and later Skybox in 1995 creating what would become the perfect match for the creation of one of the greatest parallel sets ever created.
Marvel now had on its team designers Jean and Earl Arena as part of the Fleer acquisition. Jean and Earl now had access to Marvel's abundant supply of talented illustrators. The idea was to take players out of the court or field and place them into a super hero universe - thus the 97-98 Skybox Metal Universe set was born.
The super hero flying through space feel of the base cards pairs beautifully with Skybox's signature flair off the ball. In this set the ball looks literally like a comet continuing the motion blur trail always used by Skybox in the past.
Jean, inspired by her wedding ring and favourite gems, went on to create the Precious Metal Gems Green and Red (officially Emerald and Ruby) parallel insets.
The PMG Green is limited to the first 10 and the PMG Red finishes the set with cards numbered 11-100.
It was some time before the community at large truly appreciated the PMG parallels however in the modern era this set has gone on to become one of the greatest of all time.
These are extremely condition sensitive cards with chipped edges being common place. Take a look at the related articles here for some history of sales and values of the Michael Jordan PMG Green.
Any for sale right now on eBay will show up below if you're looking at options to add this beauty to your collection.
The Precious Metal Gems will be far out of reach of most collectors due to their extremely high value. If you're interested in another example of more attainable and well respected parallel cards take a look at Michael Jordan Refractors.
If you have a story of pulling a Jordan PMG please do write in as I'd love to hear it!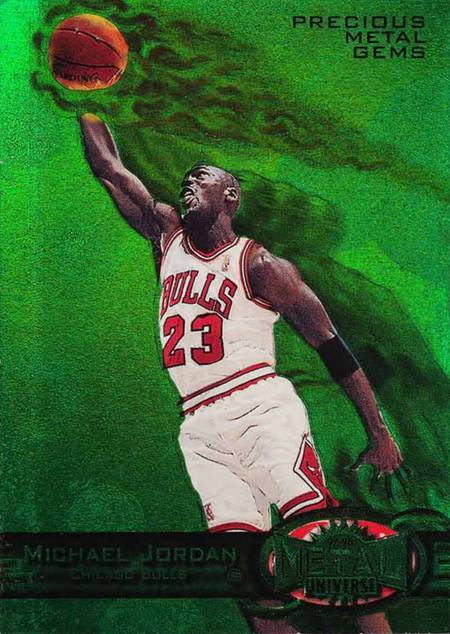 97-98 Michael Jordan PMG Green for sale on eBay now
This website is user supported. Clicking some links and making a purchase may result in the site earning a commission. Affiliations include but are not limited to eBay. This in no way affects editorial content.