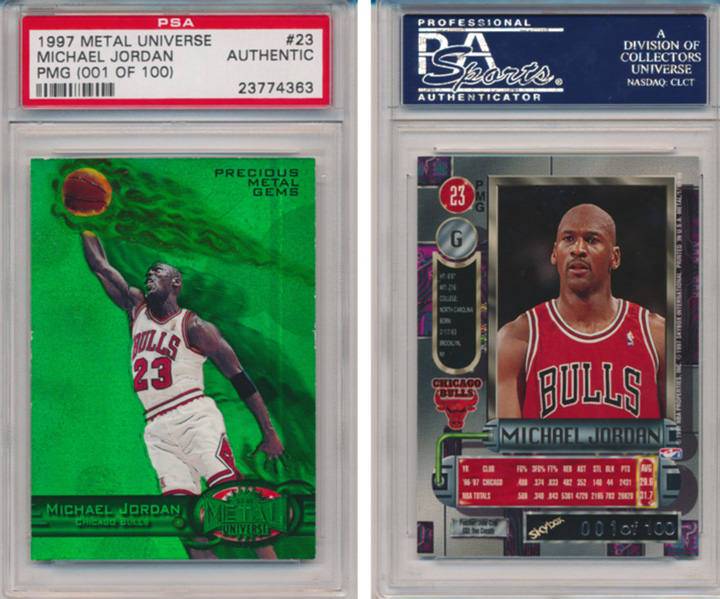 The Michael Jordan PMG Green is considered by many to be the holy grail of Michael Jordan cards – have a look at my article on Top 10 Late 90's Michael Jordan Inserts to see how I think it rates!
It was produced by Fleer as part of the 97-98 Metal Universe set – a stunning foil green parallel with only 10 cards in existence (cards 11 – 100 are PMG Reds). Ever since, the Jordan PMG Green has be relentlessly hunted by serious collectors – I say serious collectors as you need to be prepared to spend tens of thousands of dollars to buy this card.
One lucky collector who had put away a couple of boxes of 97-98 Metal Universe had decided to open them. Without seeing much in the first box and a half he persevered – no doubt heart racing. Then toward the end of the second box a slight green shimmer appeared – not only did he pull the Michael Jordan PMG Green but he pulled the first Jordan card produced in the 97-98 PMG series #1 of 100! Check it out: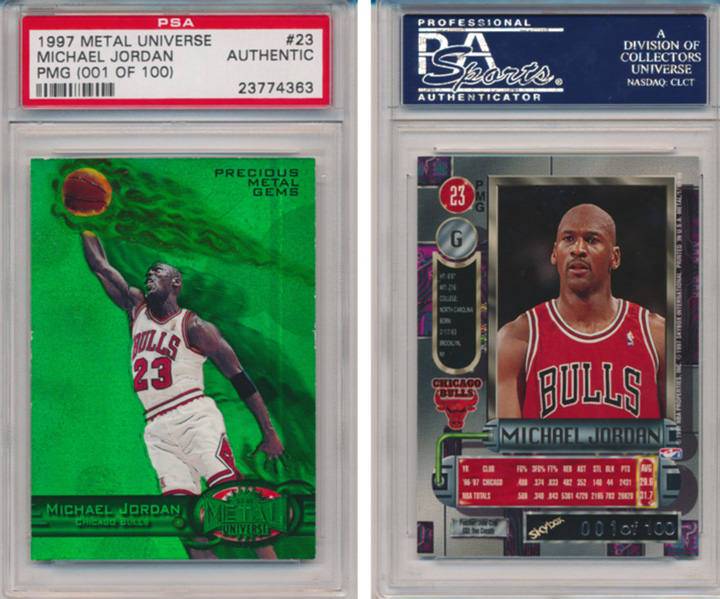 The card is currently for sale on eBay (running on consignment between July 23 and August 2 2015) – as at July 25 the auction has received 50 bids and almost reached $70,000! We may be about to see a record breaking sale on eBay – considering the previous highest sale price for a Michael Jordan card is reported to be $100,000 for the first BGS 10 rookie card!
The card was previously available for sale late last year however the seller decided to have the card authenticated by PSA due to the need to prove it was not faked (as some PMGs and other high end cards have know to be). The listing coincides with the National Sports Collectors Convention of 2015 and I'm told you can view the card in person there.
For those who come after the auction ends, here is a screen shot as at July 25.
This card will no doubt see some extremely high publicity and interest and will no doubt go into one of the world's top Michael Jordan cards collections. Given the consignment group requires pre-qualification for bidding on this card we can be fairly certain the final sale price is legitimate – we will all be watching closely no doubt and could very well see history made!
Happy collecting.