Popular Jordan cards
97-98 Michael Jordan PMG Red
The famous Michael Jordan Precious Metal Gems Red - or Ruby as it was inspired by the gem - features stunning red foil and is limited to 90 copies.
Year

1997-98

Set

Skybox Metal Universe Precious Metal Gems Red

Player

Michael Jordan
For a look at the series of events that led to the the creation of this famous set take a look at the overview of the Michael Jordan PMG Green. In a nutshell, the base set was designed around the idea of placing players into a super hero in space universe in collaboration with Marvel illustrators.
The Precious Metal Gems Red (or officially Ruby) was inspired by designer Jean MacLeod's wedding ring which contains a ruby.
The Precious Metal Gems Red are a parallel of the base set featuring a beautiful rich red foil overlay of the super hero universe beyond the deep etched full colour player photo.
The full PMG set is serial numbered to 100 cards with the first 10 reserved for the PMG Green and cards 11-100 reserved for the PMG Red. Thus the Red parallels are a 90 card set.
The Precious Metal Gems are considered by most to be some of the greatest Jordan cards of all time and they are valued accordingly. Take a look at some of the related articles here for a look at some of the sales over the years.
Keep an eye on this page for any Jordan PMG Red's for sale right now on eBay below.
If PMGs are out of your price range, you might also like to take a look at another of the most respected parallels: the Michael Jordan Refractors.
I'm keen to hear from anyone with a story on pulling a PMG of an kind so please do write in if you have a story to share!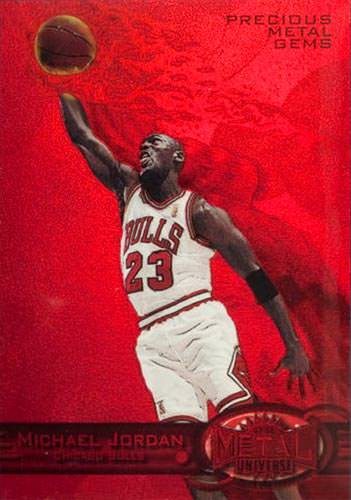 97-98 Michael Jordan PMG Red for sale on eBay now
This website is user supported. Clicking some links and making a purchase may result in the site earning a commission. Affiliations include but are not limited to eBay. This in no way affects editorial content.