One of my favourite sets back in the early 90's was the inaugural Collector's Choice set. I diligently pieced together the entire series one and two base card set – I remember busting pack after pack looking for that last card: Karl Malone. Eventually I found one at a store for 50 cents and my set was complete!
Something I never knew about at the time was the hobby store incentives Upper Deck included in series two of the set. Sitting on the top of each series two hobby box was a blow-up (or jumbo) card of one of five players:
Michael Jordan
Shawn Kemp
Bobby Hurley
Shawn Bradley
Calbert Cheaney
These Collector's Choice blow-up cards were exact copies of the base cards of the player (all from series one) only enlarged to 5×7 inches.
These are nice cards in their own right and look great as part of a rainbow alongside the regular base card, silver signature and gold signature parallels. However the real incentive was the fact that Upper Deck had a number of these cards autographed and inserted the autographed copies directly into the boxes: the 1994-95 Collector's Choice Blow-Up autograph cards.
These cards were the same 5×7 blow-up versions of the base cards only they include a large autograph – much larger than you would usually see on a standard size card. As a basic method of authentication, Upper Deck featured their standard round hologram on the back of the blow-up non auto cards and their diamond hologram on the back of the blow-up autos. Here I have an example of both the non-auto and auto versions of the card. Be sure to check this before buying if you're looking for the Collector's Choice Blow-Up auto.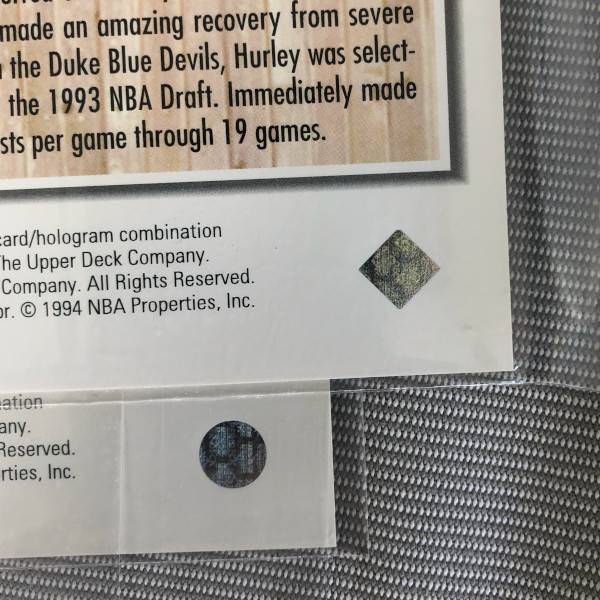 Finding the blow-up autos
Over the years I've kept an eye out for the 94-95 Collector's Choice Blow-Up autographs for sale online, through forums and on social media. Anecdotally, it seems the most common are the Shawn Kemp followed by the Bobby Hurley blow-up autos.
Shawn Kemp and Bobby Hurley blow-up autos
Both Kemp and Hurley cards below are my own which I've been able to acquire since learning about them around 2009 or so.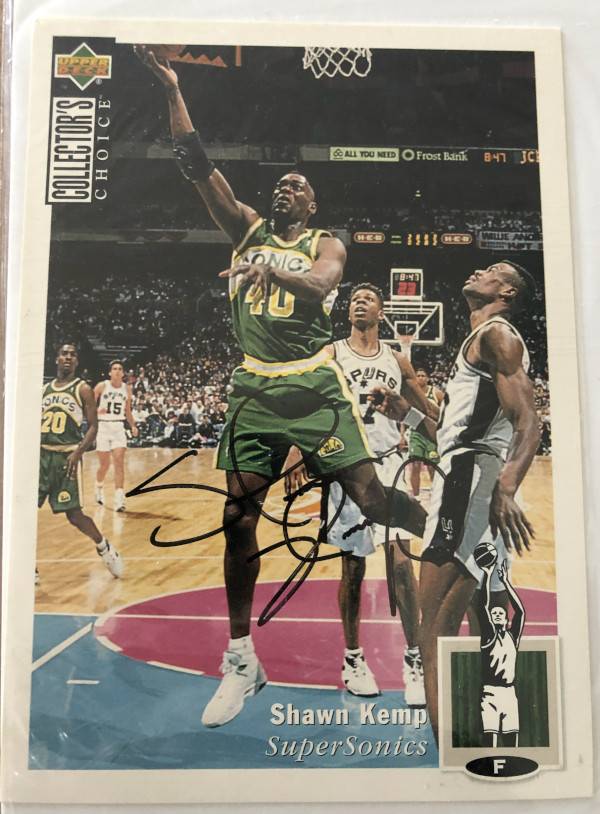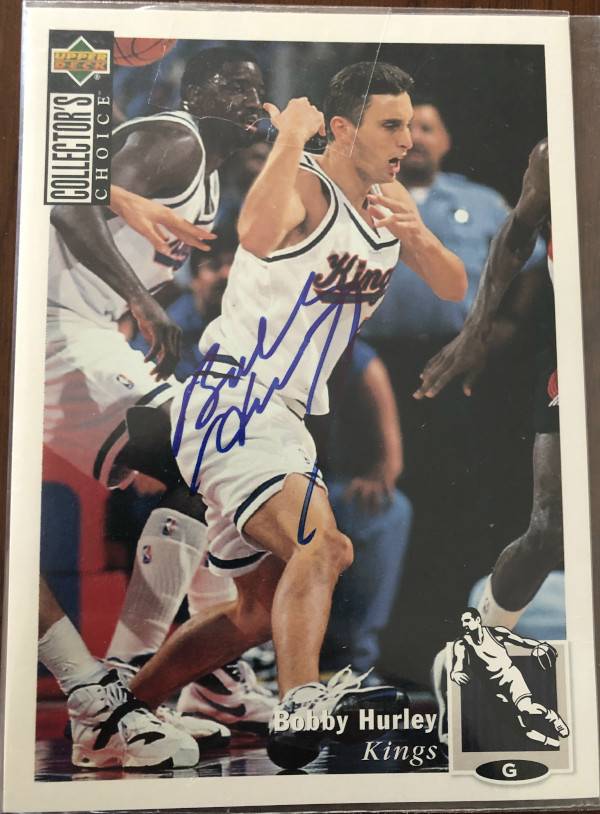 Calbert Cheaney blow-up auto
I only recently was able to acquire the first Calbert Cheaney blow-up auto I'd seen come up for sale. I have since seen another sold on eBay.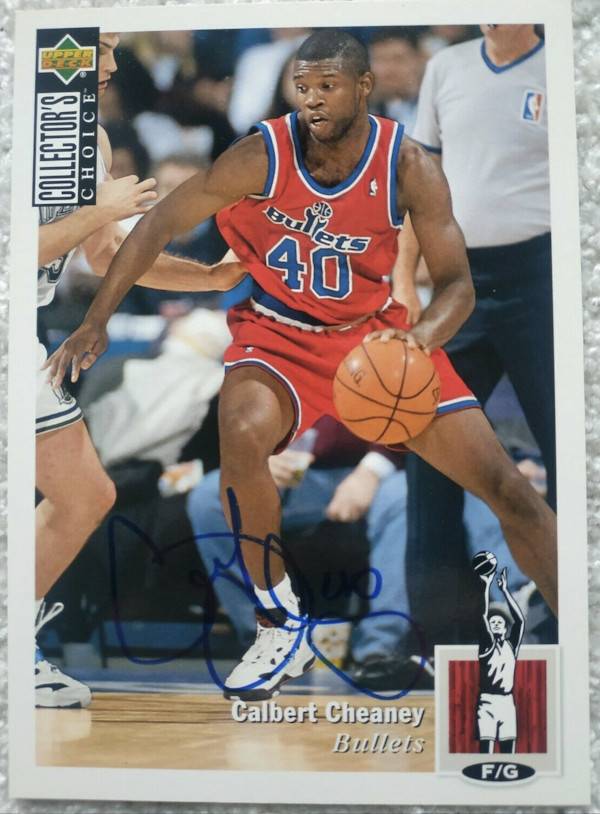 Shawn Bradley blow-up auto
I have never seen a Shawn Bradley blow-up auto – not one for sale or anyone sharing a picture of their own card.
Michael Jordan blow-up auto
The Michael Jordan blow-up auto is similarly elusive. Back in 2012 or so I did see one come up for sale however I have seen nothing since. I posed a question to a Michael Jordan Collectors Facebook group and other collectors had seen the same one I knew of but nothing since. I was eventually connected with Davi who had purchased that exact card.
Davi features many stunning Jordan cards on his Instagram page as well as the one and only Michael Jordan Blow-Up auto I've been able to track down. Here is the Michael Jordan Blow-up auto in Davi's collection.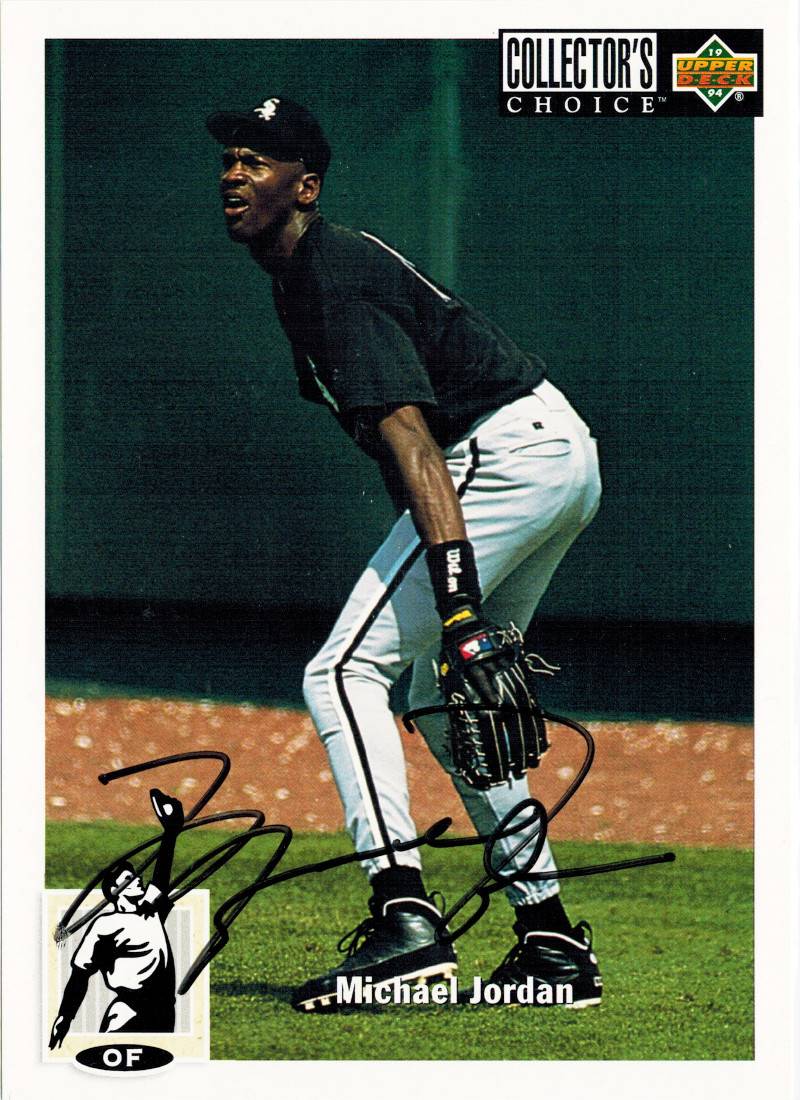 Other than Davi, no one else I've spoken to knows where any of the other Jordan autos may currently be. I did speak to one collector many years ago (unfortunately I've forgotten who) who claimed he knew Larry Jordan and that Larry had told him Michael "didn't sign many" of the jumbo auto cards. Larry worked at Upper Deck from 1998-2011 so wasn't involved in the signing from an Upper Deck staff perspective but it is possible he is aware of it or involved from Michael's perspective. I have no way to verify this claim unfortunately.
Other collectors have shared stories of seeing Jordan blow-up autos in the 90's with one being traded for a used car and another sold at a card show for $600.
I also contacted Upper Deck who unfortunately couldn't connect me with anyone who would have been involved with the set as all staff from that era have moved on.
Help find the Collector's Choice Michael Jordan Blow-Up Autos
Not only is the Collector's Choice Michael Jordan Blow-Up autographed card an amazing piece, it is also the first Michael Jordan autographed card in a basketball series (though it does feature him playing baseball and some technically don't rate it due to being jumbo). It was issued at the same time as the 1995 SP Top Prospects Michael Jordan Autograph (which was Michael Jordan's first pack-pulled autograph albeit in a baseball set). The SP Jordan auto ranks highly in my Top 10 Michael Jordan Cards.
Myself and many collectors I've talked with are very interested in finding where more of these historic Jordan autos may have ended up. As I mentioned, there are stories of cards being seen at shows and traded around in the 90's however after that all but Davi's seem to have disappeared.
At the moment it looks like the only way to find one might be to bust open 94-95 Collector's Choice Series Two Hobby boxes! I've opened six myself so far with no luck on the autos but the nostalgia still very high on this great set. Always check the box is factory sealed and is in fact series 2 hobby (the box will state 'HOBBY' at the top-right and include a notice 'Blow-up inside' toward the bottom-right).
If you're looking to add some of these pieces to your collection, have a look at the links below:
If you own a Michael Jordan blow-up auto, once owned one or know anyone who may currently own one, I'm very keen to chat! I'm also very keen to hear from anyone who owns a Shawn Bradley blow-up auto.
Happy collecting.