New Jordan cards collectors often aren't actually new collectors. Often times - like myself back in 2009 - they are returning to the hobby after being away since collecting back in the days of the heights of Jordan's career. There's many stories of finding an old collection reigniting the passion for collecting Jordans.
Collecting in the 90's versus collecting in the modern era takes a different shape for a lot of us. No longer scrimping pocket money for the occasional pack or box - nowadays many collectors can afford to buy cards they only dreamed of owning.
This point leads into the original reason for this article. Being visual pieces, trading cards can be easier to remember by how they look. That can make searching online hard if you don't remember what a card is called. You might find yourself typing a rough description of the card into search engines based on a foggy memory.
On one occasion I helped a returning collector in this exact scenario re-buy their favourite card from their collecting days. All we had to go on was a description and blurry photo of the card in the background of a 90's happy snap. Luckily it stood straight out to me - it was the 95-96 Michael Jordan Standouts.
Numerous email enquiries and search engine terms come through this website by people looking for a particular card. It's often described as the 'Michael Jordan lightning card' by those who fondly remember it. Since it comes up often enough I thought it would be worth an article to help anyone looking.
So far 100% of the enquiries have been about the 93-94 Michael Jordan Scoring Kings but why stop there - let's take a look at 10 cards featuring lightning or a reference to electricity on Jordan cards.
TL;DR - just show me the Jordan lightning cards!
10 Jordan cards featuring lightning and electricity inspiration.
1993-94 Fleer Ultra Michael Jordan Scoring Kings
The ultimate in Michael Jordan lightning - this card explodes!
Not only is it a beautiful card to view but captures what it must have been like for defenders of Jordan. These guys were tasked with the duty to contain that explosion of offensive aggression.
It's almost 100% guaranteed that anyone looking for a Jordan lightning card will be in search of this one.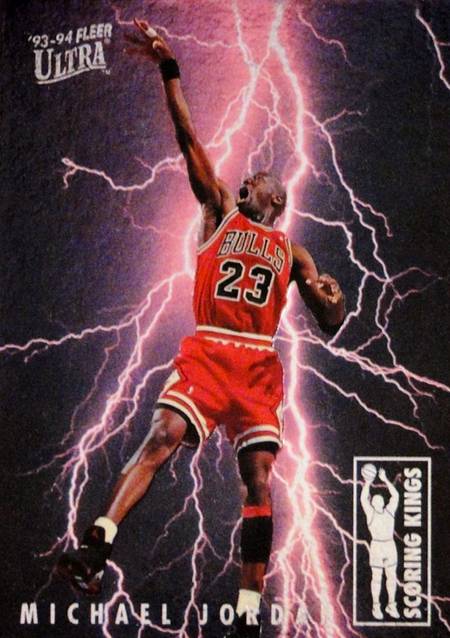 1997-98 Skybox Michael Jordan Thunder and Lightning
This amazing looking card has hallmarks of the 93-94 Scoring Kings in its design. The two cards pair beautifully together with glints of subtle foil highlighting the electricity inspired designs.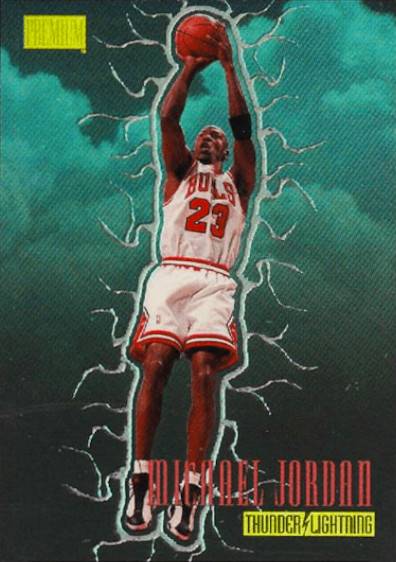 1998-99 Fleer Tradition Michael Jordan Electrifying
The foil in use here is stunning. Part of Fleer's high end Tradition set and seeded at one in 72 packs means this is one expensive insert set - the Jordan as always more so than other players.
Here the electrical design gets an embossed aspect to it which we hadn't seen previously.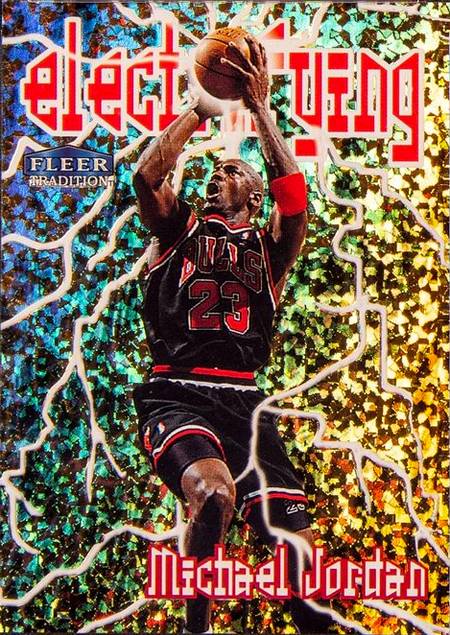 1995-96 Skybox Michael Jordan Electrified
The first card on the list which is part of a base set - albeit a subset - is the 95-96 Skybox Electrified card.
It is card number #278 in 95-96 Skybox and makes heavy use of lightning inspired design. Nice and easy to add to your collection and an attractive piece from Skybox as always.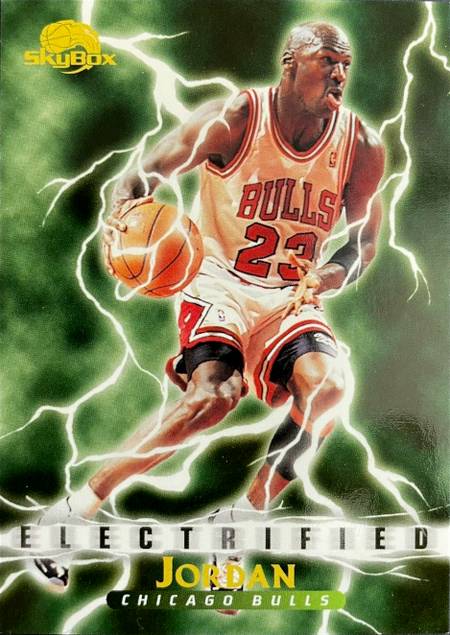 1996-97 Skybox Z-Force Michael Jordan
Another base card from Skybox makes the list and this time a true base card. Card number 11 from the Skybox Z-Force release of 96-97. Bolts of electricity feature prominently as part of the card's design.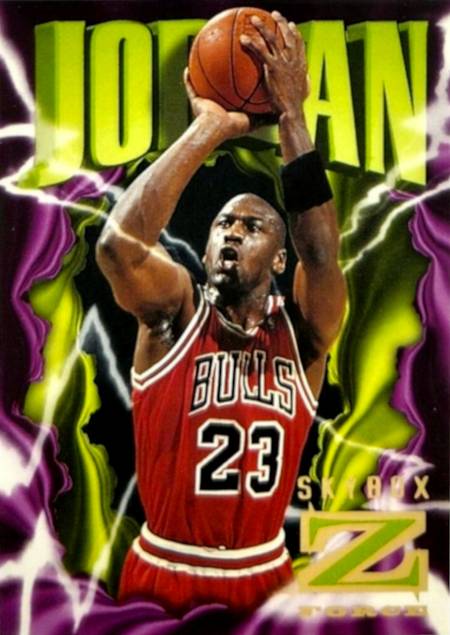 1997-98 Flair Michael Jordan Hardwood Leaders
The lightning is subtle in this card but it is there. In the background of this recurring insert from Flair and Fleer is a storm exploding with a lightning bolt.
The usual hardwood inspired design used in previous versions of the Hardwood Leaders persists with the addition of storm/lightning imagery added.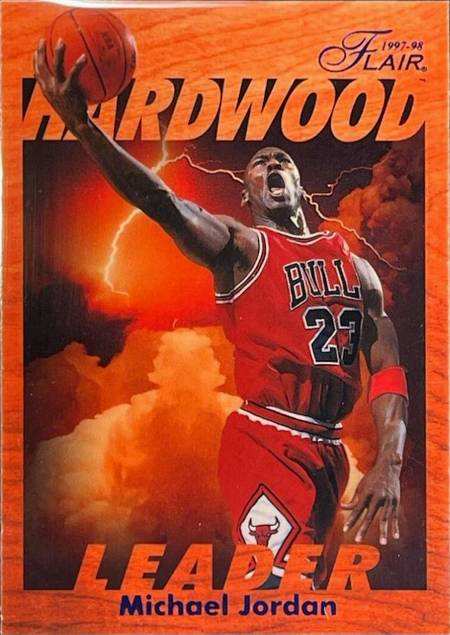 1997-98 Hoops Michael Jordan High Voltage
The first card on the list to be featured due to its naming and not its design is the Hoops High Voltage and /500 500 Volts parallel.
This card is one of the nicest Hoops Jordan cards ever made and a true rarity - especially the 500 Volts.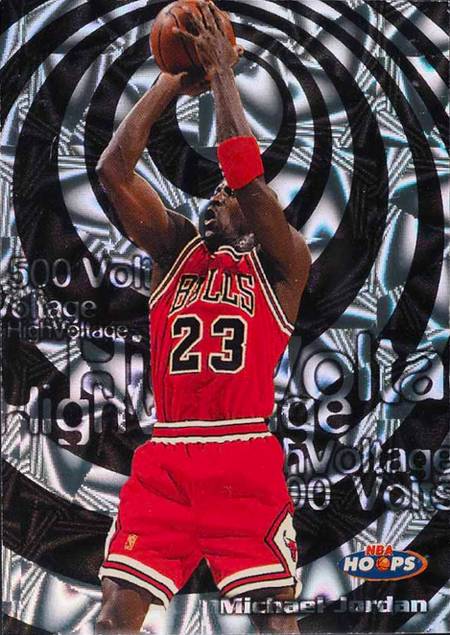 1998-99 Topps Michael Jordan apparitions
This insert from Topps features similar lightning motifs to those we've seen in this list so far. It uses that style on the nameplate also and features a basketball court subtly in the background.
The choice of photo on the Apparitions works very well with the design of the card - we see Jordan flying in action electrifying the court.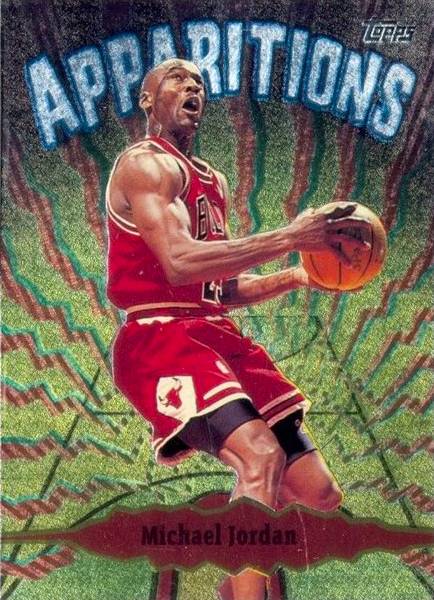 1996-97 Skybox Michael Jordan Scottie Pippen Thunder and Lightning
Here's another card which features lightning in the name alone. In this case the lightning is more figurative of the two players and their impact on the court.
This card is a dual piece card with a sleeve and inner card which is a nice extension of the dual nature of the piece.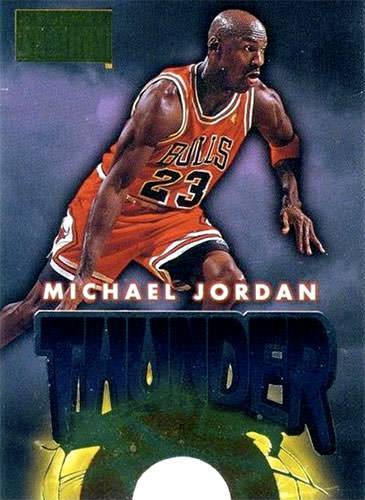 1995-96 Topps Michael Jordan Spark Plugs
To round out the list of 10 Jordan lightning cards we have the 95-96 Topps Spark Plugs.
This is a nice and subtly designed piece from Topps featuring design inspired by the bolt of electricity that is discharged from a spark plug.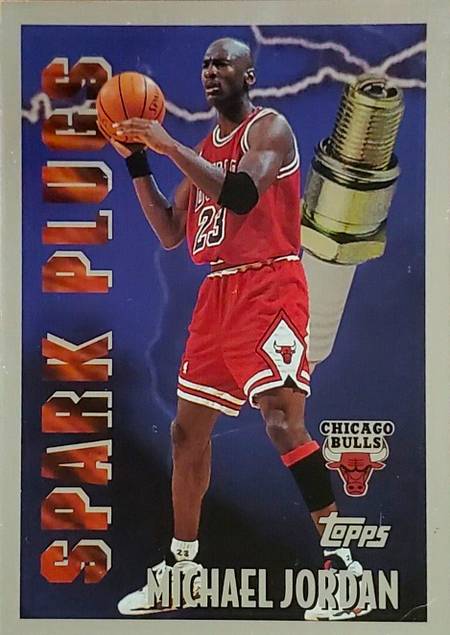 I hope you enjoyed this list and feel free to write in if you have an questions or suggestions.