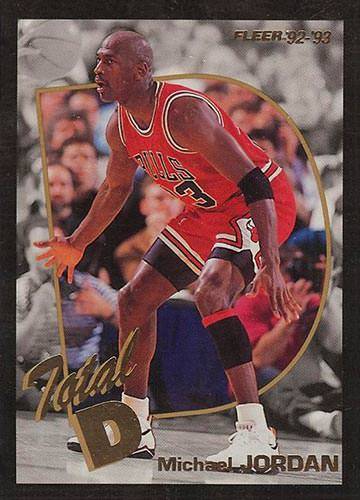 Thank you Fleer – you have provided us with the best old school Michael Jordan inserts! The 1992-93 Fleer Michael Jordan Total D is a prime example of the quality and appeal that these early inserts have.
This card's design is unique and spectacular given the card styles that were most common at the time. It features a photo of Jordan defending where he has been deep etched out allowing only Jordan himself to appear in color. The color of the background appears (albeit still that cool muted color of early cards) as a part of the large D accentuating the defence point that the card is making.
To boot we get old school bordering and gold foil stamping – nice!
Be sure to check the centering, corners and edges and gold foil for chipping when you are looking to add this great card to your collection.
You might also be interested in:
1992-93 Michael Jordan Total D Cards for sale on eBay