Popular Jordan cards
92-93 Michael Jordan Beam Team
Released to coincide with Topps' NBA light shows 'Beams Above the Rim' and one of Jordan's first true inserts.
Year

1992-93

Set

Topps Stadium Club Beam Team

Number

1

Player

Michael Jordan
The 1992-93 Michael Jordan Topps Stadium Club Beam Team was one of the first true Michael Jordan insert cards. This card features Jordan flying to a dunk with the now iconic and well re-used Beam Team holographic beams either side of the card.
Not only is the 92-93 Beam Team from my favourite era but it is also one of the first true inserts. Before the 92-93 season your only hope in pulling a non-base card was a sticker (which was guaranteed per pack) and some All-Star inserts which were closer to a sub-set.
This season manufacturers started including randomly inserted cards as individual sets to attract more interest - one of the highlights for me being the TSC Beam Team set. (Another major highlight, I believe, was the Fleer Team Leader set.)
The card features a brilliant design with holographic foil beams on either side of the player photo. Just watch out for centring issues which can be seen by checking the thickness of the beams at the top of the card.
This card is available in two variations: standard and Members Only - for more information see my blog post - What is the 'Members Only' Beam Team?
I definitely think this card - in both variations - makes a nice addition to any great Michael Jordan cards collection.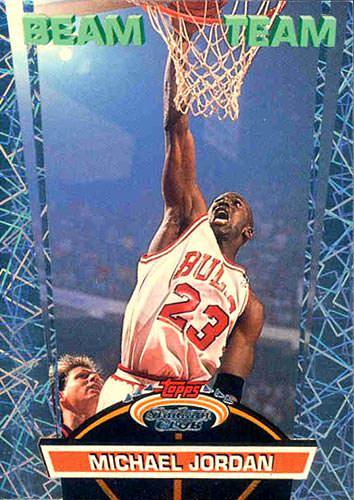 92-93 Michael Jordan Beam Team for sale on eBay now