The Topps Stadium Club Beam Team inserts are excellent Jordan cards to add to your collection – particularly the 1992-93 which is my personal favourite. However beware when choosing one to buy!
You may have seen some of these cards advertised as 'Members Only' and some missing this advertisement. If you're like me when I was first interested in this card, you thought some sellers just left this out of their listing. Or you may even think the 'Members Only' Beam Team will be much better than the standard.
When Topps released this set they released the Beam Teams as an insert in standard packs of cards. The 'Members Only' Beam Team set was released as a complete set anyone could walk into a store to buy (don't be fooled by the air of importance the 'Members Only' part seems to earn the card!). Thus it was a lot easier to get your hands on copies of the Members Only Beam Teams than the standard pack-pulled Beam Teams.
To make matters worse, Topps applied only a very faint watermark stamp to the early Beam Teams to differentiate them (much clearer in later years however). So, unless you know to look, you can be very easily unknowingly sold the Members Only version. Have a look at the two photos below. The card on the left is the 1992-93 Michael Jordan Beam Team. The card on the right is the 1992-93 Michael Jordan Members Only Beam Team with the stamp circled.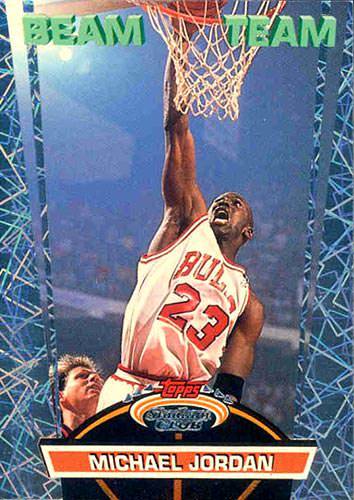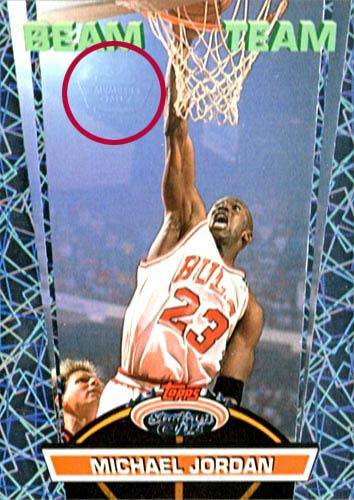 As a result of the difficulty in pulling, the value of a standard Beam Team is usually higher than a Members Only version. But if you don't know what you're bidding on in an online auction you may well pay the full value for a lesser valuable card.
Now don't get me wrong. The Members Only Beam Team is still a cool card and it still has a high value. I just personally don't like that it was available and that Topps seemingly intentionally made it hard to differentiate between the two.
So watch out for Beam Team auctions. Its a common mistake unknowingly made by both buyers and sellers – make sure you check out a decent quality photo of the exact card before buying.
In addition watch out for poor centering on the 1992-93 Stadium Club Beam Team. This is particularly visible on the top corners where the beams meet the top of the card.