I'm on a bit of a roll with niche checklists for Jordans. Recently, I've looked at:
Let's continue this on with another of the most popular recurring Jordan card sets - the Beam Team.
The Beam Team set is tightly tied with Topps and the NBA. The set was originally released to coincide with the Topps sponsored 'Beams Above the Rim' laser light show which ran pre-game in some NBA games kicking off with the 1993 All-Star game.
The design of the original sets by both Topps and Stadium Club captures the feel of what was a marvelous technical achievement for its time.
TL;DR - just show me the Jordan Beam Team checklist!
Complete checklist of Michael Jordan Beam Teams.
1992-93 Stadium Club Michael Jordan Beam Team
In one of the first true chase insert sets, Topps Stadium Club has captured the laser light show beautifully in the holographic style beams of light either side of this iconic card.
The large 21 card set features the greatest NBA players of the time and was available in series 2 of Topps' flagship product Stadium Club. The insert set also features young rookie Shaquille O'Neal in what would become one of his most popular cards given its release in his rookie season.
The photo choice on the Jordan certainly captures the 'above the rim' concept well with a massive dunk underway from MJ.
From time to time print error/pre-production cards do appear which are missing the foil laminating.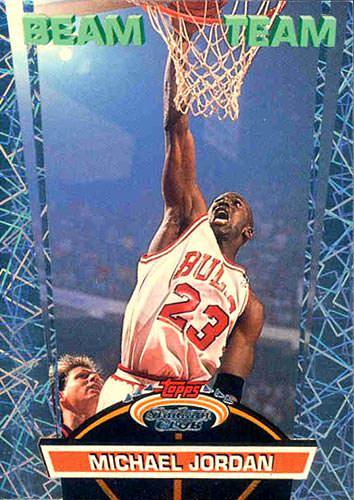 1992-93 Stadium Club Michael Jordan Beam Team Members Only
Members of the Topps Stadium Club could purchase a complete members only set 0f the full 92-93 TSC release for the season. 10,000 of the Members Only sets were made however the cards are not numbered individually.
This inaugural release utilised a gold members only stamp for all cards in the base set however switched to a watermark style stamp for the Members Only Beam Teams. Check just below the word 'Beam' in the scan below. It's not obvious so be sure to check for it if you're looking to buy one.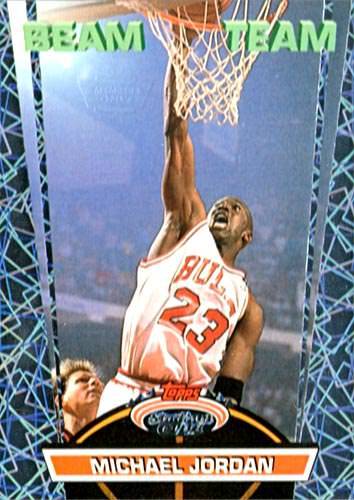 1992-93 Topps Kevin Johnson / Michael Jordan / Dennis Rodman Beam Team
The Topps sponsored light show also made it into the regular Topps set for 1992-93.
While no holographic style foil was used - it was the base level product after all - we do see nice use of coloured laser inspired design.
The Topps Beam Team is a 7 card insert set inserted at a rate of 1 in 18 packs of series 2 Topps. Jordan shares his card with Kevin Johnson and future team mate Dennis Rodman.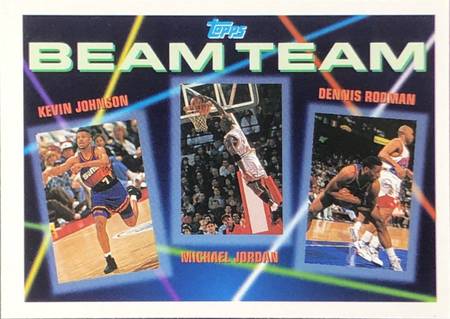 1992-93 Topps Gold Kevin Johnson / Michael Jordan / Dennis Rodman Beam Team
Depending on the size of the pack, you would receive between 1 and 5 Topps Gold parallel cards each. One of these would be replaced if you received a Topps Beam Team as above.
As part of the factory release you could also obtain Topps Gold Beam Team parallel insert cards.
These are identical to the regular issue Topps Beam Team, however include gold foil for the players' names and receive a 'Topps Gold' designation also in gold foil.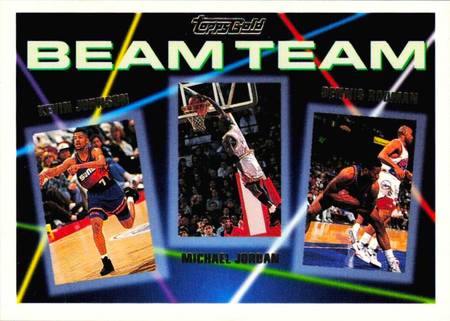 1993-94 Stadium Club Michael Jordan Beam Team
Stadium Club continued the Beam Team top end insert for the 93-94 season this time with a 27 card set spread over both series one and two.
The laser inspired, holographic styled beams continue on the front this time appearing to the bottom and conjoining with the Beam Team branding. The player nameplate receives a nice pink/purple foil.
The photo chosen for the 93-94 captures Jordan 'above the rim' nicely with an aggressive dunk similar to the 92-93 release.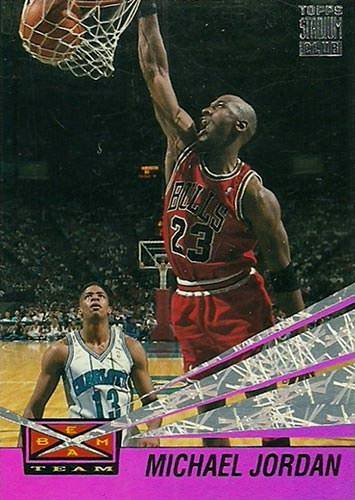 1993-94 Stadium Club Michael Jordan Beam Team Members Only
Along with the Beam Team itself, Topps continued the Members Only release. As per 93-94 members could purchase a specially designated 'Members Only' set.
The base cards received the same gold stamp as 92-93 however the Beam Team members only did not - throughout the holographic style beams 'Members Only' was printed on these.
Well that's what Topps intended at least…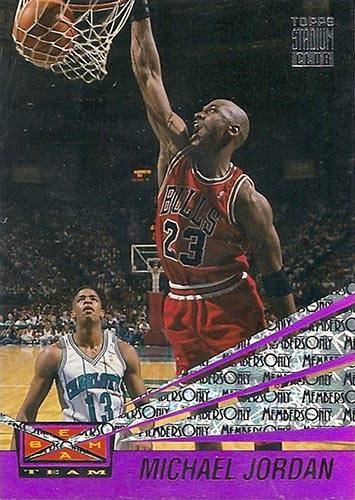 1993-94 Stadium Club Michael Jordan Beam Team Members Only Gold Stamp
Appearing at large in mid 2016 or so (around the same time as the 94-95 Finest Jordan wearing #23) was this curious card.
A 93-94 Stadium Club Members Only Beam Team but with a gold stamp in lieu of the usual members only print. These cards - all from series 1 - form a third Beam Team for the season.
Presumably these cards were a test printing not intended for the public. It gets more interesting however when you look at a supposed Gold Stamp Beam Team Members Only advert purported to be from 1994.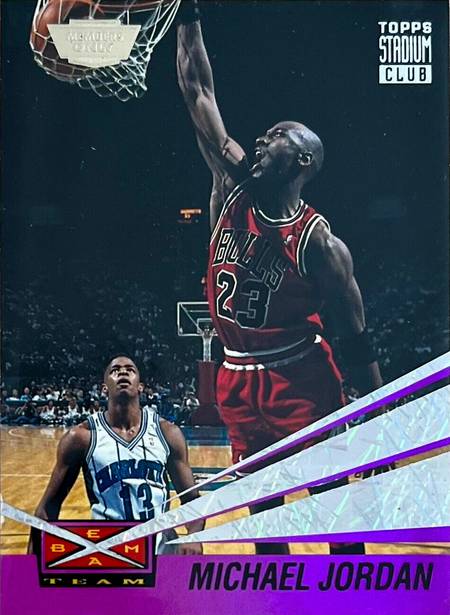 1995-96 Stadium Club Michael Jordan Beam Team
What a feat of die-cut engineering we have here! Not only are the edges of the card intricately die-cut but TSC have gone to the effort to die-cut out of the body of the card an image of MJ's face.
It doesn't stop there though as we also see some very nice graphic design work to continue through the beams finished off with touches of gold foil.
The Jordan is part of series 2's release which is very different from the design of series 1 Beam Team cards. Series 1 Beam Teams do not feature a much die-cut work and are more subdued in their colouration.
Sometimes these cards show up for sale having not yet reached the die-cut stage of production.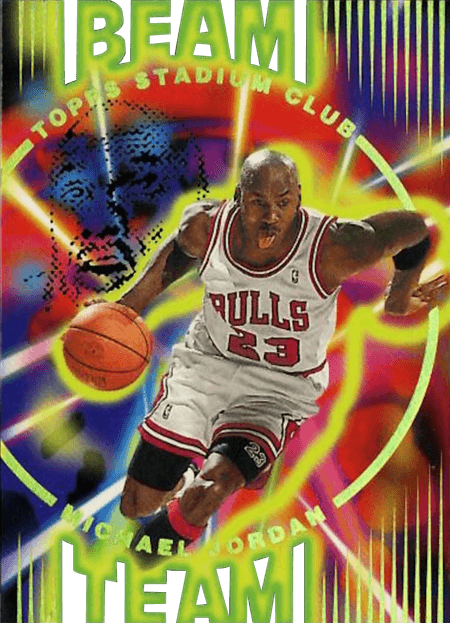 1995-96 Stadium Club Michael Jordan Beam Team Members Only
An elegant and restrained Members Only stamp in the bottom right corner of the Jordan sets this card apart from its regular issue contemporary. They both do ooze 90's style calling all the way back to their 'Beams Above the Rim' roots.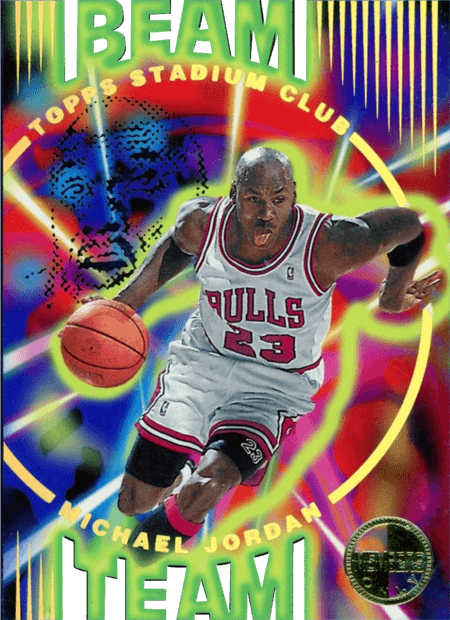 2002-03 Stadium Club Michael Jordan Beam Team
Due to licensing it would be 6 years and a second return to the NBA before we would see a further Jordan Beam Team card.
As an active player in the NBA for the Washington Wizards Topps could include MJ in their 02-03 Beam Team set.
Even at age 40 Jordan could still be considered a member of the Topps Beam Team - he was the only Wizard to play all 82 games.
The 2002 Beam Team is serial numbered to 500 cards. It features a lightly coloured design and heavy use of soapy foil which reflects light beautifully.
A truly elegantly designed and standout Jordan card.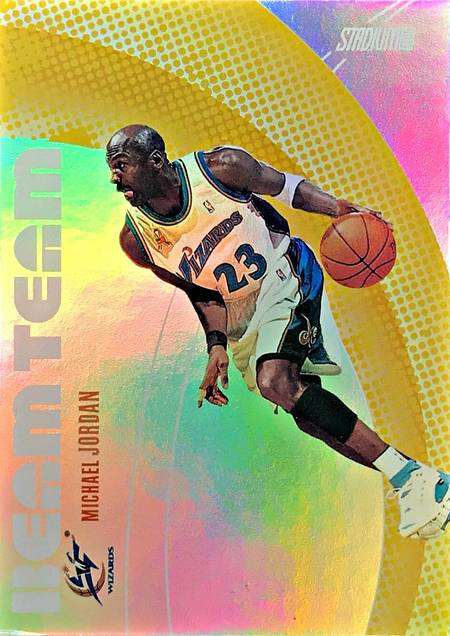 1994-95 Stadium Club Beam Team
Topps wasted no time frantically adding Jordan into their 94-95 releases upon his return to the NBA and taking on jersey number 45.
Presumably, it was too late to make it into the Topps release as there are no Jordans.
Stadium Club may have been released next as he was featured in a base card but did not make it into the Beam Team insert set.
Both Topps Embossed and Finest did manage to include MJ - I cover this in more detail in my look at the 94-95 Finest Jordan wearing #23.
2001-02 Stadium Club Beam Team
Though Jordan did play in the 2001-02 season as a member of the Washington Wizards, he did not make it into that year's Beam Team set.
2007-08 Stadium Club Beam Team
I though it would be worth adding this release of the TSC Beam Teams. Not because there is any Jordan - he had long since retired and could not be featured by Topps due to his Upper Deck exclusivity.
I wanted to feature them as any Jordan collector who likes the design of the 92-93 Beam Team will love these. They feature the same design of the inaugural release but now include either an autograph or patch piece. There are also gold parallels where the holographic style beams feature gold foil.
Take a look at the hugely popular Shaquille O'Neal Beam Teams in this design!
Here's an example of the Beam Team Gold Auto from 2007-08 which continues on the 92-93 OG inspired design. In this case its a Dwyane Wade auto.
Happy collecting and have fun tracking down your next Beam Team addition! If you're looking to browse all Jordan Beam Teams for sale at once take a look here.