Recently I covered off a look at 10 Michael Jordan lightning cards - its an enquiry I receive from time to time from collectors getting back into the hobby.
Top billing on that list is always going to be the ever popular 93-94 Michael Jordan Scoring Kings. As a follow up, I though it would be nice to include a checklist of every Jordan Scoring Kings available.
The Scoring Kings insert is one that Fleer used for multiple sets including parallel and retro releases. It was also used in the season that Jordan played baseball - I'll include that here too even though there is no Jordan as it's such a great looking set.
All 90's cards we'll look at here are readily available being from an era of high production. If you like what you see there's a good chance you can find a nice copy for sale.
TL;DR - just show me the Jordan Scoring Kings checklist!
Complete checklist of Michael Jordan Scoring Kings.
93-94 Michael Jordan Scoring Kings
The OG Scoring Kings! Many of us in 93 and 94 just stared at this card through plate glass in cards shops. It was, and remains, one of the greatest Jordan cards ever made.
What is it about this card? The design elements are subdued and perfect allowing the photography and foil to take centre stage. As explosion of lightning pairs perfectly with choice of Jordan photo in an aggressive post-up. The subtle use of reflective foil then finishes off a perfect example of 90's basketball card design.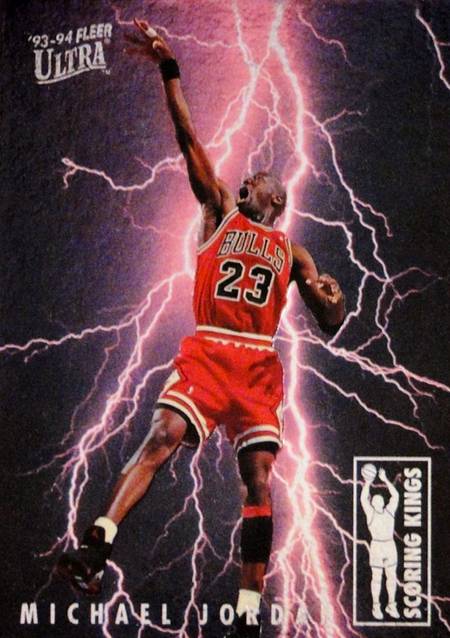 93-94 Michael Jordan Scoring Kings Buyback auto
The greatest of all Jordan Scoring Kings has to be the 93-94 buyback auto. The card was purchased by Upper Deck on the secondary market, signed by MJ then distributed as part of an official release by Upper Deck.
1/1 for all time certified by Upper Deck.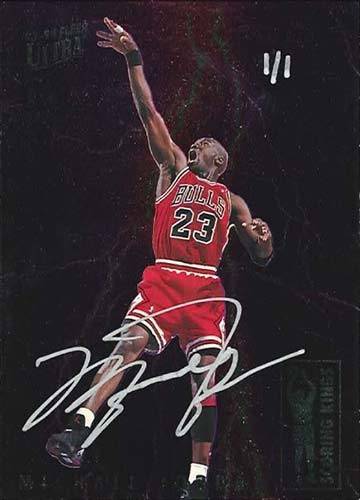 95-96 Michael Jordan Scoring Kings
This is the first set to take the title of Scoring Kings a little more literal. We see the royalty vibes start to come through with the inclusion of the shield and checkered pattern.
Colouration of the checkered pattern changes slightly between players.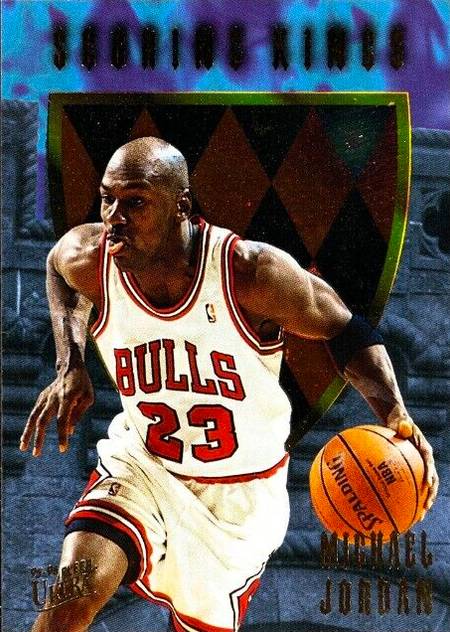 95-96 Michael Jordan Scoring Kings Hot Packs
1 in 72 packs - I believe - in 95-96 Fleer Ultra was a Hot Pack.
This single pack contained a parallel insert set stamped with the Hot Pack red foil stamp. This was different in 94-95 Ultra where the Hot Packs still only contained inserts but they were not stamped and were not a complete set - I recall the excitement of pulling one myself!
The Hot Pack Jordan Scoring Kings is the first parallel on the list. In this case the parallel is easier to come by than the regular issue card.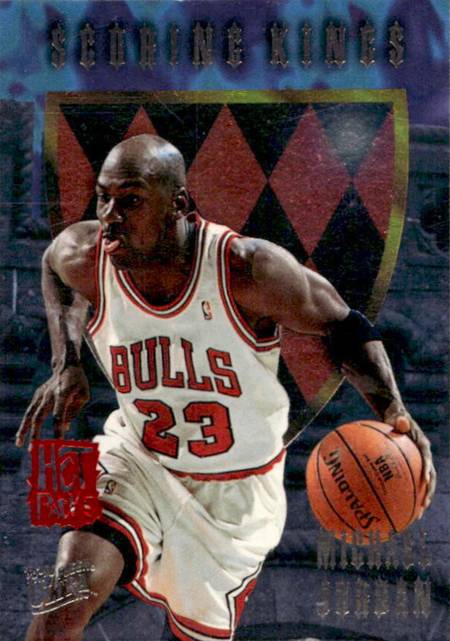 96-97 Michael Jordan Scoring Kings
The royalty vibes continue with the regally designed 96-97 Scoring Kings set. Here we see medieval illuminated letter and art influences.
The huge 29 card set features colouration lightly suited to each player making each piece more unique. The cards were seeded at a rate of 1 in 24 packs.
Unlike other Scoring Kings released to date, this set does not feature heavy use of foil. Foil comes into play for the Plus parallel release next.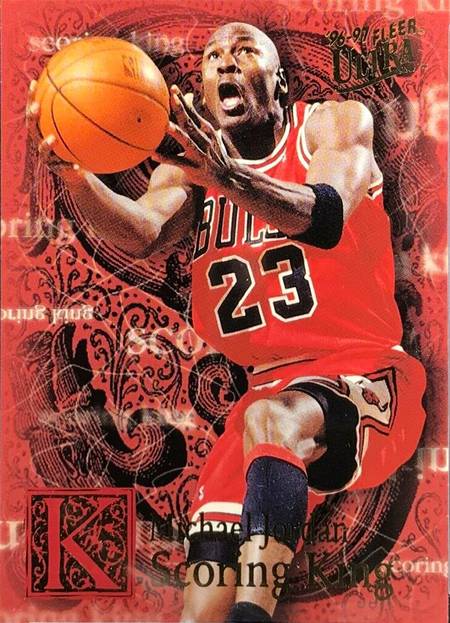 96-97 Michael Jordan Scoring Kings Plus
A parallel of the regular issue card found at a rate of 1 in 96 hobby packs - much more rare than it's contemporary.
The Scoring Kings Plus features a beautifully etched foil background and commands high prices.
It is sometimes mis-labeled so be sure to check the back of any card you are looking to buy. The Plus parallel includes the word 'PLUS' along with the card number on the back.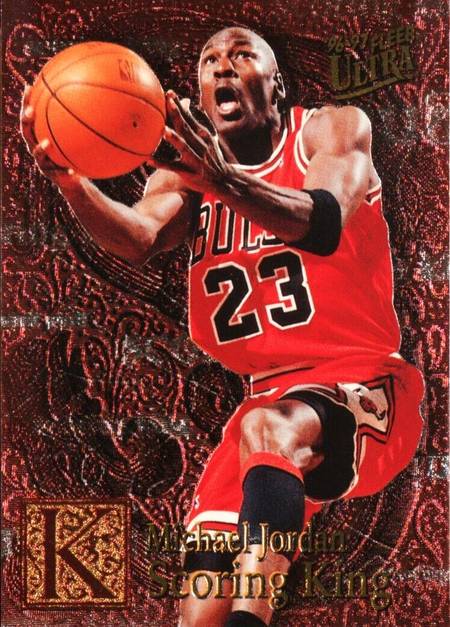 2013-14 Michael Jordan Retro Scoring Kings
We started with this amazing design and we get to finish with it. Upper Deck released a retro version of the 93-94 Michael Jordan Scoring Kings as part of their 13-14 Fleer Retro set.
The design, use of foil and background photography are similar to the original only now Jordan is featured playing in college for UNC.
One of the more difficult to come (along with the 96-97 Scoring Kings Plus) this card pairs beautifully with its counterpart for any collector lucky enough to own both.
Modern times
In the modern era Panini have used the Scoring Kings title to name sets released through the Donruss brand. None of these sets include Jordans due to his exclusive licence with Upper Deck.
We have also seen a lot of custom made Scoring Kings make their way to the market. This includes both obviously custom through to subtly different which could trip up new collectors.
I'm not a fan of custom cards but some collectors do enjoy them for the fantasy aspect. Remember these cards are not legitimate or licensed if custom made. Be sure to check carefully before buying if you are looking only for legitimate cards.
94-95 Scoring Kings
Out of interest for anyone who is right into the Scoring Kings sets, here's the 90's Scoring Kings that MJ didn't make it into.
Heavy etched foil and a highly colorised design make up the design here. How much I do wish there was a Jordan in this set! The closest you'll get to MJ is the Pippen - the Shaq is a very nice piece also.
There are custom versions of this card featuring Jordan. I'm not a fan of customs myself but if you are you may like to take a look. Just remember custom cards are not legitimate or licensed cards.
I hope this list was helpful and happy collecting! If you're looking to browse all Jordan Scoring Kings for sale at once take a look here.