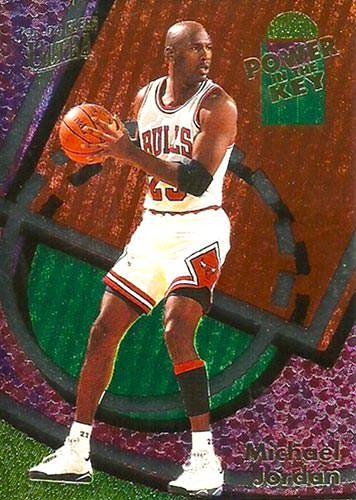 The Michael Jordan Power In The Key Fleer Ultra insert card brings back many memories for me. This was one of the ultimate cards to own back in the 1993-94 season – along with the Michael Jordan Scoring Kings.
The card features a highly colourful textured background of a stylised court key. A deep etched and high colour glossy photo of Michael Jordan then makes up the foreground of the Power In The Key card.
A high quality copy of this card was one of the rarer inserts back in the 1993-94 season. This is due to the fact that it was inserted at a rate of one per box and the textured foil background allowed for easy chipping and surface problems. This card could be pulled fresh from a pack in less than perfect condition.
In all its glory it is a nice addition to any collection. To top that off it can be picked up from eBay very easily being typically highly available. The Michael Jordan Power in the Key is a must for all Jordan collectors!
1993-94 Michael Jordan Power In The Key Cards for sale on eBay