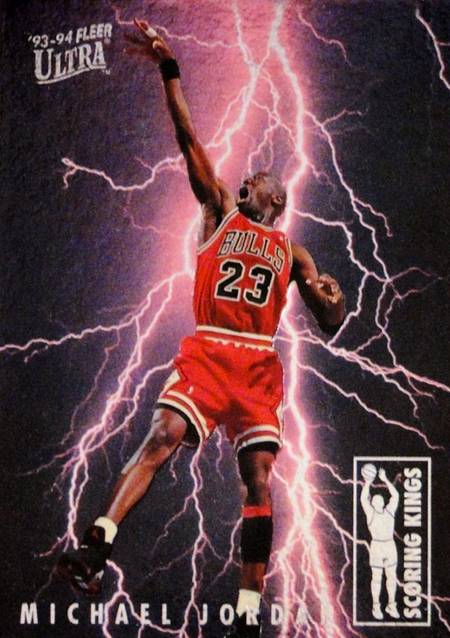 Many collectors consider the 1993-94 Fleer Ultra Michael Jordan Scoring Kings to be one of the greatest ever Michael Jordan insert cards. Take a look at the card and you can easily see why!
The Jordan Scoring Kings features a powerful looking dark purple and lightning bolt foil background which really stands out when viewed at different angles. However that isn't the greatest aspect of this card. The deep etched photo of Jordan suits the Scoring Kings card perfectly – he is screaming toward scoring. The powerful and intimidating foreground photo of Jordan goes perfectly with the powerful and intimidating background.
Due to its foil surface be sure to check carefully (front and back) for chipping. The surface of these cards can also deteriorate over time if not properly cared for.
The Jordan Scoring Kings is commonly available on eBay with graded copies selling quite high due to the condition sensitivity of the card. There is also an error card which you might like to look out for – the error card features Michael Jordan on the front but has Karl Malone's information and number on the back.
The Michael Jordan Scoring Kings is, without a doubt, a must for all serious collectors.
These posts might also interest you:
1993-94 Michael Jordan Scoring Kings for sale on eBay